More Senior / F1's in the Sixties
Look for
labels: new additions may be scattered randomly throughout the page.
Over 500 photos on this page: 'Edit-find' for your favourites, or just sit back and browse.
If you spot your photgraphs offered on e-Bay:
http://www.ehow.com/how_2050031_file-complaint-ebay.html
R.I.P.
If you stood on the terraces and cheered your heroes and booed your villains in the fifties, sixties, and seventies, the passage of years is naturally taking those drivers away. Until 2013 I occasionally reported the death of stock car racers; but I don't want this living website to become a list of obituaries. Besides, men like Dougie Wardropper and Chick Woodroffe are still fighting their cars and their rivals round the tarmac and shale up and down the country, in our memories. Let's leave them racing in peace without too many R.I.P. notices.
The stock car that didn't race --- or did it?


Does anyone recognize or know where this car went? Built in Sandy (Bedfordshire) in 1967 by

Barry Sawford

and

Bernard Bywater

. t did not immediately race in BriSCA, being bought by someone in the St. Neots Grass Track Club.
The engine was a Cadillac, rebuilt by Aubrey Leighton, an ex-USAF Alconbury unit bought at Hunt's breakers yard at Molesworth.
Thanks to F2 racer Vic Cook for the photos.
================================================



Ken Freeman
# 61 from Staines was a major force in the development of stock car racing.
Here he is entering the track at Tamworth. What a classic stock car design.
Fred Mitchell Fan Club
The late Bill Burdett was a member of the #38 fan club, and his son Cliff sent a scan of Bill's membership card, autographed by the great man.

Also from Cliff Burdett, the infamous Albert "Tiger" Griffin, whose lightweight car went to Wilf Hargreaves who declared it

"undriveable"

and sold it on to Stu Smith, who sharpened his considerable driving skills by controlling the beast. Fans at Brfaield all earnestly believed Tiger Griffin had packed the rear bumper with concrete.

October 2015:
Stock car people stick together ("nobody else will have us!" said a veteran to me recently). Some 45-50 years after this photo was taken, some members of the Cheltenham Skittles League still meet to play, including the "Malvern Ladies", with Lilian Harris, Betty Tustin, and Di Sutton (wife of Jumbo's mechanic). This photo was just sent by

Roger Harris

who was mechanic for both Geoff Harrison and Jumbo Tustin.

Howard Davies / Davis

[spellings vary!] did not start racing until 1967 after Jumbo and Geoff had retired. Howard was sometimes given a middle nickname by his mates, based on his favourite adjective ;-) Here is a sharper higher-res jpg image of this picture.

Besides playing for the Malvern "A" team, Roger Harris also raced grass-track sidecars and rally cars. He helped celebrate Jumbo Tustin's 82nd birthday by presenting Jumbo with framed photographs of his exploits, and had also been pals with the wild stunt man Dick Sheppard.
September 2015:


Bad accident at Cadwell Park:

in 1964 the #57 car of Ken Griffiths was in a crash that sent his car through two fences, endng up in the crowd, injuring nine people. A fan was there with his camera and took these three photos of the general scene.

This is

not

the tragic 1971 accident at Cadwell in which a flying wheel struck and killed a spectator.


August 2015: My anonymous donor has sent these six photos from the 1966 Brands Hatch "Festival of Speed", and I invite you to identify cars and drivers.
July 2015:
Lively action at Cadwell Park, mid-sixties. Photo from Cadwell's management, courtesy of Dave Chapman. Getting sideways is Ron Slack 302 from Arnold in Notts, and the 27 car behind is

probably

Ron Carr from Ashton-under-Lyne, Lancs. (though Crasher Allen from Ely had #27 until 1962).


More Cadwell:
Rod Falding spins
in front of 133 Terry Coell's Jag, and Nev Hughes 69 follows.
Below
:
Ray Leigh
346 in his ex-Esau car centre, opposite-locking;
Bryan Scott
166 (Bradford),
Mick Sheppard
359 (Mansfield) in the background,
Dave Gibson
251 (Holmfirth), and
Mo Smith
51 (Aveley) starting to smoke his tyres. Thanks to
Ross Taylor
for identifying the cars and drivers!
Next, a fuzzy photo of
414 Marian Palmowski
spinning.
Last of this group of photos,
unidentified drivers in action.
105 might be John Scott, and 211 might be John Maxfield. Anyone help?
==============================================================
July 2015 update:

Brandon and Hednesford


Phil Cooke
took these b/w photos in 1969.
Brandon
first:
Oxford's Karl Grossman 289 leads Brian Maynard 226, Roid Barrett 171, a spinning Tim Matthews 236, Mike Whittaker 44, and I think Roger Taylor is peeping in from the back.
and Hednesford:
Classic upright pose of George Ansell in his wide-open cab:


Below: In 1969
Freddie Mitchell
's 38 car looked "old school", while fans picnic in the sunshine.
Note from eagle-eyed Steve Pringle: In the background leaning on a rail are, left-to-right in white overalls, Steve's brother

Bill Pringle

,

Terry Coell

,
and

Alan Hughes

, ex 166, [mechanic for Terry]. Then

Les Suckling

.

To the right again are two ladies that could be Mrs Suckling and Lily Coell.

Tony Neal #100 with something major broken.
Doug Cronshaw side by side with Les Suckling the Jaguar devotee.
Panoramic view of the field with Les Taylor 197 pursuing. I can see #12 Mal Sample from Congleton, #347 Barry Johnson from Kegworth, and 16 Frank Bourne.
=============================================================

Let's see some non-car sixties "trivia"

Some reminders that the programmes gave us more than just the cars. In 1962, below left, "Miss Brafield" was Maggie Ford. In 1964 Jennifer Peacock was Miss Brafield. The 1963 contest is below right:
Matcham's Park (Ringwood) in 1961 advertized a bargain restaurant: 4 bob with a tip!
What were you or your parents earning in 1961? A Leeds United professional football player got
£20 a week
basic before various bonuses and extras; by 1966 they got about £30.
In the same year West Ham boasted of Australian singing star
Shirley Abicair
[remember her zither?] as the trophy presenter. In 1962 Brafield put local Rushden wrestler Ken Joyce on their cover [but not Ken's brother, the popular 'villain'' Doug Joyce who once flew over the ropes into Kent Walton, who required stitches.]
West Ham in 1962 announced the presence of an opera singer,
Mary Eley
, see their proud
programme note

.
Brandon raised the stakes by getting
a Lord and Lady
to give out the trophies at a 1964 meet won by Trevor Frost:
Thomas Adrian Verney-Cave, 7th Baron Bray
e
(1902–1985), from a line of barons going back to 1529, based at the beautiful Stanford Hall, near Lutterworth. Yes, Lutterworth was Roy Goodman's home town. Imagine Lord Braye name-dropping at his gentleman's club,
"Yes m'dear, I'm from Lutterworth, where 163 Roy Goodman lives, y'know!"

==========================================================


Back to stock cars:




May 2014:
Jack "Welly" Mills,
the Oldham-based driver, sent these photos of his early days. Apprenticed successively to motors, heavy trucks, and plant, and having a taste for fast cars, Jack worked with very little cash to build his stock car and race under #210 from 1969 to 1972. He'd followed the stocks at Belle Vue as a young teenager. His first car was a "poke-about-and-learn" chassis from Oldham acquaintance Duncan Schofield (#251 and #76).
Below, at Belle Vue:


When he designed and built his own car from scratch, Jack used a 318 Chrysler that he rebuilt and fitted with a four-barrel Carter carb and transistorized ignition; he made a conversion plate for a custom flywhel, and a Jag gearbox; a Rover rad and Bedford steering went in, and the prop shaft was from a JCB pump drive.
Jack knew his engines, and used to buy and fettle ex-USAAF motors for other stock car racers. Just before he stopped racing, Jack built up a lovely Pontiac 389 with three twin-choke carbs. He enjoyed racing at Aycliffe, despite what SuperStu did to him in this photo: you can see some spectators starting to duck and cover their faces:
Jack's arms are being thrown forward out of the cab by the impact; he landed back down with the power full on and a few seconds' blackout from the g-forces: ouch.
Jack's
self built car at Rochdale
, that fast full-1/4 mile shale track.
Jack Mills would not want me to brag for him, so I'll just say that this 'ordinary Oldham lad from a council estate' went on to earn the highest professional engineering qualifications and career positions in the mining industry, with more initials after his name than I can count. And he still loves to drive fast cars!
The Holts: Harry and Betty and Mike

More photos, courtesy of Jim Bury:
Mike Holt 86
was famous for his radical independent-suspension special:
The front independent units didn't survive BriSCA's brutal racing, but the independent rear made the car great for tarmac.
October 2015
update
:
Jim Bury

has kindly unearthed two more photos of Mike Holt's car:

Bashed and repainted,

was the Leon Simms (Bolton) car #273, photo taken in 1968 by

Jim Bury

: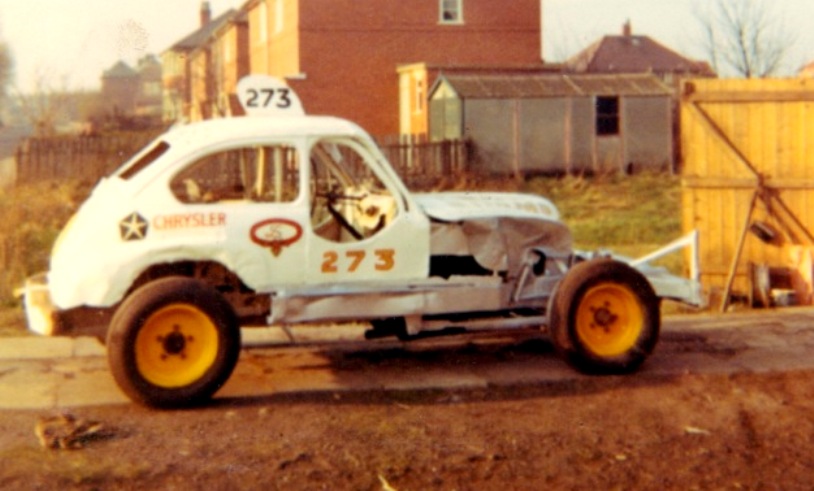 Mostly Fiat 600 bodywork, this car was also taken out by Jim Bury at Aycliffe, struggling on less-than-8 cylinders.
It was ex-Mike Holt #86, and here we see
Jim was a Mike Holt mechanic, and the car ran a 413 cu.in. Chrysler Ramcharger engine.
January 2014:

*!Stunts!*


In the innocent days before health and safety, we cheered when someone rode or drove through the tunnel of fire or the wall-of-burning-orange-boxes. I just found this old photo that I took in about 1965-66, of a stunt team doing their lap of honour at Brafield Stadium.

Who are they?

:


Russ Thomas suggested the Cunnew team; Steve Pringle is still in touch with Eddie and Bubs Cunnew, and they say YES:
Eddie Cunnew
is nearest the camera, Terry Farmer's fiancee
Josie
in the middle, and
Sam Bartram
(Top Kat racer # 628) in the helmet. Terry Farmer is driving.
Other stunt performers
were
Ellis & Maureen Daw
, as well as a wild young woman, also a 'Maureen', who would ride to the track on her Matchless and finagle her way into doing ramp and fire jumps before riding home again. Russ also remembers the "Canadian Hell Drivers" putting on a show.
A trio of young women also did fiery stunts at Brafield:
Margaret Rolph
,
Jenny Peters
, and
Jackie Bodsworth
.
Terry Farmer
, above, and
Willie Owens
performed a typical Brafield novelty, a "Roman Chariot Race", the chariots towed behind stock cars.


Anyone have any more stunt stories --- please e-mail me!

October 2012:
"Lancashire Lad"

Alf Glendinning

from Radcliffe, Lancs. had that big grin so typical of the glory days of stock car racing:



Racing mostly under #14 from 1963 to 1966, the late Alf Glendinning was also registered in 1968 under #213, though my records don't show him racing under that number. He and his wife Avis were pals of Harry and Betty Holt and their son Mike Holt. Alf rode grasstrack, see the rear suspension not allowed on speedway bikes. Alf even risked his neck taking a grasstrack sidecar out on Hednesford's concrete. (Unless this is one of the notorious Australian "banking type sidecars" demonstrations that a few tracks put on as entertainment in the mid-sixties.

Alf was a winner at his favourite Belle Vue in 1964:

and at one stage held the track record in his Fiat Topolino bodied car. He also did well at Hednesford:



A peep under the Ford Pop bodywork shows a very stout roll-cage for that era. Fellow racer Clive Hamer (#200 and 300) from Bolton is standing by the engine. Clive and Alf together ran the Outwood Gate Garage.
Bodywork on and Land Rover in the background.



Old pals:

In this photo, the cheerful chap standing on the left is Alf's friend

Harry Holt

, long time racer from 1958 to 1971. The higher-resolution image just reveals the name Harry "Tiger" Holt on his helmet.
Jim Bury identifies the car as that of

Tommy Howcroft

from Bolton; Tommy live a couple of miles from Harry H.

.


Belle Vue spin: see the spectators shielding their faces from the flying shale.
I am very grateful to Avis, the late Alf Glendinning's wife, for these photos and facts. She and I would love to hear more from veteran fans who remember him in that era.
=======================================

April 2012:

My thanks

to Bob Pedley, brother of 60's racer

Harold Pedley 162

, for a collection of photos and some old 8mm cine. Harold was mechanic, and Tony Dalton was welder, to

Ian Gilbertson

from Manchester. Ian had three numbers between 1961 and 1965:

53

, 149, and 434. Harold Pedley and Ian Gilberston were both apprentices at a Manchester Volvo dealership before Ian got his own garage in Middleton. Brother Bob, along with his sons and grandsons, has been seriously into rally competition for years

("Nothing like the sound of a Subaru at night in the forests and hills.")


Here are photos of the 53 car, some of which are screen shots from a digital copy of the cine film. The film shows some construction shots, along with racing clips at Belle Vue, Cadwell Park, and Brandon, all in approx. 1963.
Here we go. The total MP4 video length is approx 27 minutes, but as I have not learned how to edit it, I will explain what's on there, as you may want to skip ahead over one part that is a repeat.

It may take a while to 'load' this big colour 250MB video file, so go and have a brew and come back, eh?



After a 40-second intro with still photos, you can see the fabrication of the Gilbertson car, running up till the 8-minute mark when the car is being fuelled for its first race.

From

8 mins to 11 min 24secs

there's some marvellous

Belle Vue

action in the pits;

many cars and drivers to recognize, so

have your pencil ready

.
Then from

11m 24 secs

it is all action on the shale, up to about

17mins 13secs

, with Wilf Blundell hunting Tiger Griffin, Aubrey Leighton's slick cornering, Ian Gilbertson of course, and many more names.
At the

17m 33secs

point

the cine repeats parts of that race sequence, but you may be content to watch on until

19m 33secs

when a fresh sequence runs just briefly to

19m 55secs

.
Now we're off to

Cadwell Park

:

get your pencil ready again

for a packed 2-minute pit walkabout (Harry Holt, Chick W., Rod Dore, Nev Hughes, the gang's all here.)
At

22mins

we're on the track to see, among others things, Aubrey Leighton collect the chequers. Marvellous racing, well-filmed, up to

25min 13secs

.
To finish off with, a very brief visit to

Brandon

with some cars arriving, the unique "Cop Car" lapping the track in all its glory with beacon flashing, and a few seconds of a rolling start.

What a treat. My thanks to Ian Gilbertson whose adventure this records, and to Bob Pedley for making this available.
Screen shot photos taken from the cine:

Below: topping up the jerry can:


Thanks to Bob Pedley, who is still in touch with Ian all these years later, and whose cine film has allowed me to 'capture' photos of other cars, which I will insert elsewhere on the website: Rod Dore, Roy Goodman, Harrry Holt, Ken Chapman, Duncan Schofield, Chick Woodroffe, and Tiger Griffin.



April 2012:

Laurie Hooton,

the Long Eaton / Nottingham racer who campaigned under the #180, is featured here, thanks to his son Pete Hooton. Laurie raced for 10 years between 1964 and 1974, along with neighbour and pal Alan Puddle #134. Theirs was a classic bare-bones backyard operation, but Laurie earned a blue roof and a couple of wins, thanks to a reliable Buick motor and great handling. Pete has happy memories of watching busy mechanic'ing, and the stock car being lifted onto its towing dolly "ambulance". Some great photos follow, including two from the seventies, but I am keeping them all together on this Sixties page:


Mallory park with Laurie Hooton on the parade lap (1970)
Alan's car in a common pits scenario, inspected by white-overalled Dave Fox.

Thanks to Pete Hooton for the photos and information. I understand Laurie credited some of his speed to the hot pursuit efforts of Roy Goodman behind him ---- a couple of early hefty "tit-for-tat" fencings meant that from then on Laurie Hooton had to put his foot to the floor if he saw Goodman on his tail: a classic feature of racing in the "golden age".
In June 2012 the sad news of Laurie Hooton's passing after a brief illness.

Bingo.
Doesn't take long for a veteran fan to join in. Courtesy of Rick Young,
this pits photo
was taken by the late Derek Hibbs. Behind Laurie's 180 car is 330, which, during Hooton's 10-year campaign, was registered successively to Les Bacon, John Fotheringham, and Dave Eaves. The 306 roof fin is of course Mick "Noddy" Noden from Rugby.
July 2012:
Sad to report that Laurie Hooton passed away in June 2012, and, typical of the sport, his funeral was attended by old rivals and racers from 40 years before. Known as the budget trier from Long Eaton, Laurie Hooton, although a lifelong non-smoker and non-drinker, to quote his son Peter,
" ---
lived life to the full, from racing cars, and racing boats to flying aeroplanes."
February 2012:
In 1965 a photography student from Derby College of Art took the adventurous step of visiting Long Eaton to get some professional images.

Sowerby Smith

, still a professional photographer / consultant in advertising today, recently found his Ektachrome slides

[they are his copyright]

and very kindly sent them to me. My thanks also go to Phil Chance, Russ Thomas, Ken Mason, Maureen Frost, Dave Chapman and Rick Young for their collective help in identifying cars and drivers.

Thanks to Sowerby Smith for this treat --- Long Eaton fans especially will enjoy the visit.

Note: please respect the photographer's

copyright in these images.




January 2012: Thanks to brothers

John ("Dick") Elliott

and

Ray Elliott

for facts and photos of their father Geoff Elliott, one of the numerous and successful "Slough Gang" of stock car experts.


Geoff Elliott #135

(and his brother Bill, 136) raced from 1957 to 1964:
September 2011: Doug Cronshaw 396 in early 1968.
Photo by

Malc Brown

.
It was previously Stu Smith's 391 Wildcat car, a yellow top in 1966, and which Smithy had used BEFORE inheriting the notorious Griffin "Undriveable Special".

Some will be surprised at that, as it's widely believed that the Wildcat cars were derived

from

Griffin's similar-appearing car; but not so.
Here it's in the Cadwell Park pits, having tyre pressures checked by Doug's brother in law Glyn, next to #102 Brian Wignall from Clitheroe. In mid 1968, this car's 348 Chevy motor was temporarily replaced by [two big high-res files]

a storming 401 Buick V-8

from a Buick Electra just visible in the background. You can also see

the Topolino

that would later clothe Doug's later beautiful Nev Hughes replica. In 1969 the Chevy motor was back in, and this car was in the hands of Chadderton/Oldham engineer

John "Bender" Barnes

#233 who "bent" it for another five years on the hard Northern tracks. That front bumper is massive. Quote:

"This was a tough car,"

according to Cronshaw mechanic

Kieron Tatlock

who supplied the info and the two photographs which are a good reminder for a younger generation who might think stock car garages looked like the "palaces" of GEAR AND TEARS. Many a top car was superbly engineered on dirt floors, with damp cold brick walls, by skilled men who did not wear colourful and freshly laundered sponsors' uniforms ----.



Nelson 1968:

Bob Parry #22 from Wrexham, and Dave Shipman #179 from Whitby get ready; then numbers 33 Keith Thompson from Oldham, 44 Mike Whittaker from Macclesfield line up while blue-top 235 Dave Musson from York waits in the gate.

August 2011:
Less well known was Phil Griffin #242 from Staines, who raced from 1959 to 1963, here with his Fiat bodied Senior up on its dolly, on the way out of Brafield's pits. Photo from Doug Fisher. Don Roomes remembers Phil Griffin and his dad Cuth Griffin from the old days at Staines. Phil was powered by a Chrysler Firepower engine, and Cuth was 'powered' by taking snuff ---.

August 2011: Some pit photos taken at the classic 1961 West Ham World Final, at which Jock Lloyd's Jaguar-powered win was compared by AUTOCAR to Stirling Moss's Monaco victory that year. A young

Doug Fisher

#63 took these [copyright] shots and provides the info:
Two photos of the West Ham pits that are probably 1962:



February 2011: Below: an atmospheric panorama of a Leicester meet in 1963, and a field of the sport's top throttle-men are waking that famous thunder on a rolling start:


The big high-res image is here if you want closer detail. At the back - Alan Wardropper and Ellis Ford; #73 is pioneer Vic Ferriday with #362 Ray Watkins; #62 is Chippie Weston beside #152 Ron Rogers; far right is the ex-Jim Berg monster #282 of Barry Hebborn, and the hard-to-see the car beside him is
a Jumbo Tustin special, #179
.
l
April 2011


The site master Richard Jones gave me permission to show them here. Locations and dates are not known. Most likely is 1969, and the overlapping licence years of the different drivers. If you recognize a car, date, or location, please
e-mail me!
Here we go with some "probables" from myself and eagle eyed Dave Chapman:
Gordon Carr's
ex-Tom Fox car. Thanks to
John Rigg
for identifying Aycliffe as the track, Gordon Carr in his white overalls, and behind him
possibly
Dave Shipman 179 from Whitby, with the flat cap. Classiccar.co.uk identified Ford Pilot front wheels. Dave Shipman (#179 from Whitby) is in the smart jacket and cap
For the photos above,

locations and dates

, anyone?


March 2012:
Back in 1963 under a blue sky at Brafield, did Roy Goodman sense that he would be racing 40 years later?!


August 2010: Passed on to me by Kevin Crabtree, Two night-time photos of Roy Goodman #163 at an unidentified shale track, about 1970. Roy on his own, kicking shale from that outside wheel; and lined up with 37 Don Evans [note: it is 163 though the camera angle makes it look like an 88; compare the two photos]
Denis [one 'n'] Irving #485 from Nottingham, here shown "on the hook" at Brafield.
From an anonymous donor, a couple of photos from the May 1963 Henson Trophy meet at Brafield, the wild and woolly 'Consie' race in which the 25 starters were reduced to 5 finishers, with Tony Wicks the winner. In the first shot, a tangle between #290 Ernie Savory [Oxford] and #438 George Venables [Harlow], as Ian Ireland 314 misses the mess. Then, Oxford's Don Evans 37 gets his front end embedded in the fence, requiring the big hook.
Neill Crookes #15 from Sheffield sent this colour photo of his handsome Topolino-bodied car. It was Neill's first car, powered by a 292 cu.in. Ford V-8. His later cars appear in the SEVENTIES section. Neill raced from 1967 to 1978 and describes a common experience:
"Arriving at a bend and not slowing, courtesy of someone's bumper, can really focus your attention ---."
Above: my own photo of the Darkie Wright #7 in the Coventry pits in 1966 — an absolute classic car of the golden age.
Small world: Unknown to me when I took this photo, the two young men were

Barry Redman

[hands in pockets back to camera], who would become a racer in #151, and

Pete Webb

with the scarf and programme, who was to be #8 --- they were schoolmates then. In 1966 I was standing only 12 feet away; then in September 2009 Barry got in touch, and you can see his and Pete's own first cars at Webb senior's garage, at the top of my "Seventies" page.
Above: Jock Lloyd's Morris being readied for action in Brafield's pits, 1964. Jock always wore white plimsolls.
Above: the 1964 World Champ, the late great
Trevor Frost
drove this classic; it was restored for the Stu Smith Testimonial meeting, and Trevor's son Andrew remembers with awe watching his father "muscling that big car round the track", just like he had done in the old days. Photo taken at the Ipswich track's 50th anniversary meeting. The car is now in private hands near Derby.
December 2011:
Memories of Trevor Frost.



One of the great American racers, Jim Berg, remembers:
"I really did enjoy racing Trevor. He always raced me clean and I tried to return the favor. He was usually faster than me but I did get the best of him a few times. Trevor and Maureen both had a great sense of humour and loved a party."
Trevors's daugher Suzanne:
"Dad is still loved and remembered today and that makes me feel very proud.
"
Trevor Frost raced without any backing, being something of a loner. Maureen remembers that "He built everything from scratch himself, rarely with any help, working 18 hours a day through the winter." They were close friends of Nev Hughes #69 and his wife Dorothy.
The family in the early days had no electricity, and laundry was limited to Mondays and Tuesdays (think of all those dirty overalls), because they were on the road the rest of the week, with their children, even as babies. Sometimes they'd hurry to Brafield the night before to find a sleeping spot under the commentator's box. Maureen says, as others have, that the kids used to disappear into the pits and play with others the whole evening --- quite safe --- being kept an eye on by the whole racing community; children were safe as houses in a stock car pits. The hungry Frost family loved the famous turkey rolls sold at Long Eaton, as well as the perfume of Castrol R.
One memorable night was when the late Sir Jimmy Saville, with his mop of bright pink hair, presented Trevor with the trophy, and Trevor and his son got a ride in Saville's famous Rolls-Royce. When Trevor said that Jimmy must have taken a lot of flak about his hair, Jimmy grinned and said. "Well, this is a Rolls-Royce you're in, and it's mine!"
"But you were lucky if you could get through a week's stock car racing unscathed." says Maureen. "Such different times, we were just like a big family: some you got on well with, some not so well, but nevertheless good times. They were rightly called halcyon days; we met some real characters. Money was short if the car or transporter needed a road fund licence or tyres, but no one complained ever, we enjoyed it all. Hardship was not a word in use; it was an adventure, every week ... wonderful days, and you know what ... I miss them even now."

I thank Maureen for those heartfelt memories.
April 2010:
Wham-bam rollover: somewhere in that big cloud of dust is
#304 Willie Wanklyn
from Stevenage, on the back straight at Brafield in 1962. Ouch!
From a Coventry programme,

dated

1966, Pete Poole #129 from Leicester, reflects on the damage those fence posts could inflict. However, I think Coventry dug into its older files for the photo, because that doesn't look like a 1966 car, driver's helmet, or spectators --- no?

Prize days at Brafield:
Trevor Richings scanned this programme. In 1962, an end-of-season celebration with some famous names looking cold and muddy.



Ken Freeman

#61 from Sunbury-on-Thames raced F1's and F2's, and built cars for other racers, and here he's collecting

the 1962 Marathon Trophy

from a much cleaner Sandra Turner of Dunstable.

In 1965,
Barry Hebborn collects the prize while Graham Guthrie waits patiently (??) with the microphone. Graham did wonders and hard work for Brafield over the years, but 'show-biz smiles' were not his thing ----.


Geoff Barnett was invaluable at Brafield Stadium right from its first 1955 meeting --- and here's his official photograph.


Action at Brafield in 1962, from Trevor Richings:

Trevor Frost 68

misses the tangle between 261 Derek Mountney from Thames, and a "Tip-Top" sponsored car which may be Chick W. (?).

In 1963, Ellis Ford helps push Don Evans (37) down the straight.


Ellis and Freddie Mitchell were both lap record holders in 1961/62.

In 1965, Les Taylor and his brother do some victory celebrations [this photo may appear elsewhere on my site]. Les Taylor was a butcher by trade, but was not afraid of carving a bunch-of-bananas exhaust system for his his 383 cu.in. Lincoln motor.
About three years ago, along with some great Jumbo Tustin photographs, I was kindly given these three scans of a truly rare document: the 1965 Stock Car Racing News fourth annual

"Dinner and Dance"

and awards ceremony. The late Aubrey Sutton's wife Diana sent these (Aubrey was Jumbo's mechanic).

Here's the cover of the evening's programme.
See the puns and jokes for the menu,

the

first course is called 'EAT ONE'.
The list of awards, where Ellis Ford walked away with an armload.

This lonely "fencer" is 444 Ted Elliott from Rugby.. Brian Goodspeed recognized Ted's Roy-Goodman-built car. (Brian founded the British Stock Car Racing Supporters' Association along with bro Roger, and Dave Simmonds and Barbara Stevens, and earlier had sold Peter Arnold's "Stock Car Racing News" around the tracks. This keen bunch also drove a huge old Humber, and towed such cars as Terry Coell's, Chick Woodroffe's, and Johnny Allen's. Brian Goodspeed (what would you give for that surname!) raced F2's in England and later in the Isle of Man where he settled.

"Hurricane at Harringay" 1962-65

Albert Holmes 488 from Oxford at a jaunty angle in 1961; this is a classic early-sixties car:



Three-car tangle in 1962 featuring [number invisible] 377 Merv Kirby on his side, (Merv from Bicester) thanks perhaps to Bermondsey's Duncan Hamilton 281, while Vic Wright 453 goes by.



Nineteen programme scans from Trevor Richings, who was Rod Dore's travelling mechanic. [Note: as with most tracks, Harringay sometimes used photos from previous years.]

More Harringay programme photos:

Alan England, who actually lived locally in Harringay, gets tangled up with 163 Brian Riley from New Cross, 62 Chippie Weston, and 146 Roy Clarke [BSCDA #146 was shuffled among Roy, Brian Reilly, and the better-known Jim Potter, between 1960 and 1963.]

Then, Plaistow's Reg Pryor 189 punts a marker barrel,

and Londonere Frank Morseman 239 trades paint with Darkie Wright.

Below: Sunny Sunday at Brafield in 1964, and a neck-and-neck match race (remember those?) between the near-identical cars of Ted Pankhurst and Doug Wardropper.
Ted again, below, at Brands hatch in 1969
That fabulous photo courtesy of ex-racer Doug Fisher. In bright sun Harry Linney 278 from Loughton, Essex [home of many stockers] follows 104 Ted Pankhurst and 226 Brian Maynard from Ongar. What a sight.
September 2011: About 1967 in the Cadwell pits, Harry Linney and his pals ride the stocker, three abreast past "Wildcat", photo courtesy of Malcolm Brown.
Walthamstow Wild Men
More programme scans by Trevor Richings show us this action from 1963 to 1965:
Infield, track, barrels, who cares, we're all here having fun in 1963:

Barry Hebborn

282,

Doug Mason

250 from Oxford,

Peter Guinchard

472 from Edgeware, and I can't guess the rest.
A tangle on the straight: # 238

Barry Brew

from Deptford, # 5 Dougie W., and a mystery 355: not registered in 1963; 355 was Roy Allen in 1961, and Brian Carter in 1965; if it were 3

6

5, it could be John Piper.
George Ansell 475 (more often under 375), must be pre-1964, in a mess, with 322

Nobby Clarke

from Basildon. Lots more pics of George Ansell further down this page.
Note: although the stadium closed in 2008 (end of the greyhound era), the series of property developers buying and selling and planning for the site have not in fact done anything on the ground, and in February 2011 there seemed to be a chance that the track and most of the stadium could be re-opened at least to greyhounds. Stock cars? Happy pipe dream!
=================================================================================
The Rod Dore Story
Thanks especially to Rod Dore's one-time travelling mechanic Trevor Richings, and to Ian Melton and Ken Mason, for the following photos. Trev was very generous in telling the Rod Dore story to me.
January 2011:
Rod Attacks Cadwell. Thanks to Dave Chapman, whose expert photos appear elsewhere on this site, a terrific action shot of Rod ramming the bank at Cadwell, with Ellis Ford just visible below:

Ex--racer

Ian Melton

recalls this fascinating incident with regard to Rod Dore: towards the end of the 1962 racing season, Rod and his wife Megan organized a weekend party for friends, at their Mill Hill home, naturally inviting some of the "Yanks". The day before the party, an apologetic phone call from the Chelveston base announced that none of the USAF flyers could come because of

"a situation"

. The radio and TV news then announced the

Cuban Missile Crisis,

and Ian and his friends realized that many of the US personnel were "in the air / off the tarmac" in shifts, 24 hours a day, in their bombers --- just in case. The rest were glued to their radar equipment.

"We'll be wearing our tin hats on Monday!"

was the typical British response.


Ian gave me the inside story on Rod's famous

ex-Vanwall Ferrari gearbox

; Rod mounted it remotely further back in the car, and drove it with an angled shaft from the engine bellhousing.

Another innovation

, later copied by other drivers in their own ways, was to cut 2.5 inches out of the left-side chassis member, so that the left side axle end was pulled back. Indy cars used to do something like this in the old days, and it made the right-front wheel "bite" harder and reduced the left front's drag and interference --- Ian tested the set up in Rod's car and reports that #35 basically wanted to turn left

all

the time, requiring a strong arm down the straight. Ian also said that the car was so fast because it was much lighter and easier to throw around than the competition. Ian sent the following Dore photos:

Ian Melton provided this photo from Brafield, showing Rod with USAAF racer Jim Berg, by Jim's famous car.
Below: I took this photo of Rod Dore's Fiat 600 body squeezed over a Bedford chassis with an Olds Rocket V-8 and ---- a Ferrari SuperAmerica gearbox.
How does a stock car driver get his hands on such a gearbox? I can't say for sure, but
Rod's time as a mechanic with Vanwall may explain it. The Vanwall team inherited the unique "Thinwall Special" that used Ferrari engines.
[Ferrari Superamericas did not grow on trees: only about 120 were built between 1954 and 1964.]
Look behind Rod's Fiat and see

Terry "The Toff" Haywood

's cut-out top hat welded to Terry's roof --- Terry occasionally turned up at tracks wearing a real silk top hat and a bow tie (e.g. at the 1963 WF at Harringay). Terry, from Small Heath in Brum, raced from 1959 to 1965, and later emigrated to South Africa.


Another day, another shot with my cheap plastic Brownie: a few more dents on Rod's car.
January 2011:
Nearly identical to my b/w shots above --- Leicester-based fan Dave Chapman was at Brafield in September 1965, loaded for colour slides, and here's that famous lightweight Fiat of Rod's again.

August 2011: From Trevor Richings: Rod has his 35 car up on the towing dolly, behind his Standard Vanguard (ex-RAF) van; you can see Rod in the background. Also, thanks to Doug Fisher, a Brafield pits photo of Rod's car, with racer #129 Bob Lester from Hayes, "having a butcher's". Non-Brits may not know the meaning of that slang.
Rod's travelling helper: When Trevor Richings was a youngster he financed his train-spotting trips by cleaning cars. One day he discovered Rod's three cars (including an ex-RAF Standard Vanguard van), parked on his street. Being keen, he offered to clean it, and from then on became Rod's buddy and helper. Trev travelled all over with Rod Dore for years, until Rod emigrated. In 1960 Trev accompanied Rod to scrap yards to re-build the racer with Bedford chassis, Oldsmobile motor, etc. Racing tyres came from a dealer in North London's Finchley/Barnet area where Rod's home was. One of Trevor's tasks was to re-fit the half-shafts that had been removed for towing; also to fit Town-and-Country or racing tyres, to match the track, and to top up with 5-star.
Trevor remembers the drinks and laughter, mixed with moaning over winnings and start money, after racing at Harringay. Like many a mechanic looking back on those days, Trev reckons it was a good way to grow up and learn about life. Here are two treasures that many mechanics have kept over the years:
Trev's own BSCDA overall badges:
And like many a racer, along the way Rod Dore taught his helper practical skills and "the right way to go about things", which Trev still gratefully remembers to this day, as a busy HGV man behind the wheel of his 'artic'. Rod made a point of meeting up with Trevor again in 1969 and 1981 when he visited back from New Zealand.
Rod was a pure racer, here, middle photo, shown in his # 35, not a rough-and-tumble crasher, and was known for smooth reliable driving. Trevor:
"Rod was softly spoken, and although he shared the laughs at the drivers meetings, he never shouted at anyone and in fact never had a bad thing to say about anyone, drivers or otherwise."
Trevor recalls. Rod's unobtrusive skills kept him in the A (blue top) and Star (red top) grades for most of his career from the mid fifties to 1966. Rod was 3rd in the 1963 World Championship, and also 3rd in the World Semi-final.
If you had to give a fragile glass trophy to a stock-car racer, then smooth-driving Rod was probably the right man. But he did not mind some barrel-jumping on the Brafield back straight, with #68 Trevor Frost in the background and #439 High Wycombe's Les Taylor ahead.
March 2010: Just a tiny smudge on that calm-and-gentle Rod Dore 'image' --- he had a coming-together with live wire Pete Tucker at Harringay in 1960, as a result of which fists flew and a third party driver got himself banned from all BSCBC tracks. (Sprog Bennett was from Wembley and raced under #110 at the time.)

Rod was a meticulous engineer, strict with himself and his car. If he'd set up the car right and drove well, he expected a good result --- and helpers learned that if a race didn't go well, it was best to give Rod some breathing space afterwards ---.

At Walthamstow, one of his favourite tracks Rod parades with the chequered flag and trophy in 1964.

Rod shares the Fan Club Derby limelight with Alan Wardropper, Jock Lloyd, and Fred Mitchell.

Here is Rod on the cover of the Feb/March SCRN for 1962.

Parading after a win, in the November 1964 SCRN.

Rod raced a beloved Morry, shown here in 1960 with his custom radiator inlet and hood scoop (surely influenced by the aerodynamics he'd seen on that Vanwall).
Rod won the "King of the Midlands" Trophy at Brafield in 1963. My thanks to Ken Mason for the SCRN scans.

Rick Young sent this colour photo of Rod with his car in the Brafield pits.

Rod raced well everywhere: Matchams Park, West Ham, Walthamstow (in 2008 gone to developers alas), Cadwell Park, Southampton, Norwich, and Brafield, where he collects the kiss and the trophy in 1964.

If he wasn't already busy enough, Rod also did some writing for the BSCDA; here he explains the then-new Junior 10 formula. Here the Harringay promoter uses Rod for some humour.

Below: Rod is in the 1960 World Final pre-race lineup, front row right, (squinting in the sunlight) next to Johnny King:
Rod in circuit racing
He divided his time between stock-car racing and his job as a racing mechanic for Alfa Romeo saloons and two famous British Grand Prix teams Connaught with their screaming 4-banger Alta engines, and Vanwall. Pit scene 1. Pit scene 2. Vanwall was the project of millionaire industrialist Tony Vandervell who owned Vandervell Bearings in Acton's industrial Park Royal, just near the world's largest (Guinness) brewery and the Queens Park Rangers ground. Grand Prix legend Sir Jack Brabham was one of Rod's friends in the early sixties.
Rod appeared on screen, uncredited, as a race mechanic in the film The Green Helmet . Here's the (disguised) sports-racer featured in the film, with that old rascal Sid James as the garage man.
December 2010:
Dave Williamson
of Australia recalls seeing Rod Dore in 1958 working on one of Bernie Ecclestone's Connaught GP cars in an Auckland NZ workshop, and remembers Rod as a
"gentle, quiet man, obviously well-respected at his craft"
--- a perfect description. Young David at the time could also be found in Auckland's Epsom Showgrounds,
admiring the stock cars
.
Dave also sent this photo
of Rod Dore, on the right, pushing Stewart Lewis-Evans's Vanwall in Silverstone's pit road:

January 2011: Rod the Movie Star: Thanks to Dave Williamson for three still photos from "The Green Helmet", in each of which you can clearly see Rod Dore playing his own real-life character, a race mechanic [dark armband], in the Jaguar pits. Photo 1; Photo 2; Photo 3.
I bet an expert will identify which / whose real life D-type that was --- Jaguar built 71 of them, advanced cars in 1955, with aluminium monocoque chassis, disc brakes, and aerodynamics designed by an ex-Bristol Aeroplane engineer.
Here's a magazine article from The Tatler in 1961, about the 'butchered' Lister Jaguar in THE GREEN HELMET and how 'real' racing drivers provided the on-track action:
Rod in New Zealand:
December 2010:
Rod moved to and from New Zealand several times, before settling there. The late Gavin Evitt [historian of of New Zealand's HISTORIC STOCK CAR CLUB] told me Rod was first there in January 1958, mechanic'ing for a Bernie Ecclestone team. Gavin first met Rod at the opening of Waikaraka Park in December 1967 with his lightweight 1937 Chevrolet Coupe with Chev 6 Blue Flame engine. Rod had a quick car, didn't get mixed up in the action, and won a lot of races -- that sounds familiar!

Before the end of the season in March 1968 Rod had sold the car, and gone back to England. Rod was soon back in NZ working as a Mechanic at Bruce McLaren Motors. Rod and a fellow mechanic built a new Oldsmobile F85 powered car to race at Waikaraka Park (#58 car in the photos below). He raced for two and a bit seasons and then left the sport again. In late 1973 Rod was a go-between arranging the England stockcar team tour of early 1974.

Rod turned up as a spectator at Waikaraka Park in late 1997/early 1998. That night Rod purchased a raffle ticket for a race drive in a stockcar ........

. and won

. The next week Rod had his first race in a stockcar for over 20 years, and he got the bug again. This time, though, he had seen some of the restored and replica historic stockcars, and decided to build a replica of that first NZ Chev Coupe.


Last heartfelt words go to Rod Dore's long-ago helper,

Trevor Richings

:

'Those early days were good, when the tracks were packed, and I thank Rod for taking me with him; it helped to shape my life.'

========================================================================================

As well as travelling and mechanic'ing for Rod, Ian Melton raced from 1960 to 1962, in the old Jumbo Allen car, here seen parked behind Willie Wanklyn. Jumbo had raced it under #461 for just one year in 1960. BTW, Willie Wanklyn's mechanics at that time were Gordon Perrin (56 and 266) and John Challis (later raced under #30).

A night shot at Harringay in 1961 with Ian spinning in front of Aubrey Leighton and with Chick Woodroffe in the background. Here Ian rides the barrels at his only Long Eaton appearance [ beside #121 who could be George Radwan or Ron Amas]. Ian retains detailed and happy memories of the early 1960's, its heroes and a few "villains" too, and almost 50 years later a knee occasionally reminds him of a 1960 Harringay 20-lapper in which he drove his 403 without brakes until the last lap when the track fence put a sudden painful stop to his progress. Like others from that era, Ian says that stock car racing taught him a great deal about human nature, such as how to recognize empty threats and boasting; but above all that wonderful well-known phenomenon in Ian's words: "drivers who would shunt you off the track, curse you, etc. but if you broke down on the way home they would lend you their last spanner." A big thank-you to Ian for all this info.

Here's a no-nonsense character for you: under the number 339, Arthur Townsend bought good cars one after the other, and went hell-for-leather against his many rivals. The black/white car shown here was an ex-Toon car. Next photo is of Arthur Townsend on parade at Brafield. Townsend was Welsh, from Pontypridd, growing up in the "dirty thirties", and moving to Leicestershire set about building his own grocery business with his father and brother (travelling vans/converted buses). Before entering stock-cars, Arthur had done very well in the early days of kart racing. Arthur advanced from B to A grade briefly, and contested the 1967 World Championship at Harringay, which was just one of the frequent occasions he got into a ding-dong with Ellis Ford. Arthur also tangled with one of the Cayzers (John) at Brandon, which got them both suspended, and Charles Ochiltree even wrote about it in the Brandon programme.

"Uncle Arthur took no crap from anyone", remembers his nephew. His team buddies in stock-car racing were "Davie" Crocket, Jack Lord, and Bryn Davies. Although this website likes to emphasize a cheery image of our beloved sport, the whole truth has to include the fact that many if not most drivers had a tough side, and a full-contact sport means that tempers are lost and grudges are remembered. As Ochiltree points out (and we all know) that wonderful big smile of Fred Mitchell's would be on his face just before and just after he stuffed you in the fence or gave you a warning in the pits —.

After he left racing, Arthur turned his hand to several businesses, and ran the Tudor Hotel in Leicester and a flourishing bar, the "Tivoli", in Gibraltar. Arthur passed away at age 76 in 2004 while living in Coalville Leicestershire (yes, also home of the Toons). My thanks to Jim Patterson, who, as Arthur's young nephew 40 years ago, had the thrill of following the stox "circus" from track to track, and who first got me digging up these facts. Thanks also to Steve Gateley, Ken Mason, and Rick Young.
November 2010:
Arthur Townsend #339 being "derailed" by Cadwell's downhill: a kind contributor sent this unusual closeup photo from 7th July 1963, showing Arthur clambering out his his car after taking out some posts and safety netting, close to the spectators. Notice his single stub exhaust pipe. In the following race Willie Harrison suffered an identical accident, caught fire, and had to be dragged clear. Thanks, 'anonymous'.

Dave Berresford #260, waiting calmly for the shale storm to start at White City stadium, with arms resting on each door. He also appears in one of the sport's most spectacular "flying" photos, in the 1970's section of this site.
Johnny Piper raced under numbers 365 and 10. (photographer unknown).
Piper also had the honour of piloting that famous "COP CAR" at Brandon Stadium. It was a WW2 Daimler armoured scout car known as a "Dingo", fortunately with the standard .303 Bren gun removed! Fans from the old days recall it was driven onto the track as a barrier to protect a car and driver that had been rolled and was vulnerable. For old hands and newcomers here's how it looked in 1983, "retired" at the stadium. I will insert a photograph and another. NOTE -- earlier I had wrongly identified the Brandon machine as a Daimler "Ferret", but that was a later and larger vehicle than the Brandon Dingo.
August 2015: the "cop car" is today in Holland and is being given a total restoration by a military-vehicle enthusiast; here it is in 2013 before work started:
Johnny was from the London area, and raced at Harringay, West Ham, Ringwood, Belle Vue, and others from the late 1950's to the early 70's, and also held positions in the BSCDA. He used an Olds Rocket motor, which was probably what powered him to a 3rd place in the 1968 British Championship at Harringay. Off the track too Johnny was a character, a self-employed businessman and wheeler-dealer, an exciting driver on the road ("he had two speeds: 70mph and stop") and was fond of dogs as pets; and I hear that, like his friend Les Taylor, he very much enjoyed a flutter on the White City greyhounds too. I believe Johnny died in 2004 or 2005. Thanks to Rick Young and Roger Melanaphy for the background info.
Page out of history — Ron Knight kindly sent this scan from the stock-car album. Ron and his wife at one time ran the Tony Allen fan club.
One-time Brafield deejay Russ Thomas sent this classic 1962 photo of "the usual suspects" on the job:
Ralph Howley's V-8 Pilot spun, while Mick Lewis 191, Albert Chignall 186, 'Lightning" Bob Laurie 98, and Johnny Goodhall 200 find their way past.
Brafield's pits bend always had some head-banging fence action. Don Stacey 257 from Guildford is in the air; #193 is either be Doug Waldron or John Twynham.
It happened so often that you could call it the "Fred-and-Frida" show — so often did superstar Fred Mitchell collect the goodies from the wonderful Frida Arnold, wife of the sport's great ambassador Peter Arnold. Fans and drivers at that era all knew that Peter and Frida contributed enormously to every aspect of stock car racing: committee work, negotiations, publishing, writing, faultless lap scoring, you name it. Never making a decent penny from it, working all hours, travelling everywhere. Most people also heard on the grapevine that instead of the rewards and thanks they deserved, they were eventually "shown the door", in one way or another, by the organizers of stock car racing, and both their lives ended sadly and before time. Read Pete Tucker's excellent book if you want the facts.
Thanks to Ken Mason, here is a nice programme photo of Fred Mitchell as winner of the 1966 World Championship at Belle Vue, being congratulated by the NEWS OF THE WORLD** sponsor.
At that time the N.o.W. was in the Guinness Book of Records for the highest newspaper circulation in Britain: about 8 million. In those days it was considered very naughty reading. My gran refused to buy what she publicly called "that awful paper" -- but she always asked her neighbour for it over the garden fence on the following Monday! **July 2011 Britain's dear old scandal rag outwore its welcome and has shut down.
From Aycliffe in 1967, two nice photos

courtesy of racer John Rigg.

Two "little" F1 cars that look slim enough to be F2's but they aren't. Foreground is Earl Testo
#389 in a space-framed Pontiac motor, and behind is

Ron "Dixie" Dean

the Aycliffe promoter in a space-framed Ford powered motor.
September 2011: Earl Testo #389 again, late sixties, maybe Doncaster? He is pitted with yellow Mini-bodied #40 Jim Aspin from Clitheroe, and #229 John Hillam. [Malc Brown photo]
The car that changed the game

. Once in a decade or so, a car appears that moves stock-car racing 'up' or 'forward'. This one did it for the early sixties, built by Johnny Brise, who won the World Championship with it in 1959 and 1960 under number 103. Johnny King inherited the car, and here it carries King's #6

. [Phil Chance identified the pits as Cadwell Park.]
Keith Barber's books and magazines have often described the machine — a mix of Mercedes, Jeep, and Ford that simply revolutionized the idea of 'handling'. Brise was a brilliant engineer, who also pioneered go-karts in the UK, and whose famous son Tony Brise tragically died just as he was making a name for himself in Grand Prix F1 racing with Graham Hill.
Stock-car racing is known for its "tribal" nature, and old hands can recite dozens of families in which different generations competed; the Scrivens had three generations on the track at one time. Here are the famous TOONS from Coalville

.
Here are two shots of Jack Toon #199.
First, catching a ride with Ellis Ford in 1966,
then Jack Toon's immaculate car, which was later raced by Brian Tuplin
Below: "Waltzing Matilda" at Harringay in approx 1967
Johnny Ayling # 299 going round and round, helped by 282 Barry Hebborn. That Ayling body looks like a pickup, and if so, did BriSCA ban it like they did to Keith Barber's F2 pickup? Sadly, Harringay Stadium, a solid favourite for scores of drivers and thousands of fans, is no more. Barry Hebborn from Oxford had raised the stakes in the mid sixties by importing a brand-new NASCAR racing 427 Ford V-8 motor built by Holman & Moody -- probably a thousand pounds even back then. His ex-Jim Berg (USAF) car was already a hot number that made a few drivers jealous: # 282.
August 2011:
Thanks to ex-racer

Doug Fisher

#63, a photo of 282 Barry Hebborn with his Oxford pal 283 Graham Rackley, on a blinding summer day in the Ringwood pits. Scattered in the background are John Piper's 365, Bill Judd's 366, and Freddie Mitchell's 38.
Nigel Harradine was present at Harringay in 1966 when this horrendous crash happened, and reports that the great "cloud" forming around the wreck of Hebborn's 282 car was actually spray from a ruptured water pipe that must have been attached to the fence. The photo is taken from the Veteran driver's newsletter. Barry had asked Fred Mitchell to try out that new 427 motor. The word on the terraces was that Fred had never before sat in the new Hebborn car, and it had a centre throttle pedal -- and that after storming the straight with this VERY powerful Ford 427 cu.in. motor, Fred lifted off and then may have done what was natural to brake and stomped back on that central pedal; who knows now?
The car rode up the fence wires, hit the floodlight pole, dropped down sideways, and the steel RSJ pierced the car just 6 inches behind the driver's seat! Mechanic Pete Schafer ran over and found Fred uninjured still in the seat. You can see that both axles were torn off, and the tire 'cushions' that probably saved this from being a lot worse.
Roger Minkley from Gamston, Notts, was an occasional racer who was known as dealer and collector of diecast models; this car was an ex-Rod Falding motor.
Can you squeeze a big American V-8 motor into a Mini? Yes, and still leave room for Rog Taylor in his 198 car.
March 2010: The Taylor bros: two-car photo at home with Les and Roger Taylor and their mechanics; very tidy cars that share old Austin rad grilles. [scan by Steve Gateley]

=======================================

Jock Lloyd 131


King on shale and a threat everywhere,

Tom "Jock" Lloyd

ran the Whitehouse Garage in Ashford, Mdx, but was a true Scot born near Glasgow. Jock also owned two light planes, which I hope he handled more delicately than his stock cars.

September 2010:
This photo was taken at Brands Hatch, probably 1965, and shows Jock and the elegant Mme Curval, wife of French stock-car racer Guy Curval who was a long-time friend of Jock and whom Jock always assisted on his trips to race in England:

(Notice Jock's favourite very "elegant" white canvas plimsolls ---.)





Harringay's 1965 "Fan Club Derby" was a great idea, and the drivers took part with a will.
Here Jock makes sure the fans know he's happy to be there. Anyone recognize themselves or a friend among the supporters? [By the way, Gordon Bland who sent this photo, chaired the British Stock Car Racing Supporters Club in the late 60's and co-edited its magazine.]
This version of his car might upset snobby Jaguar XK140 collectors. He had won the World at West Ham in 1961 [see the gold roof], with a Morris Minor body on, and mainstream magazines like AUTOCAR wrote it up.
According to Pete Tucker's book, the motor came from the 1958 fatal wreck of a Jag crashed by the forties and fifties film actor Bonar Colleano ["The Sea Shall Not Have Them"] Thanks to Tony Organ for the colour pic.
A different colour photo of Jock's Jaguar XK140 coupe in the pits at Brafield in 1962 [anonymous donation]. Note the red roof instead of gold, so this photo must have been taken after the 1962 Belle Vue world final that Freddie Mitchell won.
Doug Fisher #63 sent this pits photo which clearly shows the way Jock had customized the Jaguar's bodywork rather than just "hacking" it. Possbly a 1962 photo?
"Mum, why's that man sitting in the back seat of his Morris?" Jock looks a wee bit puzzled too. [scan from Steve Gateley]
Much thanks to Chris "Totter" Holmes for the following photos and facts. Chris apprenticed to Jock at his White House garage, and travelled with Jock as race mechanic — what a great way to learn your trade. Chris could be found in the garage by the age of 12 and was stripping and rebuilding Jaguar engines by the age of 16. But Jock taught something else, just as important: total professionalism with the job and with people. Unlike some drivers, at the end of a meet, Jock would always wash and change before going to the bar, and he insisted that his car be similarly treated: the big alloy Jaguar motor had to be polished spotless, before and after a race, a task which Chris H. recalls became even harder after they installed the three twin-choke Weber carbs!
Here are three scans of Stock Car News as it gave the wonderful results of the 1961 World Final at West Ham:
The cover (Jock almost invisible in the background)

Big thanks to the sender of this document: someone at the 1961 WF at West Ham carefully wrote down the placings of that historic meeting in their programme: history as it was made that night.
September 2010: Also from Chris Holmes, Jock's 1961 WF victory, with a jubilant Chris about to climb into the winning car.
Here is Jock's full-sized Mk 7, which he modified and raced as a challenge to the upcoming cut-n-shut "specials" that were starting to take over.
Here is the brilliant Morris that Jock drove to his 1961 World Championship. Chris "Tottrer" Holmes was a Lloyd helper, and sent this bewildering photo of the INSIDE of the Morris cab ---- he says that the engine was almost in the driver's lap and was "very loud".
Finally Chris Holmes himself with his MG Magnette saloon at his first (Spedeworth) race; and Chris perched on the WF Morris roof.
With this Magnette Chris won the Walker Bennett Trophy for white-tops in 1971, then was promoted to blue top status. If you look at the bonnet, you'll see a partial word "-ock", which is part of Chris's racing nickname (guess what goes with HOLMES) --- Sherlock. The Walker-Bennett trophy came with the princely sum of 25 pounds. The MG raced and also hit fences at Aldershot, Eastbourne, and Wimbledon until it gave up the ghost. Chris recalls the long-ago pleasures of travelling and racing for £2 start money, towing the Magnette on a converted caravan chassis behind his trusty Mk II Zephyr. "Those were the days".
Thanks to Chris for info on the following photo that I took many many years ago in the Brafield pits, of Jock's Andy Capp Special, a Morry Minor on an XK140 chassis. Chris recalls the signwriting being done by a brilliant paint man named Frank Howlett, who taught Chris the art. Frank Howlett was the starter at the Staines track in 1958. Chris still remembers the joy of world final Victory 50 years ago, AND the next morning's hangover. Chris still admires the late Jock Lloyd's character as a man -- something that I've heard said by several drivers' friends and mechanics — that there seemed to be something just a bit special about that generation of drivers.
In the next photo, [which chuffed me no end as it was with a forty-shiling Brownie Cresta camera], Jock had rebuilt his Jag to look like a US supermodified, and had tuned the motor up to Le Mans standard by bolting on three twin-choke Weber carbs.
It used a Morris commercial chassis wearing a Standard body, and it was built at Jock's garage by Don Roomes, a racer himself, who had also help build cars for Ken Freeman:
In 1968 Rick Young photographed the same Jock Lloyd Jag at Swindon's track.
Fans could buy this transfer. [Rick Young collection] Jock first raced at Staines in 1955, and his last win was in 1966 at Harringay. Jock died in 2000, and is missed especially by VSCA members, for whom he was president for years.
Thanks to Trevor Richings for the next two photos. Some drivers/builders simply insisted on good engineering and professional racing; Jock Lloyd and Chick Woodroffe were true professionals, and from a 1965 Brandon programme we see them proudly parading on their cars. Look closely at Jock's meticulously-fabricated exhaust manifold and pipe, built carefully into and through the body panels: what attention-to-detail.
And here in (1962/3?) in his Jaguar XK140, getting rough with #6 Johnny King, #138 Allen Briggs, and #347 Barry Johnson.

=================================================================



Les Wesley 125, son of Ben Wesley, and note the programme says he "looks like a parson, but —"! [Scanned by Di Sutton]
Below: Geoff Harrison's tidy # 127 Senior at Brandon in 1966:
Geoff's mechanic was Roger Harris, who passed on this info. Harrison was one of the Cheltenham drivers, sponsored by Denis Blunt. Geoff was also in the Malvern "A" skittles team which was made up mostly of stock-car drivers and mechanics. Thanks to Di Sutton, here's a programme photo of Geoff Harrison , who was nicknamed "The Cheltenham Flyer". Geoff had an engineering business with his brother in Leckhampton [Cheltenham], and the young Howard Davis was a mechanic there. In the next photo Geoff Harrison is visible on the left, white overalls: Brandon pits photograph that also shows the high-reach crane they used in the fifties and sixties to unload stock-cars from their transporters — younger fans may not know the ingenious ways that drivers carried their cars; at least one chap (one of the Wesley brothers) would arrive with his stock-car in the back of his dump-truck. At Brafield some cars would simply drive off their flatbed onto the back slope of the spectator banking.
Here's Geoff Harrison 127 patiently obliging the stadium photographer for that typical portrait: "Just what I need before the race, a camera flash in my eyes". [Photos courtesy of Steve Gateley]
At Leicester, 1963: Geoff Harrison gets pushed around by #372 Mike O'Hara from Mansfield and #250 Doug Mason from Oxford. [Programme scan from Trevor Richings] Sad to record Geoff Harrison's passing, April 2004 at the age of 75.
Rick Young tells me the rear bodywork on Reg Pryor's car (1968) is from a BMW Isetta bubble car. Reg was from East London. Whatever became of bubble cars?
Londoner Darkie Wright built quality racers: sheer craftsmanship. His cars were spotless, a fabricator's dream. Darkie's trademark was the Mercedes grille which looked like Mercedes-Benz had designed it specially for a stocker. There may have been some cleverer cars, but none were more neatly and thoroughly built. I took this photograph at Brandon (Coventry) 1966. Later Darkie shoehorned a big Jaguar V-12 motor into his Senior. Having begun at the sport's inception, 1954 at New Cross, where Darkie scored a 3rd place, he was still bouncing off steel girders at an age when most men have retired quietly to slippers and a footstool. Here is Darkie sharing the limelight with George Ansell; Darkie on the right of course.
Darkie celebrates another victory at Brafield, with Miss Brafield, Maggie Ford. [Photo from Carol Cockings] . Note the white-painted regulation petrol-can "tank". See the sponsor name: does anybody drink Ceres Danish beer today? Yes, they are part of Royal Unibrew: http://www.royalunibrew.com/Default.aspx?ID=221
Thanks to Steve Gateley, a Brafield shot of Darkie's car in 1962. Of the three guys together, Darkie is on the left, then Johnny Piper #10, who after retiring from racing drove the famous Coventry "Cop Car" scout car, then Doug Warner #313. Darkie hung up his helmet at 62 years of age. Many of my correspondents have been told this tale: The one and only time I persuaded my late father to come to the races, at Brafield, was in the early seventies. We were by the fence at turn 4, and Darkie slid out and stuck in the cables. When Darkie climbed out, he pulled off his helmet and goggles, and my father exclaimed loudly in surprise "Good God, he's older than I am!", which set the crowd laughing. Few people actually knew his name was William. Darkie lived to be 88 years old, bless him, and died in late 1999.
August 2011: Perhaps photographed in the same season --- this view of Darkie's car was snapped by Doug Fisher, and shows a hefty towbar. In the background is #347 Barry Johnson from Kegworth, and #62 Chippie Weston.
Darkie Wright parading with the chequered flag at Brafield; date probably 1963.
From Trevor Riching's scans, here is some pre-race comment on Darkie Wright; and here a mug shot of the "little Londoner" himself.
Mel Bassey, #17 was not only Darkie Wright's son-in-law, but he obviously drove a Wright special; here escaping after a tangle with the Brafield fence. [Dick Young photo]
Check the quality of Alan England's car: it's a Darkie Wright special of course. Alan's in the pits at Brandon (Coventry) in 1966. Here is Alan England in the Brafield pits, a photo I took in 1964. Darkie Wright is bending over the engine, with Alan England on the other side. Alan was from Harringay at that time.
Frank Bourne raced another Darkie Wright special, which was originally built for Jim Potter in 1967, with a 1935 Ford Model Y body. This car represents the classic design, with 4"x2" RHS steel frame, Darkie's trademark Mercedes grille, transverse springs, powered by Buick. Frank Bourne, a farmer from Cheswardine, raced it under # 16. [Dick Y. photo, and facts from a 1985 issue of Keith Barber's invaluable Stock Car Magazine.]
Thanks to David Collins and Ant Jenkins for passing on this photo (possibly a Mike Greenwood pic?) of Frank Bourne #16, car and driver basking in brilliant sunshine at Hednesford Hills Raceway in approx 1968/69. Rick Young reckons these Y bodies were "The Business" as far as stock-car looks.
Another Ford Y body can be seen on this sunny pits shot of 155 Brian Tuplin, of Lincolnshire.
September 2011: Thanks to Malcolm Brown, two further photos of Brian Tupin in about 1967,
Jim Esau 244 DY photo in 1968. "Big Jim" was from Heston, Middlesex. (If you squint into the background you may see the famous Roll-Royce radiator grille on car 394 of John Pratt, a car that is still in the Pratt family.)
Here is a Keith Barber drawing of Jim's car, from Keith's book WILD BILL TO WILDCAT: Jim Esau Art Drawing. It's Keith's copyright, so if you want to see more, track down the book second-hand.
Big Jim Esau in the Brafield fence; he had 442 cu.in. of Pontiac power in it. [Rick Young photo] More of Jim in the SEVENTIES section.
March 2010: Jim Esau looks embarrassed posing for the camera. [Steve Gatley scan]
George Ansell
September 2011: Thanks to
Malcom Brown
for this 1967
snapshot of Ansell's gold roof car
in the Cadwell Park pits.
A big thanks to Ian Snoad, who raced bangers, late 70s early 80s in car #331 and #509, as "Ian Williams". Ian has obtained a fabulous set of professional photos, and has kindly sent me some for this page. Ian wishes to remind everyone out there that the grand title "KING OF TAR" belongs to George Ansell, especially for his blinding speed at Harringay. Ian is in touch with George, who is still fighting fit at 70+yrs, and with George's ex mechanic Jim Bunyan. Ansell is a true gent, and presented Ian with one of his Harringay trophies and some programmes. Ian counts himself the No 1 Ansell fan from the age of 8, and at age 10 he also painted cars for banger champion Roy Syme (#55) of the notorious Harringay "Teddy Bears" team. A buddy of mine knew the Teddy Bears well, and reckoned the ownership history of some of those bangers was not always 100% kosher — "say no more, guv'". Since Ian Snoad was the "main man" behind this Ansell collection, let's celebrate Ian's favourite racing: a 1968 "Pathe News" film clip of banger racing at Harringay: http://www.harringayonline.com/video/stock-car-racing-at-harringay
Some more credit to Ian: here he is in his own blue # 509 car ready to rumble. And here he is "in the mix" at Harringay in his 331, as a rival barrel-rolls in the puddles. Ian 'does a right head butt' to the Harringay opposition, but then at Arena Essex "Hornsey Ian" takes a flyer. Now for Ian's hero (and many people's hero).
Ian, thanks a ton for these great photos.
World Champion: With the trophy, and his 375 car displayed in the showroom.
George Ansell at Brafield in 1964, below. The photo was published in my article in AUTOCAR magazine in September 1965. That's Barry van den Oetelaar looking cool on the far left. Alan Hughes, with arms folded, ex #66, was Terry Coell's long term mechanic [thanks Steve Pringle]. Ansell was a red-top in this pic, with a 389 cu.in. Pontiac under the battered hood, and and Austin A35 roof.
April 2012: Nice close-up photo of the Ansell car's cab, by anonymous donor, at Brafield.
Four years later: 1967 World Champion, George Ansell. Here the gold-top car is being towed back into the pits at Brafield; pretty thin armouring for this level of heavy combat? In the car is one of Ansell's mechanics, Max Robinson, and walking in with it, hands in pockets, is Phil Chance, the Chairman of the Veteran Stock Car Association. Phil tells me that George is still in touch with his mechanics, including Jim Bunion, and Max and Vic Robinson.
In 1962 George receives the Wills Trophy from a member of the powerful Wills tobacco family (several lived in Northamptonshire, in fact I used to deliver milk to one. ), though the car you see is Rod Dore's.
The 494 car of

Johnny Pratt

was famous for its Rolls-Royce radiator grille, which appeared on several Pratt cars -- much to the anguish of the Rolls Royce company. Thanks to Andrew Pratt (John Pratt's son), Brian Goodspeed, and to Stan and Diane of Farnborough for their race programme info.


Johnny Pratt

on the trailer, showing that famous grille in the 1980's; is it a genuine Roller grille, or a nice bit of replica work?

In the adjacent coach you can see 228 Fred Skinner's car, and out on the pits, two young lovers have got other things on their mind. Thanks to Steve Morralee, in Canada, one of the extended Pratt clan, for these two photos of Johnny Pratt. Steve is John Pratt's nephew, and recalls with pleasure following the stock-car "family" across England during holiday breaks. JP 1, and JP 2

.

Time-travelling forwards to the 1980's, here is

Richard Pratt's F1 still keeping up the "Rolls Royce" tradition, and still based in Oxfordshire. But I'm not sure the Rolls-Royce factory actually made

that

grille —



Tony Wicks: the Wisbech Winner

At a Brafield get-together, Mr. Pratt introduces Mr. Wicks to Mr. Fencepost.
January 2011: Not again ---- in this Brafield photo, Tony is the steel sandwich between an unidentified Fiat, and the Morris of #193 John Twynham (from Oakham in Rutland, if you remember that county). Russ Thomas recalls that Twynham's nickname was "Twinkle", and he painted the words Twinkle and Rutland on the boot ---- as a result, lots of people thought his name was Twinkle Rutland, which sounds like a Kenneth Williams character from "Round The Horne"---
November 2010: Tony Wicks #93 from Wisbech was racing 50 years ago and I hear that today he's still out and about and enjoying a game of bowls. Tony started in 1961, powered by Oldsmobile, in the days when a second place at Harringay brought a fortune of £10. Tony's very first race, at Coventry, was 'a bit unofficial' --- using local Ray Spenton's #129 car and using Ray's name --- a good many drivers started their stock car careers like that. Tony hung up his helmet in 1968, the year in which a Harringay fence gave Tony a broken leg and ankle. The Wicks family "on the road" often combined race weekends with roadside camping holidays, and London meets with a bit of sightseeing, all based from their transporter. Nowadays the family still gets out to see stock car and circuit racing, has fun with trackdays, and seeing a Silverstone Grand Prix.
Tony's daughter Susan Barnes today remembers: "The miles we travelled, the tracks we visited, it was ----- very much a travelling circus, the enjoyment just unreal. The excitement every weekend of Tony bringing the transporter round, to be loaded with family and food, helmet and goggles and overalls." [Not forgetting a bone for the dog] prepared by Susan and her mum. "You really got a buzz --- it was just brilliant --- We were nearly always first in the pits so so we could pick where we parked .... to me it seemed like one big happy family meeting up and having good old chat about racing. "
Tony Wicks worked out of his father's long-established WICKS COACHWORKS in Wisbech, and Tony kept his stock car and transporter at the works. The garage in 1957, and again in 1967 [the sign says "Let the Craftsmen do it --- Keeping pace with time --- Self operated by Craftsmen".]
The green 'un, with the always-smart Tony in overalls and tie:
The brown 'un on the pit weigh scales. Why this odd colour? I'll only report that when the work was going slow and the paintwork was still undecided, somebody called out "Just paint it like **** and be done with it."
Tony on parade at Long Eaton;
Tony on the Long Eaton programme cover in 1964.
Tony's less well-known Junior F2 car, Morris body, and there in front, in the home knitted jumper is Tony's daughter Susan all those years ago, who has now generously shared these stories and photos with me:
Veteran racer Rick Young took the following pits photo of Tony and his car "with my 7/6d camera from Woollies when I was about 12 years old"; and well done too, catching a cheerful Tony in the background.
Here are photos of Tony and his car, courtesy of grandson Steve Taylor: (Steve also raced F1's successfully, under his grandad's number #93, scoring a Final at Mildenhall.)
November 2010:
From Tony's own scrapbook: these are high-resolution images and can be enlarged a lot.
That Austin transporter was recognized by Rick Young, who reports that after Tony it went to Ian Ireland #267, then to Dave Taylor #30.


February 2011:

Some "less-than-perfect" old but useful photos

, first being two pages from Tony's album, showing priceless photos and autographs of his fellow racers. High-resolution, so you can enlarge them to see more detail:
a morning pits gathering.
Here's 68 Trevor Frost and his car.
Willie Harrison liked to arrive in the very early morning, blast his horn to scare everyone; then sleep, and here you can just make out Willie's mechanic in a sleeping bag.

The third generation: Tony Wicks with his grandson

Steve Taylor

, taken at King's Lynn. Steve was a determined competitor, and would be working hard on his car in the off season; it would be interesting to find out how many stock car drivers have 'nipped out to do a bit of work on the car' in the Christmas holidays --- a fair few, I'd bet.



===============================================

Cadwell Park Click for a satellite view of the track layouts today.

Two long-time friends and stock-car fans,

Dave Chapman and John Dyson

from Leicester, took the following b/w (John) and colour (Dave) photos at Cadwell Park during 1965/66.

Stunning colour shot of Ellis and Chick Woodroffe crossed up and Alan Wardropper following:


Mick O'Hara 372 on the track, tangling with red-top Rod Dore 35 and ---
On a different date, 1966, with a new O'Hara car in the pits; by enlarging the original image, I managed to identify the car in the far background:

257 Mike Nellist

from Rochdale, and if anyone knows Mike, I'd be happy to see a good photo of his car. Dave Chapman points out that the grey Triumph Herald on the left belongs to the late Pete Arnold, with a trunk full

of Stock Car Racing News.
September 2011:

Malcolm Brown

was in the Cadwell pits in 1965, when the O'Hara car was wearing some

ferocious

exhaust stacks.
Jack Ollerenshaw #26 in the bank, while 105 John Scott goes Scott-free.
Bright sunshine and a slow parade lap allows a super clear photo of the field; some of the 'guilty parties' are #167

Gordon Gerring

(Coventry), #33 either Gerry Dommett or John Halford, and #312 is Ben Spiers.

Some of these BriSCA numbers changed hands three times in three years, so no guarantees.
The race is on

. I can see Doug Wardropper, Rod Dore, and Ellis Ford in the pack.
The Toff and his Top Hat: Terry Haywood 154 from Brum, and his usual "Lord Snooty" tin hat / roof fin.

Ellis on the charge

. That #3 car was a monster with minimal bodywork and a 430cu.in Mercury V-8.
January 2011: from Ron Knight a Cadwell photo of 267 Ian Ireland and 359 Mike Sheppard, among others.



As always, I invite fans to correct names, or suggest other names and numbers.
January 2011: Dramatic photos of Chick Woodroffe in action at Cadwell Park, courtesy of Dave Chapman, who was in the right place with a steady camera hand for this series of laps:
August 2010:
Chick Woodroffe in the pits, with Alan England's 24 car behind: [photo from Kevin Crabtree]
Trevor Richings reminded me about Chick Woodroffe's famous contribution to road safety in Britain. In about 1963, when motorways in England were a novelty and nobody knew quite how they would work out, the Ministry of Transport did all kinds of research. One aspect was safety barriers, and the relative effectiveness of "armco" style steel barriers versus steel cables. Well, any sensible research scientist knew that the experts on "cars-into-cables" were stock-car racers, so the Ministry went to Chick, who was registered under # 409 that year, and asked him to bring his car along and do some hit-the-cables experiments. The ministry was amazed by his daring.

Thanks to Rick Young's keen eyes for identifying this wreck [part of the "Promotasport" sign can be seen on the car]

Chick Woodroffe in the Brafield fence.

In 1962, Chick Woodroffe adds to his store of trophies, this time the slightly corny title THE SASH OF SPEED, and Chick is looks young and chipper, a reminder of how fast the years have passed since then. The equally happy presenter was film actor

Liz Fraser

, a regular in the

CARRY ON

films.

At Hednesford, blurred by speed, Chick Woodroffe's #1 Senior F1 does the business with Steve Gateley [who sent this photo] in hot pursuit.

Walthamstow, May 3rd, Chick W #409 pursuing another Chick --- Henson #477.

=======================================================================================

For years I had a solitary photo here of #105 John Scott, which I snapped at Brandon in either 1964 or 1966, and labelled "Brute Force" because of its rugged looks. Now, thanks to Ann Scott, I can add some facts and photos. Her late husband, who passed away in 2006 [corrected from earlier error] was from Harrogate had raced under BriSCA from 1963 to 1969, also enjoying the action at non-BriSCA Aycliffe, under the name 'Cheyenne', where his racing buddy Jimmy Young 106 often joined him as 'Maverick'. Ann says their racing "did not aspire to great heights, but we had a lot of fun." Ann sent me the two following photos: First, from 1969, a beautiful sunny-day shot of John storming through a corner [track???] beside another Harrogate racer, Bill Houseman 103:
I am including a close-up of those interesting bonnet louvres/vents, which are almost certainly from the side of a 1930's Packard bonnet --- big deluxe V-12 tourers whose engines and chassis appeared quite a bit in the fifties (Aubrey Leighton, Ken Freeman, Jock Lloyd etc). After the Depression, WW2, and post-war austerity, Packards sat unused and largely unrepairable in breakers yards and garages.
And here is a night shot of John Scott masked and goggled and ready to rock. Track and date unknown.
Jim Potter in the Sixties
(The 'Seventies' page has more of Jim's great cars)
Here's Coventry racer Jim Potter #146, seen in 1963/64. Jim raced Seniors for about 30 years --- what other sport can boast these tough veterans?
A terrific colour photo of Jim Potter 146, distinctly more colourful than the old b/w shot above. Here he is at Brands Hatch [sharp-eyed Graham Brown recognized the setting). Photo by the late Derek Hibbs.
Ouch. Jim's 146 with heavy damage, on the trailer.
Jim gives the elbow to Fred Mitchell, while 278 Harry Linney from Loughton plays it safe, at Harringay, about 1965.
January 2011: Fred never forgets! From Dave Chapman comes a great action shot of Jim broadside on Fred Mitchell's bumper, September 1965 at Brafield.
=====================================================
The simple touch. It's easy to get impressed by high tech cars, but BriSCA stock-car racing flourished back then because people could look round the pits and say "Heck, we could do something like that". So, here are a couple of the strong and simple racers that filled out the grids and kept the racing alive:
# 289, German Karl Grossman from Oxford Karl used to work for Oxford racer Barry Hebborn. Karl was a p.o.w during World War 2, and like many, stayed on in England. He died only a couple of years ago.
The final car on this page

Over the years I have gone to-and-fro with the name and number. I first labelled it as Geoff Wood from Burton-on-Trent. However, a re-scan of the original photo print at higher resolution reveals Ron 'Skid' Skinner.
One Brafield fan remembers happily watching this car in the hands of Skid Skinner, barely in control and bouncing off the fence at every other bend. Well of course he did ----
It's called Stock Car Racing