Now for something different:
Some different auto-related oddments that I like:
Look for
labels: new additions.
==========================
=
The rest of my website is fairly 'exclusive' and unique, because the photos and stories are mine or those of fans who have personally sent me donations. In this section I have collected oddments from everywhere: the InterNet, newspapers, books, magazines, etc.
What other motor sport has this tough hands-on approach? A back axle is broken -- do you go home? No. You get to work and get into a race later in the meet (pdf file)
"The Scrap Yard": a short story I wrote years ago

"Mum was a lorry driver" --- a fascinating memoir, in pdf format:

images/Mum%20was%20a%20lorry%20driver.pdf

Can't resist a little motorcycle humour. Click on this title:



--------------------------------------------------------------------------------------------------------
Extremely cut-down Chevrolet station wagon:
It's a 1956 four-door station wagon cut short with only the front doors remaining
Banger Heaven!
===============================================================================
Graham Hill and his son Damon
Damon Hill's autobiography
WATCHING THE WHEELS
is published in 2016
=============================================================
A future F1 world champion with his father, a brilliant F1 Ferrari driver: who are they?
===============================================
======================================================================================
Williams Grove, the legendary Pennsylvania 1/2 mile clay oval. This was 1968 and two sprint cars have snagged wheels. The flyer came down the 'bad way up', but he survived, albeit with serious injuries. Cars gave little protection for the drivers. Here is a sequence of nine photographs, in a pdf sliude show (click to advance). Crash sequence.
"The Man Who Fought Sugar Ray"
A terrific piece of writing ---
About the bittersweet exoperience of knowing you are very good, --- and the shock of coming up against the best ---.
Pdf file of a Road & Track article from 1972.
====================================================================
Strong women
These are big lists, so don't expect to remember or recognize names. But you will be surprised by the sheer number and variety of young and adult women who race cars and motorcycles, on and off-road. Scrolling through these pdf slides will give you a new perspective. My daughter accompanied me to the races when she was young, and it was one of the influences that inspired her to be adventurous and open minded. Try it.
Women race mechanics
==============================================


Laleh Siddegh: "against the rules"
This Iranian woman competed and won in rallying and circuit racing, and became Iran's national 2005 GT champion.
But first she cleverly got official 'permission' to race from a religious mullah by explaining that in motor sport all parts of the body and head are covered (fire suit), and that competitors do not touch each other.
Nonetheless, angry officials intervened at the national championship award ceremony. Laleh was ordered to put on a heavy top coat over her racing suit, and to wear a headscarf ---- unlike the two men on the 2nd and 3rd podium spots. In addition, Iranian Television blacked-out the award ceremony. Here are 7 slides in a pdf file.
===============================================================
Whose BRM is this, with a four-cylinder motor? Photographed at Ragley Hall hill climb in 1964
BINGO, a quick response tells me this was driven by hillclimb champ Tony Griffiths, was chassis BRM 487, making it a P48 Mk2. model. It had a 2.5 litre BRM four-cylinder engine, went eventually to the Donington Motor Museum, and today appears in historic races in the hands of Barrie Baxter.
The big bike below is a New Imperial, Birmingham-made, 1912-1939
The odd-looking bike in the foreground appears to be a Hildebrand & Wolfmuller, with a two-cylinder engine of 1489cc capacity. Its basic design was based on their earlier steam-powered bike!
================================================================
"When I get old, -----"
The late Jack Lord was racing stock cars in 1963 --- there's a Belle Vue photograph of Jack on the SENIORS IN THE SIXTIES page --- and the photo below, courtesy of his son Glenn, was taken in 2013 at Warton, testing his Outlaw car --- that's sixty years later! What a man.
MYSTERY ENGINE
Can anyone tell me what engine and/or intake manifold is under the hood of "Darkie" Wright's stock car?
Bingo: thanks to a car forum, it is identified as a Ford 429 "shotgun" semi-hemi, known as The Boss, a very rare motor built around the late 60s and early 70s. NB: the Cobra Jet 429 is NOT the same --- the semi-hemi Boss cylinder heads are totally different. It was known as a high reevver. I wonder where Darkie found it?
Is Darkie's helper trying to siphon water or petrol, or trying to guess Top Dead Centre by the air pushing-pulling in cylinder #1 ---- anyone?
==========================================
Oddity: Loggers enjoy working with oddball equipment. This log skidder --- forestry's equivalent of the farm tractor --- was a prototype built by the Texan company Le Tourneau. It's a diesel-electric. The big diesel motor only drives a generator, which feeds current to the four electric motors, one in each wheel hub, and to the log-hauling winch. This one was abandoned by MacMillan Bloedel on "Haida Gwaii" (formerly known as the Queen Charlotte Islands) off the coast of BC in Canada.
December 2012: (A big-Mb high-res file) Heavy-duty mechanics, please --- can someone predict what's gone wrong with this log skidder? I can see a new bearing-race under the white cloth. Do these tractors have a reduction gear in the hub? The photo was taken at Salmon Bay, BC, Canada. That operator looks mighty tee'd off and is probably looking at a day's work lost.
==================================================================
September 2013: Wild modified flathead motor. This photo appeared in the excellent newsletter of New Zealand's HISTORIC STOCK CAR CLUB.
Raced in 1960 by Gary Wike, this Ford flathead V-8 is described as having Hogan cylinder heads, using twin spark plugs per cylinder, fired by twin coils, and drinking from four carbureters standing on "twisted-leg" intake runners. The distributor was probably a Nash, as Nash used twin-plug heads and a "16-cylinder" distributor for their straight-8-cylinder engines in the 1930's. "Hogan" refers to a chap called Garth Hogan, and his farther, who made custom finned cylinder heads in the old days.




=================================================================



March 2013: The weirdest Indy car ever was brought to the Brickyard by Smokey Yunick in 1964. Duane Carter managed at the risk of his life to put in some 150mph practice laps before another driver crashed it. It did not race, but has since been rebuilt for shows. Have a look at these old and new photos, and imagine yourself in that seat at 160-170mph on the backstretch.
Stock car bumpers 2012: They don't mess about these days, do they?!
Beefy: a sprint car rear axle with quick-change gear (it's not a true differential, just a ring gear on a solid axle)
=================================================================
January 2012: A visit to Lynmouth in Devon brought back the history of of the terrible 1952 flood that came down the West and East Lyn rivers after 9 inches of rain fell on Exmoor in 24 hours. This rare car was recovered from the sea.
January 2012: How wild can a 1956 Ford Zephyr family saloon get? This wild.
July 2011:
In approx 1963 at Silverstone I saw this beast: a Ford Cortina rebuilt and raced by "Doc" Merfield, an Australian dentist. It had a 300-inch Chevrolet V-8 kitted out with three Stromberg carbs. To keep it from tearing itself to pieces, it had a Jag XK-150 rear axle, and wheels from a Ford Zephyr. It was wild, and I bet the Doc had a lot of fun fighting it.

In 1964 I photographed a tasty Ferrari 250 GTO --- This car was owned by Peter Clarke, but was snapped up by Pink Floyd's Nick Mason in 1978. Here is Nick at the wheel recently, lucky man: http://en.wikipedia.org/wiki/File:Nick_mason_goodwood.jpg

This Ferrari, in 1963 was being raced by Mike Parkes for the UDT team. It bears a typical Modena number plate. It later belonged to Jack Sears, and then

possibly

, to MicroSoft pres. Jon Shirley.
When new in 1962, if you had $18,000 and

if

Enzo Ferrari approved of you, could could buy one of only

39 GTOs ever built

. Today "$18,000" sounds like peanuts, but in 1964 my first job paid the equivalent of $1260 a year at 1962 rates.
Fourteen times my annual salary

. Besides, Enzo would have said No.


In approx 1963 racer Innes Ireland was invited to buy the team GTO that he had raced, for about list price, and he turned it down as too expensive. In 2008, a 250GTO auctioned in the UK for £15.8 million, which is silly money whichever way you look at it.

On top of that, acknowledged replicas, and

unadmitted

replicas exist. For example, Ferrari built

33

250TR

sports cars, yet

46

[forty-six] documented 250TR cars exist today ---- you work it out

;-)





April 2011:
In about 1963 I took this snapshot in the pits at Silverstone, where the new
"LOLA GT" car was appearing --- a year later it would be known as the all-conquering Ford GT40, as FoMoCo simply snapped it up and went on to dominate Le Mans. Here, with the rear bodywork off, you can see the Ford 4.6 litre single-carbureter V-8, and those gorgeous rubber "doughnut" joints in the rear axles. Lotus F1 cars used them as well. The massive gearbox behind the rear axles was a Colotti. This car was revolutionary in having a monocoque chassis, but was still happily pre-computer, and you can see a good old fashioned socket wrench and a timing light on one of the bulkheads.



=================================================================================


March 2011: Crazy racers: straight-line drag racers can choose to race pretty much whatever they like on whatever straight surface they like. Here's an "altered" on sand. Here's an incredible Australian drag bike on sand.
"Experimental" is a good word for this. It never got further than test runs Dynasphere 1; Dynasphere 2.
Old cine film (copy the url): http://www.britishpathe.com/record.php?id=2766
Another film clip (copy the url): http://www.youtube.com/watch?v=zNakXjGNjIY
Novelty picture from the wild world of banger racing: Demo-Derby Rolls-Royces on their way to the big bang. I believe this photo is by the late Dave "Smiffyman" Smith, one of the sport's top track photographers.
Can a dumper truck at high speed crash through a military compound wall? Watch the video clip with sound on.
Why are Turkish pedestrians and drivers so polite and obedient in the presence of police? I took this photo in Istanbul a couple of years back. Would you give the young cop any "lip" if he stopped you? Click through this sequence of 5 photos and see why Turkish drivers and pedestrians stop politely when the motorcycle cops say so.
===================================================
Motorcycle mayhem: Four dragbike riders say OUCH.
================================================================

Gravity racers. Look at the "street luge" brigade on these PowerPoint slides.


How fast can you make a snowmobile go?

==================================================================
Off Britain's North-East coast lies Lindisfarne Island (Holy Island), site of an early Christian monastery and home to these two Citroen 2CV's, one metal and the other -----

=================================================================================
Low tyre pressures are common in drag racing, and they often result in noticeable
Really scary tire distortion [photos at Santa Pod Raceway]
The late Gilles Villeneuve (here with his son, champion-to-be Jacques) remains a Canadian hero --- when Gilles died in Belgium, the Canadian government sent a Boeing 747 especially to transport his coffin back, and Prime Minister Pierre Trudeau attended his funeral. How many drivers get that kind of recognition?
Gilles was simple: he drove every car, good and bad, at and over its limit on every corner of every lap of practice, qualifying, and race, throughout his career until he was killed in the final minutes of qualifying at the Belgian Grand Prix in 1982 --- doing exactly what he loved.
Canada Post issued a commemorative set of stamps, and here they are: front cover; back cover; sheet of stamps.
Years ago at a Silverstone GP practice I snapped this lucky photo of Ricardo Patrese in a Williams F1 car as he braked for Copse corner at the end of the fast pit straight; I understand modern F1 drivers tap the brakes for less than half a second, so this was a lucky shot -- his brakes back and front are glowing bright red. I think they were still using steel discs back then.
================================================
Mystery motorcycle: Someone sent me a card, featuring a photo from the 1940's or 1950's, and apparently taken in France. What on earth is the tiny motorcycle? The tank badge says "RZ", and it is not a toy --- see the primary chain and clutch and tele shock absorbers. Anyone? "R.Z." may just be the name of the one-off builder. What's the 2-stroke motor? September 2014: Tom McFarland suggests a Francis-Barnet motor, maybe a 150cc. Certainly the FB "Fulmar" model had that forward-canted cylinder angle. Drop me an e-mail.
=========================================================
You have to love the North American sprint cars:
Unwinged sprint cars weigh around 1200lbs / and their 410 cu.in. motors on methanol, routinely make 750bhp but when tuned to near destruction for a high-paying race, with compression ratios raised to a scary 17:1, put out about 825bhp, which is good for an outdated pushrod two-valve design. Wheelbase can be as short as 7 feet (84 inches), direct drive with no clutch between the engine and the rear axle. In this photo you see the right-front wheel has no brake, only the left one ---- a hard poke is enough to snatch the car into the left-turn-only bends. Solid beam front axle, and solid no-diff rear axle with a single inboard disc brake. To see fifteen and more of these open their throttles from a rolling start will knock you off your seat and kick your heart. Look at the one below 'digging in' so hard that its 15-inch-wide rear tire is nearly peeling off:
Can you get more "opposite lock" than this?
Fancy a passenger ride in a full-blooded sprint car? In the US and in New Zealand rides are sometimes available in two-seater sprinters --- One; Two. In Britain you can ride shotgun in an F1 stock-car, which includes receiving a couple of significant "taps" from another car.
When people argue about "women racers", I just think back to the nineties when I watched Shawna Wilskey race her 360 cu.in Sprint car at Skagit Speedway. She won three regional championships, competed in several western US states, woke up in hospital once or twice, and just flew into Turn 1 like nobody's business. Now she builds and sells sprint cars. Another woman racing sprints is Alison Journey, who also knows how to use a wrench:
More sprint car technology:
Rear axle

"stagger" and offse

t.
Disc brake on solid tube axle; note, this is the left side SMALLER tire you can see!
Spare axle showing the quick-change gears --- NOT a differential, just an under-and-over arrangement like a shotgun! The axle here has the incoming driveshaft section pointing down.
Love the old ones, too (Parnelli Jones in action)

Two more photos from the classic era of Indianapolis "roadsters": Billy Vukovich kicks up the clay; and A.J. Foyt and Parnelli Jones run dangerously close on a fast banked oval.


A.J. Foyt

gassing it on the half-mile Terre Haute dirt oval, Indiana. Foyt raced the hard way.
This is a beautiful action shot. Here are two classic racers side by side on the straight.
Lastly, a uniquely-American formula, the "Supermodifieds" are so extreme that they virtually cannot turn anything but left: look at the engine and axle layout on this red devil. Frame builders hang the big V-8 motors off the left hand side of the chassis, and the driveline runs down the car's left side to a diff that has the left rear wheel bolted directly to its stub axle — no visible half shaft at all. Supermod 1, Supermod 2, Supermod 3. These cars have lapped one-mile asphalt ovals at speeds approaching 160mph average.
===============================
Fifty years before the SMART car, post-war European countries, and especially Germany, were devising the smallest econo-cars imaginable. Someone passed on to me this Pdf slide show, thirty photos taken in a car museum, and most of these cars had single-cylinder 2-stroke motors of 200-400cc.
The following two scans are of a restored Indianapolis roadster from 1960, a beautiful car: Front view. Overhead view. Imagine the sound of the full-race Chevy (de-stroked from 283 to 255 cu.in. and tilted 18 degrees) through that long exhaust. Incredible as it seems to us today, in 1960 the builder used a 1939 Ford 3-speed transmission with Lincoln-Zephyr gears.
Big motor for a motorcycle: the builder, C.F. Leonhardt, calls this machine Gunbus, and the air-cooled V-twin engine displaces an astounding 410 cubic inches (just under 7 litres), and puts out 523 ft/lbs of torque. "Boom - boom - boom - boom".
Of course, you could simply intsall a BMW V-12 car engine in your bike.
But if you prefer English engines, you could slip a Jaguar V-12 into your motorbike.
While we're on Jags, why do they have to have only four wheels? Here's a Jag with SIX wheels .
Back to more reasonable bikes: Bad Dog Cycles has designed a V-twin of 3500cc, DOHC, 4-valve fuel-injected beauty, and is considering a larger 4500cc version.
In 1956 a wooden-boat builder tried his hand at car building, and came up with this lightweight sports car powered by a rear-mounted Aerial Square Four m'cycle engine.
If you're my age you remember when motorcycle-sidecar racing used motorcycles connected to sidecars. Here are two of today's sidecar outfits, at Brands Hatch, minus their bodywork ---- .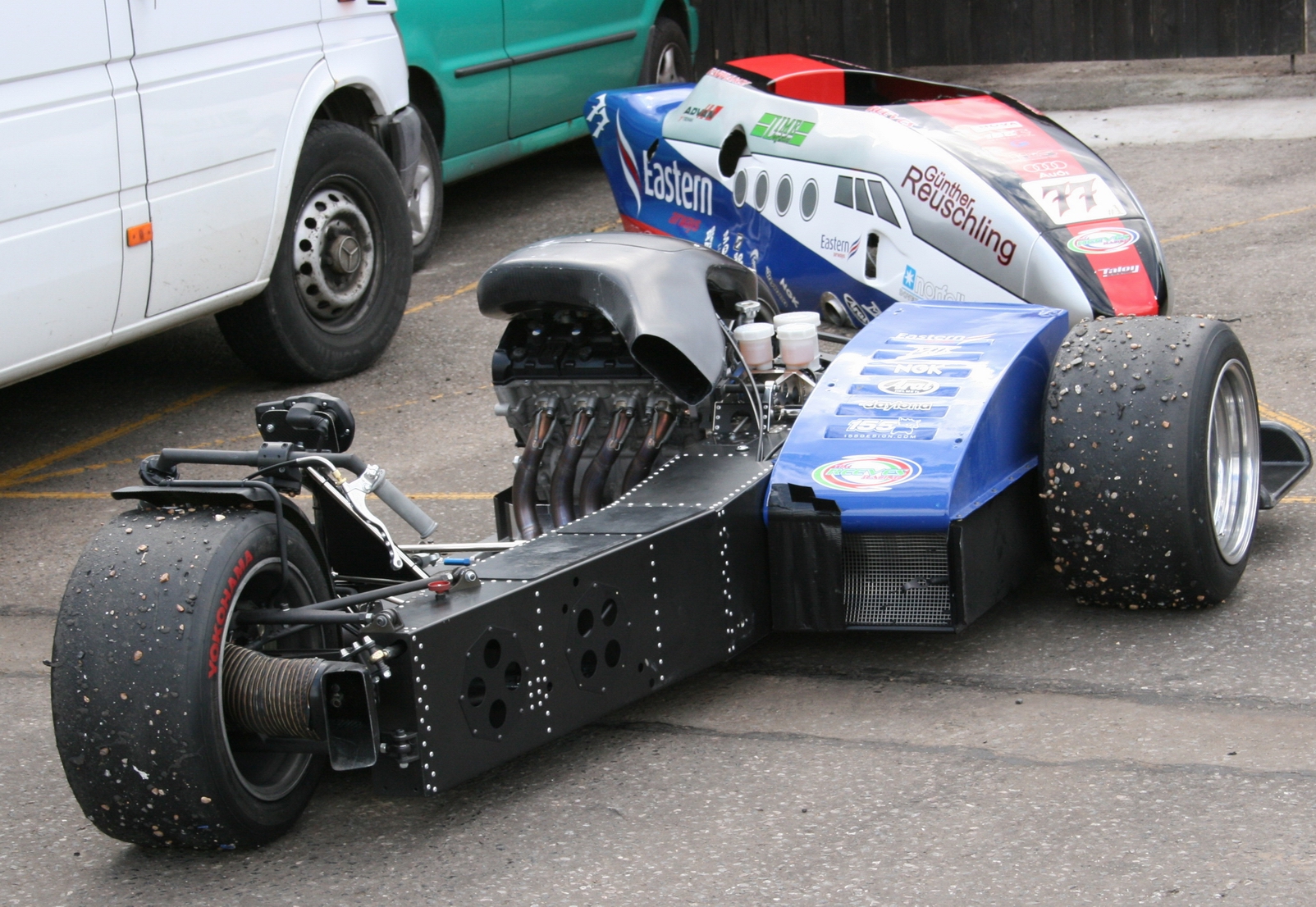 and another ----



===================================================================


"The Garlits Explosion":
Front-engined dragsters were a vicious breed that had a dozen ways of killing their drivers. Big Daddy Don Garlits had already been burned by an exploding supercharger, but the really scary event took place on the start line at Lions drag strip in Califronia in 1970. The clutch and flywheel exploded and the shrapnel cut the chassis in half and badly injured Don. The entire roll-cage/cockpit parted from the frame, rotating in the air.

Do you like "oddball" engineering? Here are some beauties, from various internet sources:


What I'd call BIG turbochargers, on a Ford big-block motor, in this 'technically street-legal'
Mustang.
It has run 202 mph in the quarter mile, and generates a wonderful "whistle" under
full power.
However, on my local 1/8 mile dragstrip (in BC, Canada) it was still spinning the tires as it went through the 1/8 mile lights.
"Stagger" is the difference in diameter between rear tyres, and this one is pushing it to the limit. Imagine gassing it with these wheels on the ends of your locked axle. "Stagger" at Skagit Speedway
The Modern British Stock Car: The rest of my website is "nostalgia", so this fabulous car --- Frankie Wainman Junior's monster, photographed in April 2008 by top stocks photographer Colin Herridge, has to go in this section.
Most of us have fantasized driving a racer on the road:
[Photo from a Sprint Car calendar by Paul Oxman publishing in California.]
================================================================
Oddments: In about 1964 I photographed this daring experiment: a little KIEFT "Formula Junior" single-seater loaded with a 4.34 litre (265 cu.in) Chevrolet V-8. The hill-climb driver was Ian McLaughlin of Stockland Garages in Birmingham, and the brilliant mechanic who built the car --- fabricating many parts from scratch --- was Jack Clewer, visible in the photographs working on the car. Jack and Ian are still with us today, and provided the information. The Chevy motor came from a garage outside London, and it was mated to a Lotus F1 gearbox. Ian McLaughlin and his cousin John competed in 13 Monte Carlo rallies.
It was running at a hill-climb at Ragley Hall in Warwickshire when I took the two pits snapshots.
Later, Jack Clewer built a new intake manifold and fitted four SU carburetors and a higher-lift camshaft. Eventually it was dismantled and the V-8 engine went to a stock-car driver.
Kieft cars were built in Wolverhampton. Industrialist Cyril Kieft built and designed the single seaters, and his great-grand-daughter today, Savannah Courtenay, is today a world class teenage kart racer. The Kieft was originally one of just five built for the Formula Junior category, with an Anglia 105E four cylinder engine.
=================================================================
Two more Oddments: First, the golden days of "Formula Libre" in England, when you could bring almost ANY darned thing to the track and flog it round, with "Libre" usually meaning "monster/big/outrageous". In this case Chris Summers took a tube-framed Lotus 24 and dropped in a fuel-injected Chevy V-8 that he'd got from BP Research branch. This snapshot was taken in (approx.) 1962-64 at Silverstone. The "ack-ack gun"-like exhausts sounded wonderful. I saw this car launch from the front row down the straight to Cope Corner, and his tires were "hazing" all the way — something that was very rare in those days.
Second one, which I don't know anything about, is a prototype Diva Valkyr sports car, rear-engined, aluminium-bodied, and using the then-popular alloy Hillman Imp motor. Photo taken same time as the Summers one. Additional facts / corrections are welcome. Jack Reynolds has identified Mike Aired on the left, and Mike Walton in overalls, and pointed out that a Valkyr was also built, experimentally, with a honking great Coventry Climax 2.7 litre (4-cyl) motor from a
======================================================================
Gurney-Weslake F1 car.
Holy! In 1988 the Pope visited Ferrari's workshops and blessed one or more of their current Formula 1 Grand Prix cars. I don't know whether some supernatural agency helped with subsequent races.
Glory days: when Grand Prix drivers could switch from an F1 car to a saloon to have some fun. Here is a gaggle of three saloons in 1966 at Snetterton, four-wheel-drifting through a fast bend: a Mustang, a Galaxie, and hard on their tails the tiny Lotus Cortina of world champion Jim Clark.
Three more GT's photographed at Silverstone sometime in 1963 or 1964: Tojeiro-Buick GT : Racing under the Ecurie Ecosse team colours, this rear-engined car had the then-new Buick alloy V-8.
Here is the rear view. The Tojeiro originally had a Climax 2.5 litre 4-banger engine. A second Tojeiro was built along these lines and raced briefly by Jackie Stewart.
2009 update: One of the two Tojeiro cars still exists, and was advertised for sale in 2009; here are two InterNet photos of the nicely-restored Tojeiro: one, and two. John Tojeiro was a brilliant ex-Fleet Air Arm engineer who also designed the A.C. Ace chassis --- the basis of the legendary AC Cobra.
Sleek: This prototype Costin-bodied Lister-Jaguar was built for Le mans. It may have been used in the racing film "The Green Helmet", as an open-bodied sports racer. Hand-beaten aluminium bodywork.
46 years after I took that b/w snapshot at Silverstone, i discovered that Lister Jag still exists, and is being worked hard .
========================================================

Is this the biggest engine ever installed in a competition vehicle? A German tractor-pull special called "Dragonfire" uses a massive 42-cylinder Russian submarine engine. With seven banks of 6 cylinders each, it is 8,665 cubic inches, or 144 litres. When the tranny locks up, Europe moves East six inches —.
Thanks to keen-eyed Alistair Howarth, I can add this info (quoted direct):
Here's a tractor with three V-12 Allison aero engines (1,710 cu.in. each.)
And one with an old air-cooled radial engine probably from a WW2 bomber.
Unusual drag engine: I took this photograph about 1983 at Seattle International Raceway. The engine was in in Gene Snow's nitro Funny Car, and it's the only turbocharged nitro-fuel racer I've come across. The motor was built by Nick Arias, and although the valve covers are from their 8.3 litre automotive design, this engine is actually a custom built Arias powerboat V-8 of a huge 10 litres capacity.
Gene Snow was a typical drag-racer: although this motor ran fine, the exhaust turbos smothered some of the noise and in Gene Snow's opinion --- "it didn't sound as tough as a fuel car should" ---, so he abandoned the project. [Arias is still building top quality race engines today.]
The "Michigan Madman", E.J.Potter had among his many weird and scary machines, a "Double-V-12" Allison aero engine, which naturally he put in a tractor. Allison built only 150 of these prototype bomber engines, but ol' E.J. got himself one.
It has 56 litres — 24 cylinders — Turbo-and-supercharged — two crankshafts in one crankcase — Over one ton in weight. E.J. reckoned it was one of the most beautiful engines ever made.
How low can you get? These karts are called "laydowns" or "enduros", and the driver peers between his feet. I took this photo in 1985, at the now-defunct Westwood circuit near Vancouver BC.
If you think that kart is "low", have a look at these:
===============================================================
How would you like to take off the valve-train cover of your engine and see this? It's what drives the sleeve-valves on a 14-cylinder Bristol Hercules engine. Just don't drop a spring-clip in there —. The beast (they built tens of thousands of them) was a two-row radial with 14 cylinders. Until March 2010 I had labelled this a 12-cylinder, but my thanks to Fred van der Horst of the Netherlands for spotting my error.
===========================================================================
January 2010: Since I am now living in Canada, this item caught my eye; on the back of a 1954 stock-car programme from Belle Vue, is an advert for a dramatic staged display "THE STORMING OF QUEBEC". This refers to the 1759 battle of the Plains of Abraham (sometimes called the Heights of Abraham), when a British force seized Quebec City from French occupation. At Belle Vue, this was accompanied by fireworks, performed on Saturday nights.
That reminds me of being a little kid, taken to the circus in Northampton. The show included a battle, in the bog ring, with charging horses and blazing six-guns, between "Davey Crockett and the Indians", and I was spellbound. Leaving the big top at the end of the evening, I experienced a 'childhood let-down' when I spotted Davey Crockett getting onto his BSA twin, with one of the 'dead' Indians on the pillion. My father laughed "Ah, they're off to the pub", and I burst into tears.