Senior F1 Racing in the Sixties
*Look for
labels: new additions may be scattered randomly throughout the page.
Over 400 photos on this page --- use your Edit-Find function to find your favourites or just sit back for an hour and browse.
If you spot your own donated photgraphs being 'stolen' from this site and offered on e-Bay: http://www.ehow.com/how_2050031_file-complaint-ebay.html


R.I.P.
If you stood on the terraces and cheered your heroes and booed your villains in the fifties, sixties, and seventies, the passage of years is naturally taking those drivers away. Until 2013 I occasionally reported the death of stock car racers; but I don't want this living historical website to become a list of obituaries. Besides, men like Dougie Wardropper and Chick Woodroffe, to us, are still fighting their cars and their rivals round the tarmac and shale up and down the country in our memories. Let's leave them racing in peace without too many R.I.P. notices.

JUMBO TUSTIN: November 2009, Sad news from his one-time mechanic Roger Harris that Jumbo died
at home with his family. He was one of that great cast of 'characters' that made British stock-car racing so unique --- they don't make 'em like that any more. Let's hope Jumbo's family knows how much his life and exploits meant to us.
April 2010: An anonymous fan sent this nice photo from 1962 (colour photos in 1962 were pretty special) of, possibly, Jumbo 179 leading 68 Trevor Frost and 42 Aubrey Leighton into turn 1 at Brafield. NOTE: the "179 might just be a "79", in which case the blue-top is Harry Blevins from Manchester.
February 2010: Upside-down view of Jumbo at Harringay Stadium in 1962.
A big thank-you to Diane Sutton and son Paul for these six terrific photos of Jumbo from the collection of the late Aubrey Sutton, Jumbo's mechanic. I am not sure where these photos were taken, but you will enjoy them:
Next, an old b/w snapshot I took, of Jumbo's car in the pits at Brafield. An original looking combat-car, and we miss those open exhausts. Jumbo began racing in the 1950's, and was still smoking tyres up to 1967 — a real character, whose favourite track was the greatly-missed Belle Vue. Once at Brafield Jumbo was involved in a "vigorous incident" --- say no more, gov' --- with Jim Esau and Darkie Wright, which is still remembered today. Mechanic Roger Harris (who also raced grasstrack sidecars and rally cars.) gave me the the gen on Jumbo's car: Ford 292 V-8 with two 4-choke Holley carbs, homemade chassis, Morris rear axle on Ferguson tractor struts, Ford front axle on transverse springs, part-Topolino body, Ford lorry gearbox with homemade bellhousing. Where did Jumbo's nickname come from? He painted a big elephant's bum on the back of the car.
January 2010:
from Nigel Harradine, some "backyard snapshots" of the

Peters brothers

' cars. First, from Hatfield, Herts, is the crumpled car of
231 Dave Peters
, and here is its
"

health-and-safety" interior
with the jerrycan petrol tank very handy for the driver. Dave raced between 1965 to 1974. Then, brother
Ray Peters #171
, who raced from 1965 to 1968. Here's
Ray's interior
, and here's a spare
Jaguar engine
in the Peters' yard.
March 2010:
No, the rules did not allow four-wheel drive.
Chippie Weston's
massive crash at West Ham took off the rear axle, and
I suspect the mechanics just loaded it on there for towing off the track. Anyone know the story?
[Steve Gateley scan]
Thanks to Barry Redman, ex-racer #151 between 1969 and 1972, for this photo of a Pat Willis car showing some wear and tear. Barry recalls riding many miles with Pat Willis, while Barry's father drove the lorry for Pat's buddy Ted Pankhurst. Barry had gone to school with Pete Webb #8 and later worked in Webb Snr's garage. Pat used a Chrysler hemi 354 cu.in. motor in one of his cars, a motor he took out of a Facel Vega, the rare luxury French GT car - it must have been quite a wreck, because new and used Facels cost a fortune.
Here's Pat looking thoughtful in a BriSCA photograph.
Ian Melton also sent a sequence of three photos of Pat Willis's #25 cars. (Pat Willis raced under #25 between 1957 and 1967.) Experts tell me the 2nd and 3rd, taken at Staines, are a Ford Customline from circa 1950. The first photo probably shows the same car after "retirement", with the rear window and roofline having been "torched" and bent dowbnwards to fit. Photo one. Photo two. Photo three.
August 2011: More Pat Willis, thanks to ex-racer Doug Fisher. Here's Pat in his #25 car at a very sunny Ringwood meet some time in the 1960's --- smiling behind the car is the great Roy Clarke, quote "a brilliant F2 driver", who worked for and mechanic'd for Pat, and who Doug Fisher in turn mechanic'd for. This Willis 25 car is a Johnny King-built machine, into which Pat fitted a rebuilt Chrysler hemi (mentioned above, from a Facel Vega); "it was a flyer".
At one point Pat worked for Ted Pankhurst 104 at his Eton business, later running a repair shop in Geoff Elliott's Datchet yard, and finally his own garage in Virginia Water. Doug recalls Pat as a terrific engine builder and able to repair anything from a Mini to an HGV. Earlier, before Pat got the Brise-King car, he had been racing a fast Jaguar engined car which he sold on to Dennis de Quincy #207 from Walton on Thames. Here's a 1961 West Ham WF photo of Dennis in that ex-Willis car. My especial thanks to Doug Fisher for those two photos and facts; Doug had worked at one time for Pat as HGV1 driver and car mechanic, and can be seen at the top of the Seventies page.
Pat Willis is still "up and doing" in 2011, busily applying his mechanical skills to the delicate task of rebuilding scale model locomotives. September 2011: Pat's friend Barry Redman told me that after stock car racing, Pat went on to be a National points champion in off-roading, at over 60 years of age, and then became the only Brit to win the tough RALLYE DES CIMES in the South of France, in 1982. Tough guy!
This scan of an SCRN cover was sent by ever-generous stox veteran Ken Mason, to identify Haley Calvert #351, who is just about escaping the 'Flying Dutchman' Barry Van Den Oetelaar (386), during Brandon's June 1966 "Heart of England" championship meeting. Heading straight for the chaos are 146 Jim Potter and 375 George Ansell, and I hardly need to read the 12-? on the following car because that distinctive front wheel is on Geoff Harrison's 127 car -- recognizable anywhere.
Ron Pears raced under 331 and 15, and was notorious under both numbers, from 1958 to 1965. From the village of Outwell, near Wisbech, this "rakish" looking chap ran a scrap yard among other things. The quaint wooden windmill was Ron's grandparents' home. A write-up in a local history publication, can be read here. [Thanks again to Tim for the scans.]
March 2010: Here's Ron Pears 331, masked-up and ready to rock with a mischievous grin, and here, in 1960 at Staines, Ron and Ken Freeman (61) lose traction.
August 2010: More on that Wisbech wild man Ron Pears #331. Thanks to William Smith, who grew up in the same district as Tony Wicks, Viv Harper, and Haley Calvert, and had Ron Pears as a neighbour. William selected this great shot of Ron Pears and his mechanic John Lister, taken in 1960, from his collection [William publishes local history books through his Carrillson Publications]. William remembers when he was a lad, helping Ron with his car, and the reward was rides to various tracks, with a quick "disappearing act" that got him in free ---. Ron Pears was one of the far-sighted builders, like Barry Hebborn, who invested the then-huge sum of £1,000 for a new race-prepped engine from the States.
September 2011: Also from William Smith, Ron Pears strikes a "Hollywood" pose beside his car; place and date not known.
June 2018: a Ron Pears "tribute car" at Kings Lynn, Ron's old stamping ground. The racer is Robin Secker, shown here with Noah, grandson of William Smith who sent this and many other photos of Norfolk/Cambs area drivers.
Programme scans below supplied by Trevor Richings

These are digital scans of the old 'half-tone' photos in Belle Vue programmes; enlarging or reducing may improve the quality. I will identify driver names by number as and when I can. As with most track programmes, it's likely that one or two photos may have been taken during the previous season.
Cars 41 and 111 in 1963. Bev Marshall (Sheffield) carried 41, and 111 is probably Mick Harrison (Sheffield) It's possible 111 was John Allsopp.
Cars 48, 352, and 41 in 1963. Fred Walker #48 (Ashton-under-Lyne), and Paul Manders (Blackpool) is #352. Paul moved onto drag racing in some very fast cars, one being shown in the DRAG RACING section of this site.
Cars 77 and 315 in 1963. Steve Neal (Anstey, Leics) is 315, and 77 was the well-known Jaguar exponent Pete Farrington (Southport). Pete Farrington's happy photo from a BriSCA Annual.
Car 88 in 1963 is Manchester's Alan Heap, who also had #282.
Brian Wignall drives # 102; from Clitheroe, home to several of the sport's 'hard men'.
Jack Lord 233 and Roy Goodman 163 get tangled.
Below in 1963: "Jumping Jack" Lord #233.

Phil Griffin 242 and 179, dear old Jumbo Tustin. Phil up from Staines and 'Jumbo' from Cheltenham.
A total wipe-out wreck for 370 Ken Mack from Pendlebury. I hope it didn't hurt.
And for the older generation, here are some TV commercial jingles for Bristol cigarettes back then (I was a "Park Drive" smoker myself).
Nottingham's Fred Ball (#285 and 139) gets the trophy, from none other than Sally King, wife of the late great Johnny King.
October 26th 1963 saw the "Cleopatra Gold Cup", and here is the programme cover.
Alan Wardropper 245 picking up the RAILWAY QUEEN's CUP. Any idea what that was?
August 2010: Thanks to the sharp eye and memory of Vic Smith who remembers the popular annual Railwayman's Carnival, run from 1925 and last held in 1970. The daughters of railway employees were eligible to compete to become that year's Queen. There was a full day at Belle Vue Zoo and Gardens, brass band contests, and the crowning of the year's Railway Queen, who would then present the cup to that evening's stock car winner. Vic was there when Alan Wardropper won, and the date was 14th September 1963.
Vic was a regular stock car fan, and recalls seeing Ray Watkins (362) tipping his car onto its side so that he could remove its Buick engine, behind the Watkins pub,[ which belonged to Ray's dad], in Long Whatton, Leics. Also the day Ray's car got loose from its trailer and "visited" a shop window! Thanks, Vic.
Dave Richardson towed over from Clayton-le-Moors with his 247 car and had THIS happen.
Nev Hughes is a happy man with his #69 car. Is Nev tall, or is the presenter rather ----?
Barry Van Den Oetelaar

Barry Van den Oetelaar, a Dutch driver from Reading, # 386 , was one of those cheery characters the crowds always welcomed when he appeared on the track. Thanks to Leon Bekkers for the following photos and facts: Leon was given the photos by Barry's widow Dorothy (Barry passed away in October 1997).
Barry lived in England from WW2 to the 1970's before returning to Holland to run that country's Spedeworth promotions in Tilburg.
Barry 1. Barry 2. Barry 3. Barry 4. Barry 5. Barry 6.
Leon Bekkers was a good friend of Barry, and in his honour is building a heritage replica of one of Barry's Junior 10 cars, one which raced at Tamworth in 1960. Dorothy had no trouble supplying the car colours from memory, and says she could easily write a whole book about her "Flying Dutchman". Barry started in F1 Seniors, but then concentrated on Juniors and then Superstox.

More of Barry, thanks to Trevor Richings [Rod Dore's mechanic]. First, some programme facts. Next, a Walthamstow "upset" for Barry's Renault 4CV-bodied car, in 1965. Rick Young sent me this Brafield pits photo of Barry in his 386 car.
Leon Bekkers sends these four nice shots of that smiling Dutchman. First, two from when the final was sponsored by the salesman in charge of peanuts (yes, peanuts) at the track and who put up a trophy and £50. Barry did not actually qualify for the final, but some smooth talking and dealing somehow got him into the race, and to the discontent of the other drivers, Barry ran away with the race and received the "Peanut Trophy"
At West Ham Barry gets his victory lap on the bonnet of a Land Rover, and enjoys the presentation with a laughing Jock Lloyd. I know that model of "Landie", having grown up in GNV 454, with a windscreen that folded flat onto the bonnet, doors you could lift off in one movement, and a petrol filler under the driver's seat cushion.
Five more photos, courtesy of Barry's wife

Dorothy

and her daughter

Maria

, and forwarded with e-mail help by

Leon Bekkers

and his daughter

Chantal

.

And lastly in this group, below: chatting to Ted Pankhurst (right) and Karl
Grossman
n.
Notice the #386 boot, which is actually the louvred engine cover from
a rear-engined Renault 4CV.
Karl was so notorious for his dirty overalls that announcers and programmes used to joke

"He must have missed the Ariel Commercial"

and

"He's not using the right washing powder."

According to Harringay's director Stan Hinckley in a 1963 programme, Karl once pulled out of a race and stormed over to Stan demanding to know why he'd been disqualified. Stan told him he wasn't. Karl protested: "But I heard the loudspeaker yelling 289, 289, 289 every time I went by the starter!"
"That's because you were

leading

the bloody race!"
More trophies: April 1965, at Harringay, and Barry collects the Empire Trophy.

I'm including two photos from 1958 here: Barry and car (1); Barry and car (2).

In later years, Barry ran the Tilburg track in Holland, and here he is giving instructions. On the occasion of Tilburg's 25th anniversary, we see Barry on the right, next to the venerable Freddie Mitchell, Les Eaton, and Barry's wife Dorothy --- quite a VIP gathering. Lastly, an overhead shot of Tilburg, date uncertain.
==============================================================
Courtesy of Steve Gateley, here in 1962 are some happy men at work on the "The Saint" Doug Warner's #313 car; is the smoke coming from their cigarillos or from the motor? Doug Warner, from Birmingham, who raced 1959 to 1964, is on the right; on the left is Bert the mechanic, and a youngster named Barry behind the wheel.
December 2011: Thanks to David Hughes, a Midlands spectator and racer, for this 1963/4 Hednesford action shot which shows Steve Gateley ["That's me still learning ---," says Steve today] spinning in a cloud of smoke.
A rather fuzzy old programme photo of Doug Warner's 313 car climbing the fence at Brafield, during the track's 1962 World Qualifying round. Also in 1962, West ham's April programme praised Doug's "speedster" as a model for all builders; front view. Earlier, in 1961, West Ham's track photographer caught Doug Warner in a kerfuffle with 331 Ron Pears, 454 Dennis Thacker (Lincs), and somewhere under Ron was Dougie Wardropper's car!
Steve Gateley himself in action, first at West Ham in 1964, lining up beside Oxford's Karl Grossman 289 and Chris Edwards [also Oxford] 312. Next, see the tilt of Steve Gateley's engine mounting on 320. Steve was a friend of Ellis Ford #3, and here is Steve's car under construction/repair in Ellis's crowded workshop.
Then at Brandon in 1964, Steve tangled with Mick Screaton 357, (Diseworth, Leics).
Mick Screaton's godson Tony Sykes [Sykes Snr was Mick's mechanic] reports that the #357 car ended its career in a monumental smash against a post on Long Eaton's back straight, and Mick took the opportunity to move South to some gentler pursuits, including a farm not far away from Keith Barber's home. Always a skilled woodworker, Mick nowadays handles Cornish "Pilot Gigs", this one a unique six-oared 32-foot wooden design based on a boat built in 1838 and which is still racing!
Thanks to Tony Sykes again for this smart photo of Mick Screaton's beautiful #457 car in the pits at either Long eaton or Brandon.
The great Willie Harrison's #2 car, here at Long Eaton.
September 2011: Willie Harrison #2 in the Doncaster [?] pits with white-top #95 Peter Roebuck from Long Eaton. [Photo Malc Brown]
May 2011: Earlier, in 1963, Willie's car suffers bad damage up against the Long Eaton fence; see the small #2 "taxi light" on his roof.
Last of this 13-photo treat from Steve is a Brandon pits panorama showing Tom Toon #202 ,Tiger Griffin #178, and #75 Wilf Blundell from Southport, .
The spirit of stock-car racing is illustrated by this 1967 photo of the Nelson track's turn 4. In the background you can see the white overalls of drivers and mechanics watching. The stands are packed, the cars are spinning and rolling, there's dirt and steam everywhere, and not an aerodynamic wing or big-budget sponsor to be seen anywhere. Cars include #124 Oliver Smith (Durham), #240 Kevin Shackleton (Leicester), and #33 Oldham's Keith Thompson. Thanks to Andrew Hirst [ex-F2 racer at Aycliffe, Buxton, etc] for putting me in touch with the photo.

Here are two old Pathe News films of Brands Hatch in 1966. I hope you can view the "avi" files
Ted Janes wins.
If that doesn't load, you can go to the British Pathe website and view it: https://www.britishpathe.com/record.php?id=44278 and
Allen Briggs wins.
If that doesn't load, try the British Pathe website:
http://www.britishpathe.com/record.php?id=44054
August 2011:

Roger Butterworth

#61

gets it sideways at Brands.
Roger was from Earl Shilton in Leics.




Ken Freeman

, the previous holder of #61, waits for a night race.


January 2011: Sixteen photos of the racing at Brands Hatch in 1966 were sent by

Dave Chapman

.
If you recognize a car not listed, or incorrectly named here, contact me. Fasten your seat belt, these are terrific:




Phew! Thanks to Dave Chapman.




August 2010: Graham Cox sent me some programme scans, and here's the striking pink cover from Brands Hatch's historic first stock-car meet, April 10th 1966. Winners that day included Ted Janes in the 'consie', Willie Wanklyn in Heat 1, Ellis Ford in Heat 2, Alan Wardropper in Heat 3, and Allen Briggs in the final.
Three photographs that someone ? sent me ages ago; if you sent them, remind me to give you the credit.

First, the 98 car of (either)

Bob Laurie

or possibly

Allan Jones

of Manchester at Nelson: a hard driver at a hard track.
Second, car # 275 drifting fast on Belle Vue's dirt. The 275 could be either Peter Schofield from Huddersfield, or Eddie Jackson from London (Ten different drivers have carried # 275.) Trying to put a name to a car number in an old photo? Get the great Mike Greenwood book "Stock Car Drivers" 3rd ed.
Where the hard men raced: "Give it wellie or go home" was the Aycliffe motto, and thanks to Bill Taylor, here is a 1967 programme cover.
This car appears elsewhere on this site as Ron Cayzer's; then it went to his son John Cayzer. Here, in approx 1968 in the Coventry pits, the car belongs to "Blondie" Da Costa #269. A classic 60's car, simple and tough. The Cayzers left BriSCA for Spedeworth, and John switched back again in 1979 and is still racing f2's. [Rick Young collection]
An old Stock Car News photo of action at Hednesford, featuring some great names and cars: #385 is Wilf Hargreaves in the ex-Tiger Griffin car before Smiffy got it; also Tony Wicks 93, Jim Potter 146, and the late Ron Rogers 152.
Tony Neal, #100, in the pits at Aycliffe in 1967. The man walking into the shot was once known under the nickname "Jack The Ripper" in Junior racing: Aycliffe's scrutineer Jack Cowling. Photo and facts from John Rigg. The white rose on Tony's car shows it's from Richmond, North Yorks, not the rival town of Richmond, Lancs. [In the Wars of the Roses, the white rose was the House of York.].
Before the storm: a Harringay World Final group photo of 26 of the sport's best drivers prior to doing battle in — Ken Mason identifies it as 1967, and recalls that the WF saw the very first issue of 'Stock Car'. (Photo from Jason Holden's father Paul, via Pete Schafer)
From top, left to right: Allen Briggs, Chick Woodroffe, Jock Lloyd, Tony Neal, Johnny Pratt [who scored second place], Bert Shipman.
Next row: right-to-left: Ron Cayzer, Terry Coell, Guy Curval (France), Geoff Harrison, Pieter Noorlander (Dutch), Fred Mitchell, Ray Watkins, George Ansell (eventual winner), USA's Ted Janes.
Seated: l-to-r: Les Mitchell, Ron Rogers, Lou Hermanides (Dutch), Ron 'Dixie' Deane, Peter Farrington, Arthur Townsend, Marinus van Roy (Dutch), Mick Holt, Jim Potter, and Derek Green above Pete Guinchard. Jim Esau is absent from the photo, as is Ellis Ford who may have had his car banned (typical Ellis!).

What would this website do without Rick Young's memory and archives giving me the names?
Syd Farndon, who not only promoted at Tamworth, and practically invented the Junior/F2 formula, but also raced the big un's, and here his red-top # 224 is 'brewing up' in the 1960 World Final at Coventry. Syd's car was originally a George Foulger special. Also there are 35 Rod Dore and 68 Trevor Frost
Syd's son Steve Farndon supplied the above photo, and this scan of the 1960 Coventry program, which is a large file, but if you move it around you'll see some potted biographies and photos — including not only Syd but also Alan Wardropper looking so young.
In the photo above, Johnny has won a final despite getting a rock in his face (Walthamstow, 1962, recalls his son Chris King who attended all the races) Just look at that guy --- they don't breed 'em like that any more — if you remember the men who raced stock cars in the 1960's, they were often skilled and hard-nosed tradesmen, self-made, who had seen a world war and/or National Service, and had not lived the easy life — but they knew how to have fun, and how to live and play hard.
King came second in the 1961 World Final, went to South Africa to win their championship, emigrated there in 1963 (family photo of JK at the airport), returned to England in 1979, then re-settled in SA in 1999, passing away in 2001.
The 1961 West Ham WF would probably have been Johnny's, as he was the class of the field, and tore through the opposition until a lap-down Trevor Frost "settled some old grudge" [journalist's reminiscence], putting Johnny in the fence, from which he brilliantly escaped and went on to 2nd place. In 1962 at the Belle Vue WF, as shown on this programme, King made 4th.
In the 1963 West Ham semi-final programme, Pete Arnold predicted Alan Wardropper to win from Johnny King, and got it half right --- Johnny did get his 2nd place.
Only a few photos show Johnny with a public smile --- more often they show a rather intense look [see an official Johnny King profile ], which probably gave a shiver to even his bravest rivals.
April 2012: Johnny collects another chequered flag: photo courtesy of his niece (see handwriting on the print).
Johnny in a track lineup ahead of 131 Jock Lloyd's tartan terror, also Nev Hughes 69 and Jim Berg 471. Date probably 1962.
A truly happy JK, during his South African championship tour in the winter of 1962-1963:
January 2010: Here is Johnny King in circa 1960, blasting down a Brafield straight --- a terrific shot from a 1962 programme. This car is part Morris Minor-bodied, and was built before Johnny took over the famous Brise-built 'supercar' car at the start of the 1961 season (info from Chris King).
The car that changed the game. Once in a decade or more, a car appears that moves stock-car racing 'up' a level. This one did it for the sixties, built by Johnny Brise, with a Jaguar gearbox, the Olds Rocket 88 motor bored out to almost 7.5 litres, a Jeep rear axle, and a Mercedes chassis.
April 2010: Anonymous photo of Johnny King in a 1962 Brafield meet, being vainly pushed to start ---- it didn't work.
January 2010:

Johnny Brise

. [photo scan from Russ Thomas] Johnny Brise was World Champion in 1956, 1959, and 1960, and in this photo he is at Belle Vue, receiving a medal. Johnny Brise was originally a pig farmer (more than a few stock-car racers made this their living). He and his brother Bob were from Ashford, Kent, and both were racing sports cars and the 500cc Cooper single-seaters in the 1950's. Johnny went on to race and build karts, (and was Class 1 champ in 1961) and in 1967 used a gearbox kart to defeat the entire field of racing cars in a hill climb at Bouley Bay
in Jersey
. In 1970/71 Brise went to South Africa to compete in a Formula Ford series. Johnny's sons Tim and Tony followed dad's footsteps, both doing rallycross, and Tony eventually moved from karts to F3, then F5000, and up to Formula One Grand Prix, competing in ten Grands Prix races before his tragic death in 1975, in a plane crash along with three-time F1 champion Graham Hill. Johnny was heartbroken and already ill, dying exactly five years to the day after Tony.
Also in that picture are popular singer
Sheila Buxton, whose songs are listed here. Sheila was in the 1960 Royal Variety Show with Max Bygraves, Lonnie Donegan, Russ Conway, and The Crazy Gang!

Russ Thomas sent this: The late great Johnny "Gimpy" Goodhall's very first car #200, in the Brafield pits: the bodywork was mostly secured by bits of rope, and Gimpy didn't give a hoot.
Remember when there were thousands of those lorries on the road, hinged wood sides, especially the red-liveried British Road Services [from 1948 until Maggie Thatcher ---].
Chick Henson from Kempston, Beds, was a fitter and then a design draughtsman who kept busy with car repairs and rugby when he wasn't racing and running Brafield's catering ---- no lazy man. Chick's dad was a grocer who was also the Brafield caterer from 1955 onwards, until Chick took over the concession. Do you get the pun that produced the "Chick" nickname? HEN - SON.
Here are four photos of his 1961 car. He bought the Ford Pilot V-8 from Gerry Sheldrick of Linton (Cambs), and towed it home with a straight bar to the front bumper. The car was pretty much stock but side-valve Fords were unburstable and ideal for racing in those days. Here's the car in the Brafield pits (1) and (2). Chick raced it only at Brafield.
Chick went on to win this 1963 Brafield race. Chick's car is wearing a Ford E93A "Pop" body, with a Model B grille. In the same shot is 209 Fred Masters from Rugby.
[Another Steve Gateley photo:] Chick Henson, again in 1963, in the Brafield pits.

The Henson 477 car rode up on Chippie Weston's bonnet and windscreen, and 'Chick' recalls that when the noise and shaking stopped, he climbed down in a hurry to help extract Chippie from his car, and someone tapped him on the shoulder --- it was Chippie, who'd been even quicker to jump out.


More of Henson's exploits, all from 1962: First, a snowy January photo of
Chick's ex-Ron Pears car
. Then, at a cold
test day at Brafield
. Then, a
programme write-up
of that test day, with several other famous names.


It's that man again --- pounding Brafield's back straight ahead of car 184, Phil Corey from Rugby, in April 1962 (23rd of April if you want to be precise). And here is Terry Henson looking out of the cut-down door of his car, at Brafield in June 1962. Note the
"jet age"
helmet, new in those days, and the stout roll cage, also more advanced that a lot of 1962 cars.


A generous spread of photos all from 1963 of Chick Henson:

Heading West a bit, six pics from

Harringay

's wonderful and much-missed stadium:


May 19th, Chick and Alan Wardropper 245 exiting turn 2

backwards

while the rest of the field heads to 3.

Familiar tale of stock-car mutual aid: Chick Henson's towing Standard Vanguard lost its clutch in the M1 down to Harringay on a Saturday. [keep reading, this won't take long ---] Along comes Benny Wesley (Newport Pagnell) with his tipper truck and stock car in the 'bed'; he chains up Chick's car+dolly+racer, and off they go. Only prob: the Vanguard used the same master cylinder for the clutch and brakes, and by the time they reached North London, no fluid and NO BRAKES except for the handbrake! So the Vanguard kept bumping its nose on the back of Benny's tipper.


After

the Harringay race the other "Chick" in this story, Mr Woodroffe, offered Henson the use of his Tip-Top lorry for the following day's Brafield meeting. So, while Henson's stock-car was rope-towed back to his home,

Chick H.

went with

Chick W.

to Thurrock, unloaded the Woodroffe car, then

Chick H.

took the Tip Top lorry

back

to Harringay after midnight, loaded up the dead Vanguard, drove home, dropped off the Vanguard, loaded the Henson stocker that you see here, and off to Brafield --- to win a trophy! Somewhere in there Henson must have grabbed a nap and a bite of breakfast.
Now see what came about ----.
A sunny July, on Woodroffe's lorry, which shows all the track names and the "Tip-Top" name on the driver's door.
Here is the colourful Henson car being backed off Woodroffe's Tip Top lorry in the pits, with that familiar Brafield oak tree in the background.

That July 28th had sun and a win for Chick Henson, riding his car with Miss Brafield.

Woodroffe

, who had lent Henson the lorry, and who came to watch, laughed
"Typical. Every time I lend someone something, they win the b**** final!"
A very pleased young Henson with his South Midlands Championship Trophy. Although he won the championship on that sunny Sunday, the actual trophy wasn't at Brafield that day, so the "victory lap" had to be completed on the

following

Sunday ---- when it poured with rain at a Junior meeting. Here in the wet, Chick Henson parades with the trophy. No fancy Nomex fireproof / waterproof driving gear back then --- you tucked your overalls into your canvas plimsolls and got on with the job.


A sunny September 15th in 1963 as Chick Henson lines up with #37 Oxford's Don Evans behind; once again, check out the crowd; most men are wearing ties and white shirts; one or two have been daring and removed their ties, but one chap has taken off his jacket

to show his waistcoat

. Try finding a man wearing a waistcoat in the crowd today.


An amusing comment on the young Chick Henson, from Harringay's July 27th 1963 programme, probably written by Stan Hinckley or Johnnie Hoskins. Read here.



A tribute to the USAF visitors who livened up our stock-car racing
They brought in some big motors, and knew how to throw a party. Thanks to Aubrey Leighton's daughter Carol Cockings, for providing some names:
From the left: Carey, Kelly, Hitchcock, Bill Powers, McKinnon, Ferrall, Correll [though he looks a lot like Jim Berg?]. If you know these guys or can add details, let me know. If you're in touch with any USAF veterans, please tell them. Veteran Bill Scheffel tells me "Doc" (Ray) Kelly was a medic at USAF Chelveston, who stayed on in the UK until around 1968. Is that a Chrysler Firepower hemi motor there?
May 2010: By the end of World War II, the US military had over 800 "installations" in England (not all were air bases of course, many were offices and depots). For instance Suffolk had 36 and Nortamptonshire had 31 US installations. Major closures in the early 1960's reduced this number. For those who fancy looking up a town, village, or county, an official USAAF researcher compiled the complete list, which is here on a "pdf" file. Have fun with it.
March 2010: Looking through a 1960 Norwich Stadium I see some amusing American names and nicknames from Chelveston: "Mother Carey", "Fencer Marvin P. Gash", "Rat Face Ferrell", and "Flanen Samson" (the last one may be real).
Meet Doc Kelly, who once raced a VW Beetle against Dirty Dennis's giant Hudson.
February 2010: Chelveston serviceman Clayton Sampson 338 is the "American sandwich" at West Ham in 1960, with #446 (Rugby's Graham Butcher) and #90 Jack Minion giving him the squeeze. In the back Sid Farndon stays out of trouble.
Jim Berg
USAF airman Jim Berg* # 471 (stationed at Chelveston, Northants) sparked a sensaton in 1961 and 1962, with his powerful and beautifully-constructed car #471, with which he collected a ton of trophies and ruffled some British feathers. USAF Clayton Sampson had worked with Jim to build an earlier car with a Canadian 3/4 ton chassis, Morris body, and a 6-cylinder Bedford lorry engine. Clayton was buddies with folks like Jim and Doc Kelly, mentioned elsewhere. According to Clayton, Jim was a brilliant welder, from his Nebraska farm childhood, where he and his brother had always 'played' with welding equipment. Thanks to Steve Gateley for this 1960-ish snap of Jim Berg at work with mechanic Bob Green, and Jim's car being built at USAF Chelveston. When Jim raced, it was # 471, but when he couldn't make a race, Bob would get out the paint brush and make it a # 470 and race on his own account!
December 2010: Jim was a regular at Brafield, and here he is with his famous 471 car. Also there that day was Rod Dore, shown with Jim.
Ian Melton (ex-#403 racer) was a keen young model maker back in the old days, making both stock cars and planes. Ian was chatting to Jim Berg about the B47 bombers at Chelveston (in service between 1958 and 1963), and the talk got on to model stock cars --- the result being that Ian worked on a Fiat Topolino 1/24 model that originated as an AMT hot-rod;

"it took some work but came out a very good likeness"

, and it was presented to Jim as a gift. Hey, we'd better have a dramatic photo of a B47 getting aloft with the help of some rocket-assist.
Jim has kindly sent me this collection of photos from his Chelveston days.
If you see a USAF face you recognize, please contact me. I have loaded them as high resolution files, so they may be slow to open.

Two "Yanks" at the Chelveston base: Jim's Topolino and Ray "Doc" Kelly's #280. The next photo is a bit "muddy" thanks to my computer: Jim's supporters in black cowboy shirts, and in the background we see Barry van den Oetelaar #386.

Jim's car parked in the pits at Brandon in 1962.
In tghe same year, Jim Berg invited Chippie Weston to enjoy Jim's win, riding on Coventry's "cop car".

Here below, Jim and one of those supporters relax with the 471 car. See the then-novel signwriting, and those impressive louvres along the bonnet (hood).

November 2011 from Jim:

those distinctive hood panels came from a 1938 Cadillac LaSalle 4-dr sedan [typical version shown here] that Jim bought in the UK, a r/h drive model, which unfortunately was borrowed and rolled and wrecked by a couple of wild-driving USAF 'fly-boys', so Jim just kept the hood for the stock car, which was known as the "Yankee Ghost", with a skull and crossbones painted on the back. Help: if anyone out there has a photo showing the back of Jim's car,

please get in touch

!


Jim and team at a night race. The sticker on the car says "Schooler Cams & Kits: Jacksonville, Florida: TORQUE, not TALK".

Next, Jim Berg in action, snapshots taken through the track fence in a night race: Chasing Freddie Mitchell, and racing on the shale about to take Roy Goodman's 163.


February 2010: Jim is happy on a parade lap after winning at Brandon in 1962; he welcomed second-place Chippie Weston to join him.


March 2015:

Enlarge that parade photo and look at Chippie Weston's right hand holding onto the flag;

there's a glint of a ring on his 2nd or 3rd finger. More evidence that Chippie Weston is the Tamworth "mystery man".



He didn't

only

race stock cars while he was serving in Britain. Jim Berg was also an instructor at USAF Chelveston, and here in the classroom he's about to drill some technical facts into those fly-guys: Sit up and listen.
Now for the trophies.

(Memories for Bristol smokers:: one; two.)



Hot tempers at Belle Vue

, September 30th 1961: Anyone would be proud to own an original letter from Pete Arnold, even if it raps some knuckles. It seems Jim and Frank Haft #8 of Manchester had exchanged some strong words and actions on the centre green after the last 'Helter Skelter' race ---

"who ever heard of stock-car drivers getting angry?".

It had already settled down, but the BSCBC had to put it on record

.

One of life's coincidences is that Pete Arnold was writing from Coleridge Road in Crouch End (London), and three years later I was living on the next street.


March 2010:

The massive 'oomph' of the Berg car overpowers Brafield's tarmac, smoking the tyres in a slide, while Ken Freeman and Rugby's Bob Weston 482 nip past on the inside.

Let's finish this section properly, with a very friendly goodbye column in the BSCDA Newsletter of July 1962, which recognizes publicly what a great contribution Jim's spirit and his cars and buddies made to British stock-car racing. I'm of a generation that used the word "Yank" positively, with admiration and appreciation.

It simply would not have been the same sport without them. Cheers, Jim.



More "Yanks": Clayton Sampson sent me these two bits of identification: his BSCDA membership, and his wife's membership of the USAF Chelveston Car Club, from 1960, and here's
Clayton Sampson,
nicknamed "Sam", at home.
You can also see Clayton with his midget racer in the EARLY DAYS section .
A nostalgia special: Ted Janes was a USAF airman who raced with the Alconbury Spartans stock-car team based at USAF Alconbury (Huntingdonshire). Here he is in 1966 with a 'special' that harks back to the 1950's -- Ted built this #66 as a nostalgia exercise for demonstration runs. Rick Young provided the photo, but tells me that those shiny chrome wheel trims were removed before Ted ran this thing in anger. And here from another fan is Ted's autograph
December 2010: International: USAAF racer Ted Janes meets French racer Guy Curval a long time colleague of Jock Lloyd. The photo's original label says Harringay --- but ?.
July 2010: Great photos of Ted Janes, courtesy of hot-rod WC Gordon Bland:
Ted putting on a lively Wild West act at Harringay in 1965 --- with fans packing "Colt .45's".

Ted celebrates his win at one of the rare Brands Hatch races, which was also filmed by Pathe News and is viewable elsewhere on this site.

"Friendly" Ted Janes puts the bumper to #161 Ken Sheridan from Enfield --- at Brands Hatch.



Ted Janes #66 in a more modern car, pitted next to Frank Bourne, at an unidentified (rural) track; photo source forgotten.

Now see below for why "the Yanks" loved Aubrey Leighton ---- .
Aubrey Leighton:
Audio file of a 13-minute interview on Radio Northampton, about local hero Aubrey Leighton, for their afternoon show. There's another link to this on the Home page.
July 2015 updates:
Aubrey grins at the Cadwell crowds. Date? Photo courtesy of Cadwell management and Dave Chapman.

Keith Barber

knows the Leighton story better than anyone.

"The Leighton car at Cadwell dates from 1960. This is the first car that Aubrey built with an RHS chassis, and it first raced in the early part of the season. The only thing Chrysler about the car is the bodyshell. Early on it had featured the Model B grille, but after subsequent damage this was replaced, first with one from a Mercedes and then an E83W Ford van grille. During 1961-2 the rear axle was brought forward about 4 inches which makes it look different. It was retired when the last car, the one I have, first raced in September/October 1962."

Aubrey's one-time apprentice

Harry Prigmore

recalls Aubrey and his foreman

Maurice Bedford

converting a 1950 Morris Minor to have a hotted-up Ford 10 engine with twin exhausts and twin SU carbs, which attained 86 miles an hour! This was in 1953.
==================================================================
Aubrey built specials just a little ahead of the others. His garage, pretty much unchanged today, is in Earls Barton, just 10 miles from the Brafield track. I took the photo below in 1964, Aubrey's last season. The unusual bonnet and grille are from the once-famous Armstrong-Siddeley line of luxury cars, and were made of aluminium. Aubrey's may be from an A-S "Typhoon", as in this photo provided by the Armstrong Siddeley Owners Club. Once upon a time a little 2.3 litre straight six lived under that bonnet; Aubrey preferred a 7-litre Mercury ----- ;-)


November 2012:

It's 1963 and Aubrey is at the height of his powers, power-sliding the 42 Pink 'Un round Brafield's first turn in this great photo, anonymously provided.
January 2011: Colour photography in May 1964 -- then still a luxury --- lets us see Aubrey's 42 car in the Brandon pits, courtesy of Dave Chapman, then a Leicester based fan. If you enlarge the image a lot, you can just see Aubrey's face, with his glasses glinting. Just four months later at the same venue, Leighton's last-lap glimpse of a second world championship was dashed, and his racing career came to an end.
Next, same date, Aubrey's #42 Pink 'Un is up on the converted fire-engine that Leighton used.
Here are two photos of Keith Barber's recreation of that historic car, 40 years later:(1) and (2).
Aubrey Leighton #42 collects more silverware, this time at Belle Vue: The Mirror Trophy. Aubrey always looked like an RAF character though he wasn't.
Here is the ex-Leighton car, rather battered, raced by #78 Barry Goldsby. (Paul Durham: magazine clipping). Aubrey retired from racing after Fred Mitchell 38 notoriously took him out at Coventry in the 1964 WF, with only a hundred yards between Aubrey and a second World Championship. Forty-seven years on, the controversy has not been forgotten.
Aubrey's car in its later Willie Harrison #2 paint, and in the lurid colours of "Gimpy" John Goodhall #261. [Dick Young collection]
Below: Later, Aubrey's / Willie's car came to rest at Long Eaton stadium (this photo is a few years old now), right next to the famous Bozzy Bosworth's #22, both owned by Keith Barber, who restored them both for the "Heritage" series.

Sometimes nicknamed Gov', Leighton encouraged the USAF stock-car visitors in the early days. Ed Hake, one of the USAF servicemen, remembers Aubrey:
"A true friend to us Yanks. Aubrey supported us when there was opposition to us bringing in some big V-8 motors; he stood up publicly and said "Let them bring what they will — I'll race against them!" and he made it his duty to make us feel welcome and introduce us around the tracks — a nice chap."
The Leighton car had several owners even into the 1970s. Here we see Russ "Rick" Thomas #286 racing it at Leicester's Blackbird Road stadium. Russ was deejay at Brafield from 1963 to 1977.
How did Aubrey Leighton get into stock-car racing? A young Northants man named HENRY (HARRY) PRIGMORE apprenticed for Aubrey in the mid-1950's. When Aubrey took his tow truck to Brafield to help with the wrecks, Harry decided to have a go, in cars that Aubrey built and sponsored (numbers 4 and 70). Aubrey actually said "You'd never get me in one of those!" [Click on the link to the 1950's section, and you'll see some great action shots of Harry mixing it up at Brafield.] Then Aubrey tried one race in Harry's car, and was hooked. Leighton's famous "armoured cars" were in reality just rigidly boxed and triangulated designs (1/4-inch checker plate) ahead of their time — when the bumper hit, the whole car's strength was behind it. The shouting and shoving in the pits and on the track, sparked by his success, became a stock-car legend. Harry Prigmore later went to Australia and raced stock-cars and supermods in the 1960's, and crewed on sprint cars.
For Aubrey, "good enough" was not good enough. Harry tells me that after he had completed a valve job on an old Morris, and being under age for a driving licence, he asked whether Aubrey would road-test the car. Aubrey said "Not now, but first thing tomorrow I'm driving down to Oxford in that car, and you'll come along and bring your toolbox. If it breaks down you're going to fix it right there on the road." Aubrey told young Harry to treat all his work that way — as if he was totally accountable for it working well. Not a bad way for a youngster to learn a trade. The Oxford trip was to Fred Mitchell's, to look over a V-12 Packard that Aubrey had plans for. That infamous Packard is illustrated in the 1950's section of this web site. Harry retired in Perth, Australia, and it's thanks to him for this piece of history.
Here is Aubrey's car in the pits at at Belle Vue, date uncertain.
More Aubrey-related: The late great Fred Mitchell's mechanic, Pete Schafer, tells of a 1959 emergency at Brafield: Fred's #38 broke a track rod in the first race. Fred and Pete jumped in the tow car, drove fast over to Aubrey's garage in Earls Barton and welded some angle steel onto the rod, drove back to the track, cobbled it all back together, in time for Fred Mitchell to race in the consolation!
February 2010: After the 1964 WF upset in which Mitchell knocked Aubrey out of a certain championship, the idea developed that Leighton "walked away from it all" after that race. But see what Pete Arnold was writing six months later, in Harringay's first-meeting programme for March 1965:
April 2010: At Brafield in October 1962, wearing a blue top, Aubrey gets it properly sideways, and Jock Lloyd's new-that-year XK140 lurks in the background. [Anonymous donation]
The magic of numbers runs all through oval racing. Most racers' sons try to register under their dad's number, but Aubrey Leighton's iconic #42 "pink 'un" had such a hold on one family that it was adopted by the son of National Hot Rod champ (#356) Gordon Bland: Shane Bland, when he got into Rods. A big mural painting of Aubrey's car #42 had for years adorned a wall in the Bland garage, and young Shane had grown up with it (info from Graham Brown, thanks.)

Fred and Les Mitchell:
I am very grateful for the chance to scan the following Fred Mitchell photos, from to Fred's long time mechanic, the late Pete Schafer, who loyally stayed in touch with all the "greats" of that era. Pete also told me a few hair-raising stories of mechanical genius and fun.
Below: The late Fred Mitchell, becoming World Champion at Belle Vue. Peter Arnold does the handshake, and Pete Schafer, who was Fred's mechanic for 15 years, is well satisfied.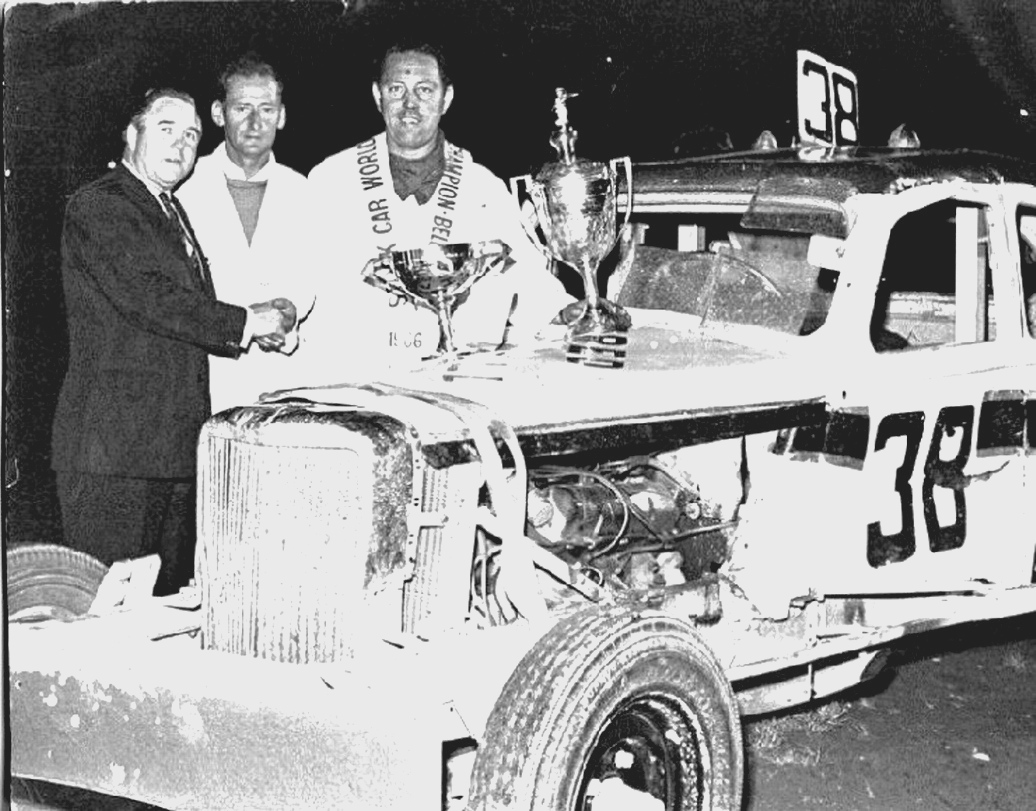 Next: Fred in 1963(?) can anyone identify the track — looks like an RAC road circuit. Thanks to Ken Mason for suggesting Snetterton or Brands. Ken was a BriSCA lap-scorer for over 20 years at Bristol, Coventry, Ringwood, Brafield, Long Eaton, Leicester, Boston, Skeggy, Reading, Lydden Hill, Bradford, White City, Manchester, Belle Vue, Newcastle, and Salford. Ken even did a Semi and World Final. Just call him "Nerves-of-Steel".
Fred on parade the car cleaned and polished and surrounded by cheerleaders. I think this must be the 1967 pre World Final parade at Harringay. (Photo provided by Fred's son in law Paul Holden.)
Below: At Brandon, Fred collects another trophy. Charles Ochiltree is on the left, and Fred looks like he's doing an Elvis. Looking cool against the car is an uninvited fan who had nipped over the fence to get in the photo. Pete Schafer also in the background. The glamourous presenter is the music-hall Dorothy Squires [1915-1998].
Below: "The guys". British stock-car racing flourished because of characters like these: Back to the camera is young Alan Wardropper; Pete Schafer (Fred's spanner man) is grinning at Fred Mitchell who's leaning on Chick Woodroffe's car and thinking of something else; Dougie Wardropper sitting on the tyre looks like he's worked hard; and look at that cool tough guy George Ansell.
Credit to the chap who has donated so much info and photos about Fred's career for this website: so, 40 years on, here is the late Pete Schafer the ace mechanic, at home near Seattle, USA, with his 'best friend'.
August 2010: A fantastic-but-true mechanical tale, from the late Pete Schafer: in 1962 or 63 Fred broke a conrod at a Wednesday Southampton meeting, and quickly contacted a friend at Ford's main spares depot on the Great West Road, who said that they had just received a pair of V-8 Mercury motors from an offshore racing powerboat, raced only once. Lovely! Fred bought one of the motors, and he and Pete scrambled to install it before the weekend. Fred fired it up, put the car in first gear, let out the clutch --- and #38 went BACKWARDS --- it had been the boat's left-side engine which, following standard nautical engineering practice for balancing a powerboat, it ran ANTICLOCKWISE, with the starter, cams, timing, etc all set up to allow that. So it was engine-out and rebuild the whole damn thing before Friday!
Fred and son Les: the fans grinned and the opposition tensed a bit when the Mitchells rolled into the pits: Fred's 38 and son Les's 238. This was a very rare spell when Fred Mitchell wore a yellow grade top.
Not a bad way for a teenager to grow up: — Les Mitchell at 16 years old with his stock car, which he raced before he had a road licence. Check out those hand-cut front tyres. And the family 'dynasty' goes on, with Darren Mitchell, Fred's grandson, Les's son, racing V-8 stock-cars (#238, Les's old number) in Spedeworth, and winning heats and finals all over the place. Photo courtesy of Pete Schafer.
Les Mitchell reminds us what dirt-track racing means. In the 70's Les was racing in the Scota/Fisca series on Spedeworth's tracks, and Rick Young identifies this as Wimbledon.
Here is young Les sitting proud on his 238 pink 'un, a Topolino-bodied car on a parade lap; where is this track? Could be Brands Hatch, could be Snetterton (Photo from Pete Schafer via Les's bro-in-law)
February 2010: Fred visits the Cadwell fence, courtesy of wild man Wilf Blundell, #75; from a July 1962 Cadwell programme.
Long time racer Willie Wanklyn # 304, who raced everything over the years, and eventually was a promoter in Northern Ireland; I don't know who the photographer was.
Here's another shot of Willie Wanklyn, with the Tip-Top trophy he won at Harringay in 1964. Then, bingo, Willie gets ANOTHER trophy at Harringay, same year, the "ALL ENGLAND". Does anyone recall Annette Morse, who presented the trophy --- was she in TV or movies? And thirdly from Harringay, an action shot that looks like Willie is trying for an aerial hit on a sideways George Ansell. [Scans from Trevor Riching's programme collection]
In the Brafield pits in 1969 is one of the famous Driscoll brothers: Dennis # 274. [Rick Young photo ] Powered by a Jaguar 6-cyl, this car won finals wearing first a chopped Fiat 500 shell, then briefly a Morris Minor shown here, then the Fiat reappeared after a Coventry wreck. The motor was fitted with three twin-choke Weber carbs, and instead of the usual LD back axle, this racer rode on an independent Jaguar Mk 10 rear end. Brother Pat Driscoll was racing back in 1961, and a program shows that Pat's 3rd place at Harringay on 20th May won him a whole £5. The Driscoll family is nowadays represented on BriSCA tracks by Dennis's son Danny # 174.
Some rare photos on this site come courtesy of Steve Gateley, so here's a shot of Steve #320 at Brafield in 1964, side-by-side with car 95 Walter Matzke from Rugy. Steve's car here is a Ken Freeman special with a '61 Thunderbird motor, ex-Ellis Ford. [ Steve raced F1s and F2s and built F2s as well as giving a hand to several other drivers.]
Skid Skinner [autographed] laps the Brafield track in a Volkswagen Beetle-bodied special. Dick Young photo
January 2011: Brandon, May 1964, and here are father-and-son cars in the pits. Alan's 245 car on the right, is showing its bonnet's burned underside as usual, and Dave Chapman who sent the photo points out that the dapper chappie in the cap is Alan Wardropper himself. Other men wearing ties, of course, in 1964.



Father-and-son transporter at Brafield. Alan started BriSCA in 1959 as a teenager, and drove brilliantly on shale and wet tracks. Alan's cornering on Coventry shale was beautiful to watch; he would cock the wheel once to set up the slide, and not move his hands through the whole bend.

Dougie Wardropper #5 --- look at that knowing expression --- gets the Bristol Cigarettes trophy, at Belle Vue.



Doug W. in the fence

(scan thanks to Trevor Richings.)

Doug started racing at the very beginning of the sport, in 1954, and won the World Championship in 1963.

Doug Wardropper, his #5 Fiat showing definite signs of wear and tear, at Brafield.
But here the famous #5 Topolino is looking good on a sunny day [my photo in 1964 with a 42/- plastic Brownie].

Gordon (1979's Hot Rod World Champ) sent these:

The golden lad: Alan Wardropper

raced as a teenager and is still thriving in the motor business today.



At Brafield in 1962 is the Alan Wardropper 245 car, this time with flames painted, unusual among stock-cars though every hot-rod seemed to go the flames route.
January 2010: Russ Thomas and myself, 46-plus years ago, each separately witnessed violent Doug Wardropper crashes at Brafield. I saw it happen during a two-car match race, when apparently his throttle stuck open on the home straight, and he wisely and bravely aimed his car straight at an RSJ upright girder; it was an awful impact that cut through the bumper and chassis and radiator. Russ saw an identical crash on a different occasion when Doug was running a "stock car school training session", and this time the car ended up completely though the fence. Russ sends this photo, saying Doug crawled out and commented "that's not supposed to happen".
Here's Brafield's invitation to go to school under "Mister Wardropper, please Sir", and here is the kind of classroom where you would not doze off in the back row.
January 2011: Small world. Someone who was in Doug's racing school that day, Dave Chapman,now from Essex, is the dapper young gent on the far right of the 'classroom' photograph above.
Doug and Alan both getting their Brafield trophies. [Photos from Carol Cockings]
Here is a press photo of Doug and Alan Wardropper in 1962/3: The Wardroppers also built famous Formula Ford engines under the "Scholar" trade name, and had the Silverstone circuit racers queuing up at their Ipswich garage.
It is sad when stock car heroes pass away, but if it has to happen --- Dougie Wardropper died suddenly at the age of 72, doing what he loved best, busy in in his engine-building workshop.
============================================================================
Father and son (a common feature of British stock-car racing). First Ron Cayzer # 267, at Brands Hatch; then his son Alan Cayzer # 266. This car body style seemed to me near-perfect, so balanced and so neat and looking like a car! Alan's own son races today (Steven) in BriSCA F1 as #380.
Ron Cayzer enjoying his victory parade with the chequered flag, accompanied by Doug and Alan Wardropper, and driven by Alan Cayzer.[scan from Steve Gateley]
Hot engine for those days: three carbs on a Chevy Hot in other ways, too: no fan belt, no fan, no hoses, no radiator! How about the spectators' clothes? It's easy to forget how formal people were then, even at a muddy stock-car race. Back then, a working-man often wore a collar-and-tie to his job.
DEJA VU: In August 2000, thirty-six years after I took this snapshot in the Brafield pits, I received an e-mail from a couple who recognized themselves as the people in this photo. Even though their heads were cut off in the original snapshot, they instantly recognized their clothes and the way they stood .... I only wish their happy faces had been included.
Dick Sworder #150 in a steel sandwich with Oxford's Don Evans squeezing the outside of the pack; how they got four-cars-wide at Brafield is a miracle, but these guys would never give an inch. (Rick Young photo) — and here is Don Evans's autograph:
AUGUST 2010

--
This is not a 'current news' website, but I have to mention here that

Don Evans passed away

on August 5th, at the grand age of 82; a well-loved character who worked hard at his racing and organizing, and who is remembered for his kindness to youngsters in the pits.
Tony Allen #348, shown tangling with Dirty Dennis in the Brafield fence.
January 2011: A big high-resolution photo from Long Eaton. Ellis is there with his futuristic car, ready to rumble, and that looks like a hurried splash of gold paint on his roof, meaning this was taken shortly after Ellis's WF success down at West Ham, in the autumn of 1965. Long Eaton's railway bridge is in the background, with its tobacco advertisement. Dave Chapman remembers the fish 'n' chip shop across the road that spectators could be permitted to run to halfway through a meeting --- and Cliff Burdett reports that the shop's still there today! Photo courtesy of Dave Chapman.
Ellis at Cadwell, breaking the sound barrier as usual.
Long Eaton, 1962, and running under #183, a red-top Ellis Ford chases hard on the heels of Banbury's Jimmy Wright (ex-speedway rider) #236, and the rest of the pack. Colour photo anonymously donated.
Ellis Ford #3 [Rick Young photo]
Thanks to Reg Walker for passing on these new Ellis photos: Ellis with Reg Walker at right; Ellis doing the cool "pose"; Ellis the winner; Ellis being interviewed by a serious looking young reporter.
Ellis originally did coal-delivery in his truck, then set up a rock 'n' roll teddy-boy espresso bar, with an members-only night club upstairs, in Stratford-on-Avon. Ellis would park the stock car out front on a Saturday before going to the races. Someone who knew Ellis back then recalls that, despite his famous limp, E.F. could deal with rowdies and drunks in 5 seconds flat. A WW2 injury [various stories about that] had left Ellis with the limp. He was also famous for his humour and practical jokes. Ellis, wife Pat, and daughters Marilyn and Patti-Anne, lived "over the shop", and he kept his cars on a farm outside Stratford. Are you old enough to remember the Cliff Richard film "SUMMER HOLIDAY"? The Ford Thunderbird in that film was Ellis's — but he had already swiped its big 430 cu.in. motor for his stocker. Alan Wilson, who raced F1's from 1972 to 1988, remembers watching Ellis Ford's car cut up for scrap — sometimes you just don't have the cash on hand to save a car.
Here is an Ellis Ford fan club Badge .... and here's Ellis's autograph: images/elisford.jpg Thanks to ex-racer Steve Gateley (who himself was in F1 cars at the early age of 16), and to Andrew Lively, who each knew Ellis when they were teenagers, in "the good old days. "
Call your local "health and safety" official and make them look at this photo of Ellis's car! A terrific shot of Ellis with flag and Miss Brafield — the man is happy! [Photo from Carol Cockings]
Thanks to ex-racer and Ellis-Ford-crewman Steve Gateley for these two snapshots: Ellis and Steve on the way home from Brafield, outside the famous Blue Boar motorway 'caff'. And a super colour shot in the Brafield pits, of Ellis with helpers Steve, Alan, and Pat.
Here is Ellis Ford doing the honours, presenting a boo-ootiful bouquet of flowers, and doesn't he look charming?
May 2010: 'Old pals chatting' --- at Brafield in 1962, Ellis, arms folded, sitting comfortably on the front of his 183 car, listening to (oops: not Trevor Frost as previously labelled) someone. [Thanks to "Stonemason" for the photo.]
"So long." Sad to report, Ellis passed away at his home in Florida at the end of 2002. They tried to ban Ellis's cars several times — big motors, lightweight wheels, bare-minimum-bodies, Ellis was always tweaking the authorities. You could hear Ellis from miles away with those pom-pom exhausts — usually on booming 428-inch and 430 Ford / Mercury V-8's.