Cars and Drivers from the 1970s: "the modern age"

*Look for
labels: new additions are scattered randomly throughout the page.

Use "Edit-find" for your favourites, or just sit back and browse.

If you have a favourite snapshot or story, tell me: spratton@hotmail.com

R.I.P.

If you stood on the terraces and cheered your heroes and booed your villains in the fifties, sixties, and seventies, the passage of years is naturally taking those drivers away. Until 2013 I occasionally reported the death of stock car racers; but I don't want this living historical website to become a list of obituaries. Besides, men like Dougie Wardropper and Chick Woodroffe, to us, are still fighting their cars and their rivals round the tarmac and shale up and down the country in our memories. Let's leave them racing in peace without too many R.I.P. notices.

++++++++++++++++++++++++++++++++++++++++++++++++++++++++++++++++++++++


Jim Tomson: 'ancient and modern'


Thanks to son Allan, here is the story of Jim Tomson #295 from Leamington Spa.


Jim raced BriSCA F1 from 1971-1976, and this love for speed later encouraged and funded his son Allan to compete at a top level in motocross, all over England.

Jim was a successful sales rep in agricultural chemicals for a leading compoany, and later ran his own haulage business in the 1980s. He first spent a couple of years in white-top status in a car that lacked power and handling: although at almost Jim's first Brandon meet, he held second in the last race for a short spell. In 1971 he had to ask around for a lorry to get to Brandon because his own transporter had been wrecked on the way back from a West Country. White-tops often struggled to get bookings at that time, and after Jim's very first race at Brandon, when his car was badly damaged, Brandon turned down his next entry. These were tough years, and a 1972 steering failure at Brandon did not help. By 1973, Jim had earned a Yellow roof, racing a Jaguar-engined Mini-bodied stock car he'd built himself. Jim realized it was wiser to get better wheels, so this car went to Paul Smith #12, and he took on a powerful Chrysler V8, I believe from Mick Noden, with which he held 3rd at Mendip behind Stu Smith, before finishing a happy fourth. The car later passed to "Gypsy John" Aldridge #211.

The Tudor timbered house and barn where Jim grew up and his later family lived at Alderham (nr Barford, Warks) is 500 years old. As a lad, this future stock car racer had to hand-milk cows before riding to school on his pony. Allan remembers Jim's friendship with Rugby's Mick Noden #306, and seeing Mick's son Ian Noden racing at Brandon.

Photo showing Jim Tomson and his wife Avril:

Jim's mechanic David Wood working on the Chrysler engine.

Jim in action against Geoff Weston #96 from Kingston Blount:
White top car in the pits.
Jim towing Barry Gibbs #310 (Warwick)
Later the ex-Noden and then ex-Tomson car did well in the hands of John Aldridge #211.
====================================================
John Hirst and brother Derek 'Decker' Hirst
John Hirst

made his living as

"a jack-of-all-trades type of guy",

dealing in second hand goods, and owned a cafe in Holmfirth, called JB's Diner. He worked on his stock car at his mother's place in nearby Hazlehead.


Born in 1943 in Penistone, he was based in Stocksbridge and raced between 1975 & 76. He raced mainly at Belle Vue (John's favourite track), Rochdale, Bradford, and Sheffield. He used to follow the racing crowd around and has been to many different sites. John's heroes were Dougie Cronshaw, John Hilliam, and Stuart Bamforth.
John used a big Buick 454 V8 engine, in a car he bought half-built and finished himself. After a couple of years racing, John --- like so many --- found (in his words) his pockets were not deep enough for the F1 game.
John's #216 car, with brother Derek's #196 behind
John Hirst's late brothers
Anthony
and
Derek
also built a car for Derek, #196, at John Hilliam's place in Cleckheaton; this was scratch-built from the word 'go' and used a Ford engine.
Links to photos of Derek's #196 car:

Derek and John didn't race for very long, but according to John, he's never experienced anything like that thrill since. John's son Tony who kindly sent me this info and these photos, remembers going in the 80s to Manchester with him, and being track side, getting covered in dirt and reeking of petrol.
John Hirst #216 on the track:




and in his car, ready for battle.


If anyone has info or photos of John and Derek's racing, please get in touch!
+++++++++++++++++++++++++++++++++++++++++++++++++++++++++++++++++++++++++++++
Thanks to Steve Palmer for this scan (a four double-paged pdf file) of the 18th September 1977 meet. Seven races, all the stars!
=================================================================================
Jim Aspin: strong and stubborn
Jim Aspin from Clitheroe in Lancs was a "strong and stubborn man", famous for his ability to conquer the demanding Lyke Wake Walk --- 40 nonstop miles across Yorkshire's highest moors in less than 24 hours --- "as though he were doing a Sunday stroll".
Jim built his own stock cars, and maintained them --- he was a lifelong mechanic by trade, and he retired from racing only when the rising costs made it impossible. He always enjoyed a chat in the pits with the fans. Thanks to Jim's son Andrew for the facts, and to various fans for the photos.
Six photos of Jim Aspin

#40:
First:
========================================================
Farmers! Stock car racing has had a lot of farmers racing --- they know something about hard work, dirty hands, bad weather, and sheer grit.
The Heath family has been farming in Warwickshire for years, and nowadays also sells their own design of big-time baling machines.
http://heathengineering.co.uk/
In the 1970's

John Heath

gave fans something to watch when he brought a Mick Noden car to the tracks, and was not afraid to use it:
John, #320, was from
Shipton on Stour, Warwickshire. He raced from 1974 to 1981, and one of his cars went to Doug Fisher #63, who remembers
"It handled like a dream".
In 1978, John Heath got a newer car and did this at Brafield!
Then at Leicester he kept up his no-mercy style of driving.



---------------------------------------------------------------------------------------------------------
Do you call the track BRISTOL or MENDIPS?
Regardless, here is a super hi-resolution scan of the 21st July 1974 meet :
Click this link for pdf file
Click this link for PDF of the 26th May 1975 Bank Holiday F1 meet (cover below).
============================================================================================
Bill Bradley from Bolton:


From 1969 to 1975,
Bill Bradley
raced his Jaguar-engined car at Belle Vue, a track he loved. His wife Sue and son Mark were with him in the pits, and experienced stock-car racing's unique camaraderie. Bills was a proud white-top on a budget throughout his racing career --- but was nonetheless good friends with stars like Stu Smith and Brian Wallace, with whom he shared tows and coaches and sometimes stock cars. Bill built his own cars and was well-respected. A good friend of Brian Wallace, Bill also worked on
Bruce Tattersall'
s
car #262, shown here
, and
again here.

Here is Bill Bradley crossed-up with ? #281 who might be Bernard Moran from Manchester.

Bill was a machine tool engineer, and also became a qualified driving instructor. He and his wife Sue owned a motor repair garage, and later he turned his engineering skills to marine engineering, and they also had a boat centre. Aside from building stock cars Bill also built trailers and towing component
s.
Bill had been in the last cohort of the old National Service intake, and served in the Middle East. While in the Aden Protectorate, at the 4,000ft Kariba Pass, Bill showed that he already had a stock car "flair" for handling a difficult vehicle in treacherous conditions: a 3-tonner with a burned-out clutch and steep downhill with hairpin bends, and soon the lorry had no brakes at all. His Sergeant Major said "It was a miracle how Bradley managed it." and Major-General P.G. Turpin presented Bill with an award for it.
Direct quote from Sue:
"Bill was a rough, tough daredevil, but always ready to help his fellow racers. I remember being at a race years after Bill had retired from racing. He was browsing round the pits, catching up with old friends, when a voice rang out:

'Bill Bradley! Haven't seen you in ages!'

and the next minute he was being bear-hugged by ----

Stu Smith himself

."
That's stock car racing --- where else in the world would you see a reigning multiple world champion happily greeting a 'humble' white-top from years before.
That is real class.
Bill died in 2014 and is fondly remembered by his family.

===================================================================



Fred Skinner
enjoying a cruise around Hednesford
2018 update:
Thanks to
Ann Skinner
for that photo and these:
Fred was an HGV driver and plant operator from Studley, Warwickshire. He raced stock cars for THIRTY YEARS from 1965 to 1996 --- tough!
========================================================
Before
Ann Skinner
became Fred's partner (see above)
she was famous under the
Aldridge
clan's surname.
Below: laid-back
Ann Aldridge
ready to take on the tough guys:
Where do I place a man who raced in FOUR consecutive decades?

Johnny
nicknamed
"Gimpy" Goodhall


Johnny Goodhall was first licensed in 1962, and raced until his shocking fatal accident at Coventry in 1995. His registered racing numbers were (citing the invaluable Mike Greenwood book)
5, 30, 61, 200, 261, and 391.


Johnny was from
Stony Stanton
, between Leicester and Hinckley (just right for the A5 and the M1 ---) He worked for some time at Leicester's Unity Garage, with mates such as John Rogers, John Bennett #46, Eddie Crisp #256, John Butterworth #61 and 157, and a chap nicknamed "Stretch".
Mick Gamble, JG's friend and rival, gave me the info and this terrific portrait of the man everyone called a "character"; Johnny on the left,
and workmate John Rogers #60 in the car.
I'm not sure whether this was a 1970s photo, but anyway here is the whole uncropped photo: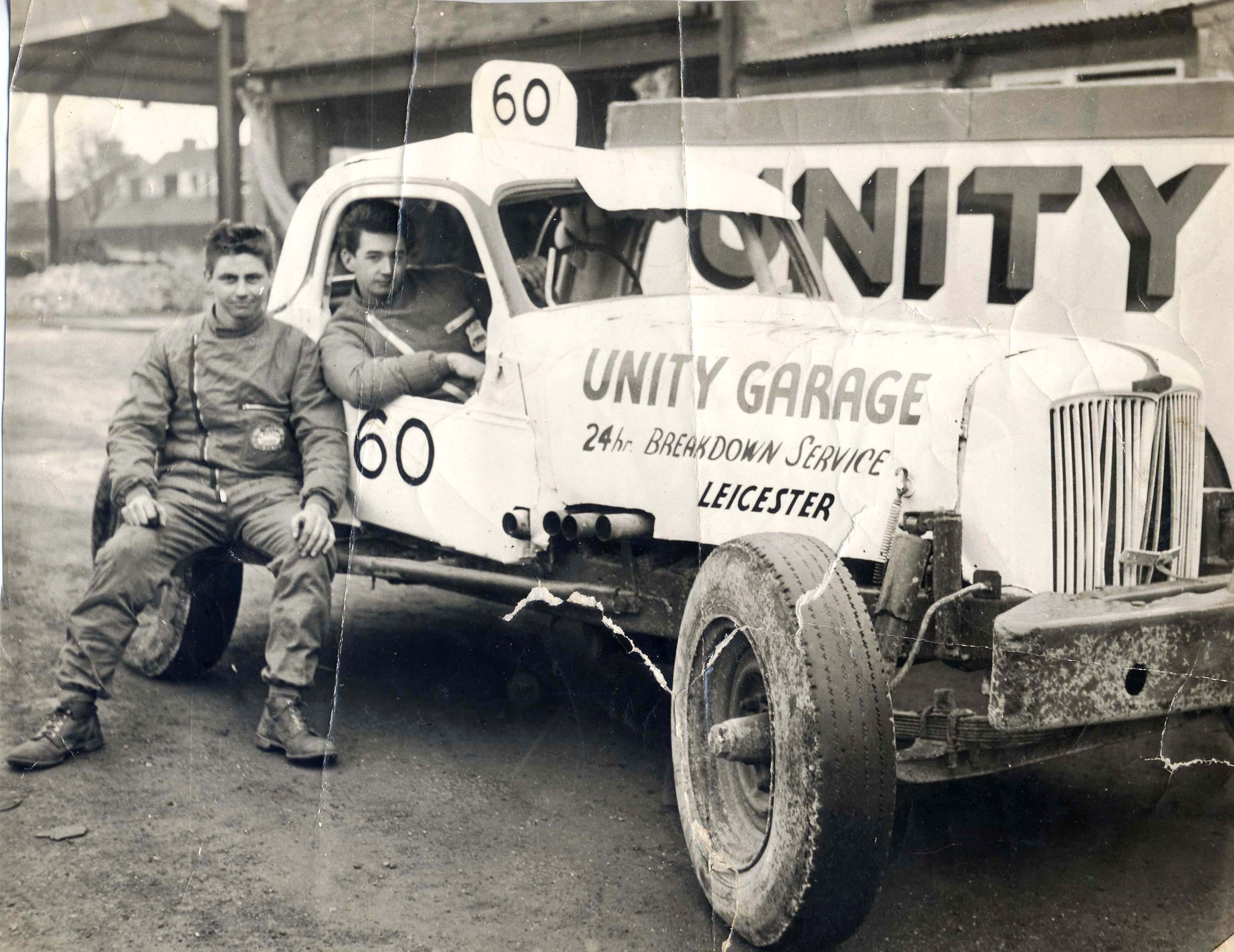 August 2016 update
:
Great action shot from the Nelson Classic meeting in August 1975: The driver of the 97 car is
John Hill
. This is heat action, with Chissy chasing, and, John was proud to come third after Chisholm. For two years before BriSCA, John had learned the ropes the hard way in Mike Parker's HELL DRIVER races.
John's comments:
I bought the car as a bare chassis from John Fotheringham (330) and it was believed to be a Darkie Wright chassis. I built it up and fitted a 400 Pontiac engine which I brought in the USA. The "Pan Atlantic Company" on the bonnet was our own business established to import secondhand V8s from the States. There were not too many people racing the Pontiac engines then, but one was Rod Falding who gave me some excellent advice on setting up my engine. The following year I bought an ex Harry Smith (219) car but only did a couple of meetings with it.

In 1975, I raced at the northern tracks of that time (Nelson, Rochdale, White City, Belle Vue, Bradford and Aycliffe) and got a Yellow Grade before I returned to work in the Offshore Oil Industry and did not have time to race any more.
At the same time, John's wife Anne took the plunge and shared an old Sam Ostle car with John's spanner-man Michael Simpson (300), for a few races. John didn't have time to repair two cars, so off she went to night school and learned to weld!




================================================================

July 2016 update
:
More photos from the Burdett archive, and
please feel free to identify
drivers and cars. Thanks to several Facebook contributors. These were taken At Brafield in 1979/80/81:
Dave Hodgson 272 from Mirfield and

H-

104 Dutch racer

Lambert Keulen

already setting up the steering for turn 3 at Brafield. (Dave Wilson recognized Lambert)

White-top heaven

: 171 is

Alex Ferrada

from Witney in a Wainman hire car; 230

Sam Seabrook

from Hinckley; 337

Steve Bates

from Bedworth; 117 is

Rob Scriven

; sharp eyes have seen 97

Murray Harrison

; 477 is

Graham Locke

from Oldham.

Up on a barrel goes 171 Alex Ferrada;

Nuneaton's 73

Rob Cowley

takes a break; 405 is

George Hamstead

from Thame; 330

Mick Greenwood

from Blackburn; 96 in the fance is

Peter Morris

from Shepshed.

Below: #28
Bill Gill
, down from Chapel-en-le-Frith:
Dust storm as Ferrada rides a barrel and

Harrison #97

turns into Turn 3.

Dodgy cloud system darkens the sky as three white tops parade: local man

Roy McLester

178 from Wellingboro', 411

Kevin Taylor

from Harlow; and 418

Phil Bicknell

from Hinckley; --- but who's following up the rear? It's 170

Glen

Pursey, son of

Glyn

Pursey
But this winner is
Mo

Smith
[ not 'Masters' as I'd first accidentally
typed ]
#51 from Aveley Essex:
.
========================================
May 2016
update


Big thanks to

Cliff Burdett

, who with his late father Bill, has contributed many photos to this Seventies section. Here are some classic cars shown at Leicester and Brafield:



Robbie Craig #62

from Chesterfield, raced for 17 years until 1992, using Chippie Weston's famous old number:

===============================================

July 2015 update
:
In 1970-71,
Phil Cooke,
a veteran spectator and 1970s hot rod driver, took these photos at Brafield:
Pat Driscoll on the hook while 30 Dave Taylor waits
Fabulous photo by Phil: 1970 gold top World Champ
Jim Esau
under attack by ex World Champion George Ansell --!
My thanks to Phil Cooke for these memories of early-70s Brafield.
===========================================================================================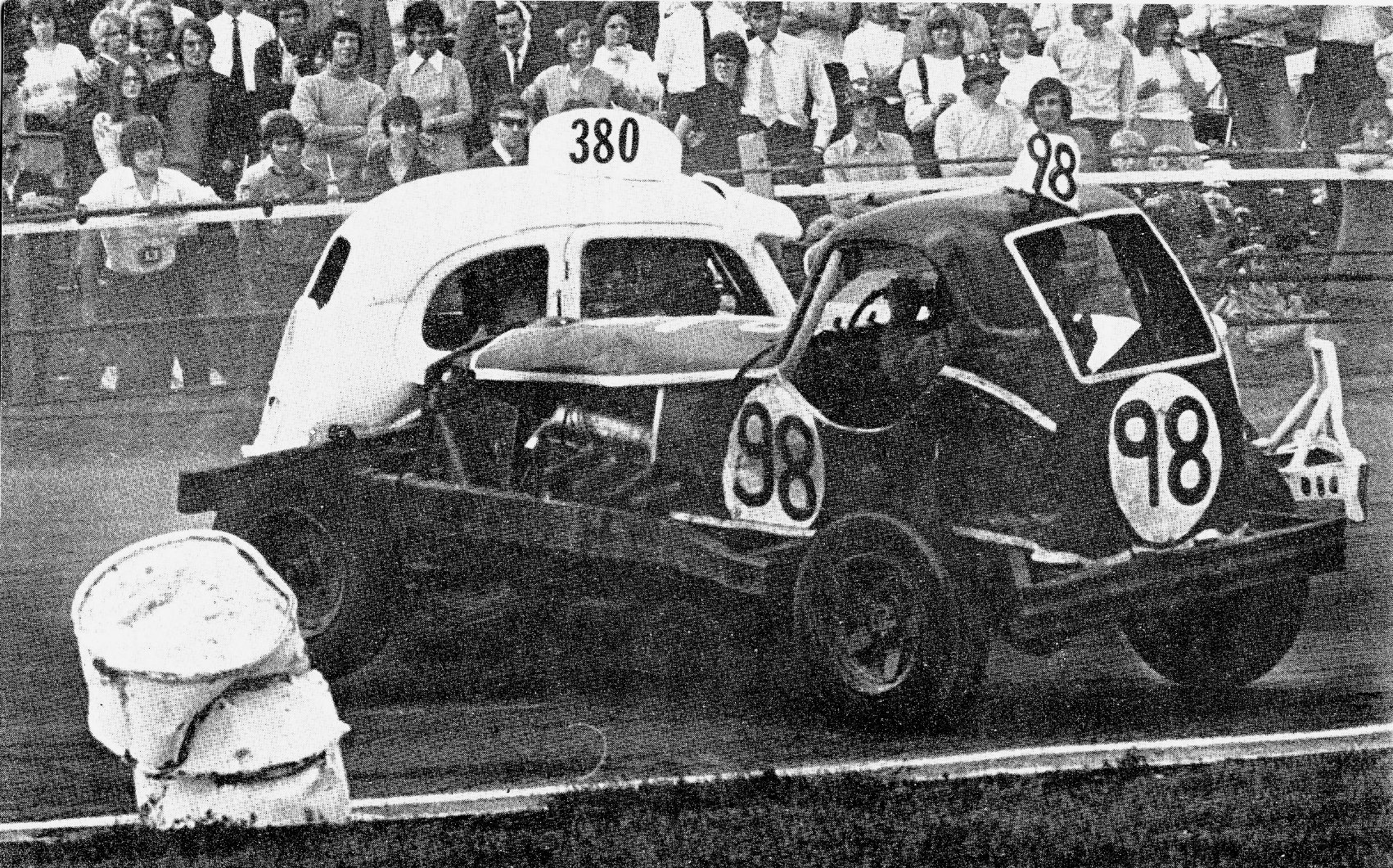 In 1971 Dirty Dennis Burdett-Coutts #380 returned from a five-year break, bringing his 1964 Ken Freeman-built car unchanged. Here he meets Bob Laurie's 98 car at Brafield.


Here is the popular farmer from Byfield,
Bob Laurie
himself, photographed by the Coventry Evening Telegraph ahead of the 1971 World Final at Brandon:
December 2014 update: I misplaced this photo for ages, and forgot who sent it. It is Ollie Martin 161 from Clitheroe on White City's shale. Photo by Les Cotton.
Below: Thanks to Steve Russell for this image of his Mallory poster. Mallory Park experimented with just two stock car meetings, both in 1970. I hear that someone did the "normal" stock car thing of continuing on three wheels, cutting a neat groove in Mallory's tarmac, and "that was it" for stock cars.
The only two Mallory meets to be put on: programme covers from Steve Russell:





Dennis Irving #363 was from Castle Donington, Leics. Dennis raced between 1968 and 1973. Here on an unidentified track, Dennis drives a Ray Watkins-built special, a very attractive upright-cab design. The car went to Dick Sworder and then Alan Finnikinto Photo passed on to me by Kevin Crabtree.

Note: a Denis Irving (one 'n') from Notts had raced as #485 in the early sixties, shown in my MORE SENIORS section.


Regular visitors are familiar with my problem of covering stock car drivers by decade. Coventry racer Jim Potter, #146, had a BriSCA licence for THIRTY years from 1963 to 1994 ---- where do I put him on my website? Thanks to Rob Harrad of Coventry, a lifelong fan and friend of Jim Potter, who has donated a bundle of top quality photographs from the sixties and seventies, I will now assemble everything Potter-related right here.


The famous

Ron

Skinner

high dive

at Brandon, showing #113

Peter Hill

from B'ham zooming past.

Another view

thanks to ex-racer

Steve Harrison

for the scan. It happened in July 1971.

Here's anotgher view from Brandon's 1971 WF programme showing

John Piper

with Brandon's unique and famous "cop car" protecting Skinner's precarious position:





High on the Mendips

--- sunny meetings in 1973 and 1974, when

Kevin Crabtree

was there to record it:


The popular 1970 World Champion Jim Esau passed away in 2009. At some time we've all known a tall lanky chap just like Jim, always cheerful and inevitably called 'Tiny' or 'Lofty' ---- a very British character.
Below, "Big Jim" with one of the best-looking stock cars ever built: it ran a honking great Olds 7.2 litre engine, stroked.



Kevin Crabtree, who sent these photos, was himself an F2 racer in the South West in the 1970's and the 1990's, and has also raced in the Heritage series in his Roy Goodman replica.

Next a trio of less well-known racers that Kevin photographed at

Brafield

in 1975:

In 1976 at Brafield, in wet and dry conditions, Kevin photographed




"Royce Garton's Stock Car Storage"

could be the name of this place

:

Kevin was visiting Roy Goodman in Feb 1972, and snapped these shots of cars stored on Garton's nearby property:

Roger Hollingshead

from Grosby, Leics. was #344 in 1969-1970, so this had been parked for a good while. Roger also raced in the 70's and 80's under 305 and 47. Then white-top

Stuart Hardy #181

, down from County Durham, raced from 1968 to 1974. Lastly,

Roy's own F1, #163

; he was relentless, racing for many, many years in BriSCA, in both formulas, and at the time this photo was taken Roy was celebrating his third F2 National Points championship.
Neill Crookes

raced in the sixties and seventies from his Sheffield base. Here are four photos of him in action.

Five photos of

Marian Palmowski

and his 383 car In 1974, Marian's car had a Ford Anglia 105E roof, and used a monster 7.5 litre Oldsmobile V-8.

[see the "SENIORS IN THE SIXTIES" section for Marian's biography]


Thanks to Alan Butterworth, whose local track was Belle Vue (where Alan starting spectating at age 6), for a bundle of early-1970's photographs.
The photos Alan sent were taken at Rochdale, Hednesford, White City, Wembley, Stoke, and one rare b/w snapshot from Lesieux, Normandy in 1966. I will distribute the photos among existing driver shots --- but of course where there are several cars in view, I'll have to flip a coin. My thanks to Alan for his kind donation. In fact by coincidence Willie Harrison is right below on this page, so ---- Willie # 2 waits it out at Hednesford while crews scrub off some track debris. Then, almost universally popular, Willie enjoys a victory lap at Stoke.
Ffrom Mike Winterton, a nice photo of # 2 Willie Harrison at Brandon.
For true "anoraks": in the background you can see a Morris J ice-cream van, in the colours of D. Di Mascio. Mike tells me there is a whole book published about the D. Di Mascio enterprise, and here is the very long and unusual book title:
D. Di Mascio's Delicious Ice Cream: D. Di Mascio of Coventry: An Ice Cream Company of Repute, with an Interesting and Varied Fleet of Ice Cream Vans
By Roger De Boer, Harvey Francis Pitcher, and Alan Wilkinson. Only 28 pages, available from Amazon: http://www.amazon.co.uk/Mascios-Delicious-Ice-Cream-Interesting/dp/0954398211

H.F. Pitcher has also written a book about the Morris "J" van:

http://www.jtypevan.com/merchandise/book/

And the website for the true Morris J van fanatic:

http://www.jtypevan.com/current-scene/


Now all we need is a book about Fred's Hot Dogs, or Paul The Anorak King of Brafield. In my part of Northants it was Gallone's Ice Cream whose bell-ringing vans visited every village.
February 2010:
[Next 8 Photos, Alan Butterworth].
Gordon Smith

was a hard charger out of Halifax, W. Yorkshire, in his brightly painted 293 car. Gordon raced from 1970 to 1980, and here he really tosses the shale around at Rochdale, and here again at sunny Rochdale, on the straight. A Stoke 1973 photo shows Gordon lining up with Frankie Wainman 212 and Roger Spencer 315.

The blue-top car of Roger Spencer #315 from Newcastle-under-Lyme, parked in the pits at Stoke.


October 2010:

Nowadays Roger Spencer has switched to even heavier machinery --- he operates steam locos on the Churnet Valley Railway, from Chedderton: http://www.churnet-valley-railway.co.uk/main/getting-there.php

White City pits scene in circa 1974, with

Phil Smith

109,

Roy Webb

331, and

Ollie Martin

161. Next, Ollie Martin hurtles towards the Rochdale fence, helped by someone else's bumper. Dramatic shot caught by Alan Butterworth.
At a near-flooded Hednesford, Phil Hayhurst # 84 alongside Ron Rogers #152. Phil from Cumbria re-registered and raced again in the 1980's. Ron of course was a living Staffordshire legend, first hitting the tracks in 1957, and fighting on for 27 (twenty-seven) hard years. What other "physical" sport can boast such long-lived competitors?



Mike Whittaker

[two t's]

444

was a Macclesfield driver, and here he waits in the pits at White City. In the background are Halifax's

John Stirk

65 (not his six-wheeler), and 367

John Thorpe

from Rotherham:

Big motors caught on big in the 1970's --- here is

Dick Sworder's powerplan

t, in the Long Eaton pits. In the early sixties we had been impressed by 300 and 354 cu.in. Chryslers (5 to 6 litres) -- but by the mid-seventies a 427 was reckoned to be the weapon of choice, and many builders used 454 and larger engines. But soon the sport's sharper minds realized that for
shale tracks,
"torque monster" motors were irrelevant and even a handicap --- and so began the trend of separate shale and tarmac motors, and even separate shale and tarmac cars ---- a long, long way from the simple days when "the bloke next door" would knock together a runner in his back garden.

Also from Alan B., a shot of Roger Bowyer #92 in the White City pits --- I have unfortunately messed up the colour balance on this photo. Roger raced in the seventies, and came back for another stint in the 1980's, from his home in Congleton, Cheshire.



Kevin Thompson

registered and raced under FOUR different numbers in the seventies, eighties, and nineties. In this photo, running #188, the Macclesfield racer is trying out Hednesford's fast surface.

Here's Dave Fox #318, the same wet Hednesford day. From Derbyshire, Dave started in this rough 'n' tumble game in 1961, and in 1986 he was still racing.


September 2009:
"Just starting out":

Barry Redman #151

worked at the garage of ex-schoolmate Pete Webb's father, and here in the yard are Pete's and Barry's cars. Pete Webb #8 is hidden in the cab of his, and the other chap visible was "a chance bystander", as Barry took the photo.

Have a look in the "More Senior / F1s" section, third photo, of the Darkie Wright car parked at Brandon in 1966; Barry recognized himself and Pete as youngsters beside the car. "Small world" said Barry.




December 2011 / January 2012:


Pete Webb's and Barry Redman's first cars are both shown below. Barry's was the ex-Bill Judd 366 (Judd was a Van Den Oetelaar buddy), which had a huge 7-litre Caddy motor. When Ted Pankhurst took it out for a shakedown at Ringwood, he declared it "undriveable". The subsequent race photo below supports that. And to rub it in, Barry's mate Pete Webb is about to fly past.
Later on,

Barry

competed in off-roading with a 1955 Series I Land Rover powered by a Rover V-8, [still in the family] and then for the last 20 years has gone dead-serious with a hot-rodded Chev 327 motor in a Willys Jeep, with which Barry has been the only Brit to win the European Jeepers Jamboree, in France. He says the Jeep can really grab your attention on wet tarmac ----!


Below is Pete Webb's first F1, and behind it George Ansell and Darkie Wright are chatting.
Below: Brands Hatch in 1970: Barry Redman 151 leading 30 Dave Taylor, 7 Darkie Wright, 6 Derek Green, 127 Jack Wilson, and 82 Chris Balcombe-Beriff. Today Barry Redman is still in touch with his mates Ron and Pete Webb.
Terrific Rick Young photo of a crash at Mallory Park's first ever stock-car meet. George Ansell #375 coming up on #12 Mal Semple who is busy rolling #144 Pete Shepherd. Pete Webb #8 is well out of the way. Kaboom
Pete Webb #8 again, this time powering out of the corner at Brafield. [RY photo]
===========================================
A tremendous and scary 'flyer' --- the driver** was at Cadwell in 1965, lapping faster and faster on the "loop" by delaying his braking point more and more. The motorcycle track was partitioned off by a fat tree trunk lying across it. Then the rain started, and his car skidded into and over the tree trunk, at probably 60mph, flew high, and luckily nose-dived rather than landing on its roof . The car was ex Ron Rogers, with a 390 cu.in. Oldsmobile motor, and unusual independent rear suspension. **The driver's name does not appear on this website. On a later date, he drove his car into Alan Finnikin at Stoke's track, when Alan was out and standing by his own car, injuring Alan so badly that he was in hospital for one-and-a-half years, undergoing 14 operations. The unnamed driver was banned for life.
From ex-F2 racer Andrew Hirst: Willie Harrison has the pleasure of following one of his own cars at Belle Vue (possibly Nelson?), Willie of course in #2 and Gordon Smith 293 in Willie's loaned car. Then at Brands Hatch, Ansell chases SuperStu.
A gaggle of Brands rivals, including Ken Keyte 323, (TWELVE drivers raced under 323); Ian Barker 53 ; the 307 car is either Mac Frankland or Alan Green; SuperStu in the lead; also visitor Harry van der Spaar SA2, and Gordon Perrin 266. [Thanks again to the VSCA's Phil Chance for some names]

Everyone has their favourite driver, and I'm pleased to acknowledge the great John Hillam, who for Martin Packer was "our Cleckheaton hero." Thanks to Martin we can see some great shots of # 229, the winged car with a seriously big motor, with which Hillam took on heavy hitters like Powles, Smithy, Mellor, et al. John Hillam was "so near" to top honours on several occasions.
** This phenomenon was mentioned in several of the Smithy obituaries, and it applies in other sports. Some elite competitors have a "sixth sense" or intuition that tells them where to be in the next few seconds, and which nobody else knows. The very best race drivers seem able to scoot past or duck trouble the instant it occurs, or even before it happens, which can irritate their rivals. Me and my mates used to shout "lucky devil" whenever Smithy did this, but it was not luck. In the same way, the best soccer and hockey players seem to appear in the perfect empty spot just when the ball or puck arrives there; they can "read" the game or the race in a way that ordinary folks can't.
Coming straight at you is #99, Ivan Braddock from Macclesfield, who raced from1973 to 1980, leading Knutsford's Harold Lomas #237, and 135 Colin Taylor from Warrington. (All those photos were from Hednesford.)
Here Hillam's 229 car runs in the wet at Hednesford. Lastly, what Martin (on the right) refers to as "the notorious Packer bros from Birmingham" in the Leicester pits, by the 154 car of Brian Powles. Martin explains that the row of Morris Marina vans was stored inventory of the Mann Egerton dealership. The Packer brothers travelled everywhere for BriSCAS F1 / F2 races (Belle Vue / Bradford / Rochdale / Coventry / Hednesford / Leicester / Long Eaton / Northampton / Newton Abbott / St.Austell), and National Hot Rods (Buxton / Crewe / Hednesford / Ipswich / Newton Abbott / Northampton / St. Austell / Wimbledon / Wisbech. Their busy spectating schedule meant that they also inevitably witnessed some of BriSCA's rare and unpleasant accidents and injuries. Martin also found time to write for Stock Car Supporter.
September 2010: more of Big John Hillam --- from Kevin Crabtree comes this 1974 Hednesford action shot of John setting the car into a perfect drift, o/s tire smoking, and inside left wheel just cocked above the kerb. I asked Rick Young who the other two drivers were, and it took him only seconds to identify Sam Ostle 351 in the lead, and Ian Ireland 267 following Hillam.
Frank Bourne's #16, a very distinctive car, lines up at Hednesford beside Dave Fox 318. Frank was a Shropshire farmer who put in 16 years on the ovals; the indefatigable Fox raced for 25 years. The same wet day saw Bourne tangle with another red car --- Stuart "Bammy" Bamforth.
Mick Gamble raced from 1970 to 1972. Here at Brafield is Mick #92, battling #9 Mike Lewis. Mick's Jaguar-engined stocker later went to the Taylor brothers of Warrington.
In 1970, Mick facing forwards at Brafield, then a classic face-about. The way those cars loved to "switch ends" made the crowd cheer [to my eyes today's high-tech cars look a bit too smooth and controlled --- not so many Ooohs and Aaahs from the terraces].
Again at Brafield, Mick Gamble mixes it with 351 Sam Ostle and 306 Mick "Noddy" Noden. That car was an ex-Haley Calvert Buick-powered piece. Later in 1972 Mick raced under # 117, with the ex-Brian Bennett Jag 3.8-powered car, which eventually went back to BB, but here it is all cleaned up for a sunny photograph.

Mick Gamble today is among the elite of Britain's Ford V-8 Pilot community. Mick has published a book on the history of this short-lived but inspiring Dagenham-built sidevalve car. Mick still has a few copies available of his unique book, which explains and illustrates the history of the Pilot and also covers the restoration scene today. It's a limited edition for serious Pilot V-8 enthusiasts. Take a look at Mick Gamble's own mint condition Ford Pilot, below:
Ford Pilot fans can pass on queries to Mick via my e-mail or contact the Early Ford V-8 club: http://www.earlyfordv8.co.uk/
From Rick Young comes this photo of Don Evett #349 from Aylesbury. In the same years a Tony Evett #249 was also racing, which sounds like a brother(?). Also, Pete Guinchard #258, from London's Edgware, who after two yellow-top seasons went red-top Star for two years. Pete also raced under 20 and 472.
Howard Davies, #327 here at Brafield running a massive right front tire, kept up his yellow and blue-top status throughout a long long career: 1967-2007. Howard is another Cheltenham driver, like Jumbo Tustin. How do you absorb 40 years of bruises and skinned knuckles and hammering-it-straight-again, when most sports heroes are lucky to last 10 years? Even when his cars went modern with aero wings, he kept his distinctive orange colour scheme, and I once owned a decent artist's watercolour sketch of it.
From Rick Young come these four photos: First, Karl Grossman #289, the car being Karl's one-time Jim Berg 471 Topolino, here arriving at Brandon, with its rear end perched on a towing dolly [Karl worked for Oxford's Barry Hebborn, who had first inherited the Berg car].
Next is a panorama of the 1972 re-opening of Lydden, with Chick Woodroffe #1 ahead of Ted Janes #66. [Chick always paraded like this, propped against the side of his car.] Another shot of the cars on a rolling-start lap at Lydden.
Next: Rick's camera in 1970 caught two tough red-tops elbowing each other through Brafield's turn two: 244 Jim Esau and 375 George Ansell.
August 2010: Here is Big Jim 244 again, leading 198 Roger Taylor, 16 Frank Bourne, and #2 Willie Harrison. Track not certain --- probably Mendip.
Then a classic car tangle involving Dick ['Rick' today] Young, Chris Pickup, and 230 Sam Seabrook (who passed away at the end of 2006).
Below: The great Mick Noden, "Noddy", #306 from Rugby, passed away at the end of December 2007. Mick raced from 1963 to 1993. Mick had been at the same school as Bob Laurie, and it was Laurie who introduced Noddy to stock cars.
Mick Noden photographed by the Coventry Evening Telegraph ahead of the 1971 World Final:
British stock-car racing is such a close fraternity that many of his friends and rivals from 30 and 40 years ago attended his funeral. Here are two action shots, courtesy of Mike Winterton:—- a happy Mick at the work he loved best, powering out of Brafield's turn 2 with the right rear rolling under. Bare arms, head down, eyes fixed on the next target, and the summer sun is shining down on the world's greatest sport.
That big, shaggy, well-loved "clown" of the tracks, Ron "SKID" Skinner, [here as #316] on a parade lap at Brafield. You knew there were going to be fun and fireworks when The Pershore Giant came out to play.
Cadwell Park in 1972. Rick Young passed on these photos. Mike Winterton has better eyes than me, and assures me we can see in the first photo Dave Taylor and maybe Willie Harrison leading George Ansell and Stu Smith.
In the second one, photo-enhanced in 2011 thanks to Malcolm Brown, we ask what the heck's happening? Only 4 of 14 cars are on the official track surface, but somewher in the melee Mike W. detects "a gold top Dave Chisholm (252) at centre with I'm pretty sure, Ian Durham (311) in front of him and extreme right looks like Mick Noden's (306) yellow and red motor. Extreme left is probably grey and red Les Suckling (132)", while Malcolm B. reckons that Smithy is in the mix just above the spectator's head.
Ex-racer and now sponsor Alan Brooke #358 sent me these three photos. First at Belle Vue, second at Aycliffe. In the next one Alan is receiving some attention from Mike Lewis #9, and if you look closely, Lewis is really trying hard to turn the nose of his car right, maybe to correct a slide but maybe to twitch Alan's rear end off-line: under attack.
Alan Brooke raced in 1973 and 1974 at Belle Vue and Aycliffe. The car was ex-Vernon Parker and ex-Doug Cronshaw, who had modified the roll cage and roof. Its chassis "was bent as a banana" but had indestructible LD axles. To start, Alan put in a 2.4 Jag motor and tranny (£5 total), then a 3.4 Jag, and finally a big Ford 383 V-8. The body is more or less Austin A40. Sadly this new version's maiden outing at Belle Vue's Boxing Day meet in 1975 ended with a rollover that put Alan in hospital for weeks and a series of surgeries. As he had just graduated from Salford University (mech. eng.), Alan decided to hang up his helmet, and went on to a career in oil/gas/petrochemical engineering. [All university engineers should be required to to set up and race a stock-car in order to earn their degree ---]
You may know of Alan's son "Si" Brooke (Simon) who today races the #92 F1 car. Their very smart team and transporter is sponsored by Rotec Cycles of Berkshire who deal in top-flight bicycle equipment.
Nine sunny-day photos from Brafield in 1973, thanks to Mike Winterton's scanning/editing, and to his father for the originals:
Thanks to Mike Winterton who sent these scans from the 1977 (Brandon) World Championship program. Here is the cover, and some long-haired "villains" peering out of the driver lineup: Ten Drivers, and the other ten. Lastly, the 1977 program's centre spread.
Pat Driscoll with a brutal looking #81 car. Also, three Aycliffe photos, featuring an unusual combo:
Another shot of the Tony Neal car, [RY photo] at Brafield. The Mini-bodied Jag-motored car in the background is Dave Peters #231 from Hatfield.

Ex-racer Nigel Harradine supplied this photo of the Peters 231, showing the exhaust pipe from the Jag motor tidily exiting from the petrol filler.
------------------------------------------
A big thanks to Elaine, the daughter of flagman-starter ROY JOHNSON who officiated at Brafield and Coventry in the 60's and 70's. These show Roy and promoter Graham Guthrie with Miss Brafield; and Roy flagging-off a typical Brafield two-car match race; and Roy balancing on a bumper. [Rick Young spots "east-ender" Jack Wilson in #127, today an active VSCA member; and 245 is almost certainly "Shady" Andrews from Wollaston, Northants. Old-timers will recall 245 as the great Alan Wardropper's battle number] Let's take our hats off to the entertaining and brave flag men, one or two of whom suffered tragic accidents over the years.
July 2013: thanks to Roy Johnson's daughter Anneka for reminding me that Roy, then from Nottingham, also raced Seniors under #54, from 1963 to 1968. Roy passed away in 1997.
---------------------------------------------
You won't believe this car is a 1971 Formula One stocker —- Scotsman Jock Kenny # 345 from Inversneckie was promptly christened "Mad Jock" by Brafield's Graham Guthrie. The 'un-beautiful' machine here was basically a Ford 100E body bolted down over a US Ford chassis. Rick Young, who provided the photo, reckons the front panel "looks like it came from a washing machine". The main thing is that Jock built and raced the monster, (based in Wooton, nr Bedford) and thank heavens for that. Jock Kenny owned a vehicle recovery company in nearby Millbrook. The #27 behind is John Hickey from Accrington. [Track photographer]
George Ansell #375, sitting in the sun, at which track? Chris Griffiths suggests Hednesford —- the sleepers visible — in pre-concrete days.
Darkie Wright: First, posing chatting to Les Suckling (from a World supplement), and then from the cover of Hot Car in June 1969: he was a hero and a brilliant car builder [Thanks to Rick Young for passing them on.].
Darkie Wright started racing in 1957, continued through the sixties, and here in the early-mid seventies is Darkie's car #7 in the Hednesford pits. Next, parked next to his son-in-law Melvyn Bassey #17, Darkie either sups a cuppa or blows his nose? -- in 1974 at Long Eaton.
Tony Guest raced #112 — the date is actually 1993, but it's on my website because I approve of cars that look like cars ---. Tony's car was a 1970's Fred Skinner special, which Tony brought up to date with a 460 cu.in Ford running a 'crash' box from a Ford Trader, and LD axles, and by extending the chassis and raising the cab. Photo courtesy of Colin Herridge.
Anyone remember the North London Vincelli family? Danny #89, Ted (Eddie) #284, and Roy Vincelli #286 were active in the 60's and 70's. Here's a Rick Young snapshot of Danny #89 at Brafield. Danny's car is a Jaguar-motored piece with Ford Pilot running gear, part-owned, and 'spannered' by Tony Guest. Tony remembers that Ted lived right across the road from Harringay Stadium, over a chip shop, and was known to drive his stock-car straight along the main street and into the pits —.
The F1's burn up Mallory Park, a Leicestershire road circuit normally home to more 'delicate' cars. Willie Harrison is in his #2 ex-Leighton car, and Brian Tuplin is running an ex-Toon car #155. [Rick Young photo]
Another shot of Willie H. storming up the hill at Mallory. [RY photo]
Below: A classic scene of a big-league crew in action:
Les Mitchell 238 has a burst tyres front and back, and a caved-in bumper — but the oxy-acetylene is flaring, the guys are busy, and Les will be back in combat in no time. [Photo from Pete Schafer, courtesy of Paul Holden] Chris Griffiths identifies Leicester's track here. Les's mechanic Pete Barnett says they had to cut the entire front off the car!
Here is Les Mitchell, in the simpler days before NASA-designed aerfoils and professional signwriting. Then, I'm guessing early 1970's, here is Les stuffing SuperStu Smith, (at Brafield according to Phil Chance, March 2011). Les had a 500 cu.in Caddy under the hood in this car.
Thanks to Les Cotton, (whose CD of BriSCA photos is a gem and well worth getting) includes thesetwo photos of Al Wilson's car being backed in and pulled in a back-alley setting worthy of Coronation Street. This is where the lock-up was, about a mile from Hyde Road, so it needed towing. Al himself lived a frustrating 200 yards from Hyde Road. At one stage, Al parked the car at his grandmother's, which was so close to Belle Vue stadium that he could PUSH #162 to the pits!
Rick Young took one look at the second photo and said stock-car racers everywhere will recognize the chore: ramping the stocker up to allow to a towing "dolly" or "bogey whels" to go under it, so it could be towed (backwards) without a trailer. Les's excellent CD of stock car photos: http://www.fortunecity.com/silverstone/mansell/25/
Wonderful Nelson, surely the only race track in the world that ran within a few feet of people's houses. #204 is either Rod Walker from Stone, or possibly Geoff Buck from Ashton-under-Lyne. Les Cotton tells me that if you look at the nearest house in the occupied row, that's where his buddy grew up, a chap who became a champion in Model Stock Car racing. Just visible in the shot is #92 Roger Bowyer from Congleton.
Magazine photo of Bert or Charlie Finnikin #55 lining up [number stuck on a car borrowed from normally-435-Bernard Poyser] ahead of Don Evans 37.
From same mag: #78 is the old Leighton car in the hands of Barry Goldsby, being missed by Bob Tanser. The overturned #264 is Stuart Sillman from Banbury, and #439 is Gordon Paxford from Northleach Glos. More thanks to Rick Young for answering my questions about these photos.
Nice portrait of Willie Harrison's #2 car. Not the original Leighton car, this version was built by Tony Neal, deliberately copying the famous shape of Willie's earlier ex-Leighton pink 'un. This photograph shows the car at Belle Vue. Thanks to John Lomax for the pic.
"Hot Car" magazine was a good booster of stock-car racing, and this 1973 cover shows us Brian Wignall #102 from Clitheroe, Lancs lining up beside #30 Dave Taylor. (Thanks to Rick Young for the names, and identifying the track as Cadwell Park)
Chris Pickup's car #50 sprays the dirt at Bradford; love that whitewalled tyre. [Rick Young photo]
The #321 car of the late Don Round, who was the Treasurer of the Veterans Stock Car Association. Don not only raced for 15 years 1973 to 1987 but worked tirelessly behind the scenes for the sport. He also suffered under the nickname of "One-Two-Three-Gone" by some announcers because of his rather high crash-out rate (Chris Griffiths, and photo courtesy of Rick Young.) I had this photo wrongly labelled for years without noticing ---oops.
Thanks to Graham Shaw for these four snapshots from circa 1970: First, at Rochdale, Geoff Buck # 204 with a problem. Next, two Belle Vue shots — a crash showing # 88 (Reg Graham # 71 is slipping past in the background); then a flag-bearing winner : # 86 Mike Holt. Graham Shaw mechanic'd for 154 Brian Powles and 391 Smiffy, with an occasional hand for Mick Stecko 419 and Mike Close 199.
"Cronnie": Doug Cronshaw #396
February 2010: Doug Cronshaw with Roger Spencer # 315. Photo from Alan Butterworth.
February 2011: Before the famous championship "special" was the previous 396 Doug Cronshaw car in the Aycliffe pits. According to Kieron (on the left), this was a meticulous copy of the Ron Rogers's ex-Nev Hughes car. Cronshaw's bro-in-law Glyn is centre, and race-day mechanic Tony Foster [nicknamed Conky by the Cronshaws] on the right. [Bill Roberts track photo, courtesy of Kieron Tatlock]
"Cronshaw at Aycliffe". For many fans, those three magic words conjure up a golden age of racing. Here Doug's father, an engine genius (see the story below) is on radiator duty. [John Rigg photo.] Paul Wright confirms it's Aycliffe, and remembers fondly the roofless gents, and the long corrugated iron "shed" that acted as an amplifier for those open exhaust V-8's.
One of Doug Cronshaw 396's rare visits south to Brafield was captured in 1973 by Edward Picken, who recalls watching the legendary battles between Cronnie and Smithy in the northern "bullrings" in the late sixties.
Below: A beautiful 2003 restoration / replica of the Cronshaw 396 special in its 1971 World winning colours; thanks to longtime fan Clive Weedon, who spotted it and took this crystal clear photo of the (engine-less) car at Brafield during the post-WF "World Masters" meeting.
Thanks to Kieron Tatlock for the following insider information about the original "Cronshaw Special". Kieron had earlier sweated with Dougie in 1968 to create the Ron Rogers 'replica', and in the cold winter of 1969/70 they built the famous 396 in the unheated garage behind the Cronshaw house. Kieron had been doing design sketches of Cronshaw's idea for his first "booted" body, inspired by 1960's US 'supermodifieds', and figured they could stay legal by using a Triumph Herald roof and a Standard 8 boot. Running gear was 'normal LD stuff' and the chassis was fabricated from 4x2x1/4 steel.
The engine was a corker! It was a 401 cu.in. Pontiac that ESSO's research workshops had been using experimentally, and the lump arrived with tons of spares and parts, Carter triple carbs, etc 'all in about six tea-chests'. Doug Cronshaw Snr was a genius motor man, and he locked himself in the office with all the specs and manuals and a regular supply of hot tea, keeping ultra secret. Days later he emerged and they put together one of the sport's fastest and strongest motors. Its first (Brafield) race in 1970 ended in a roll-over, but its second race took heat and final at Aycliffe, and success after success that year. Next year, 1971, was rewarded with Doug's World Final.
The word on the terraces was that Rochdale rival Stu Smith and his father were so furious at being beaten by his one-time mechanic that a ton of Lawrence Smith money was put to work, bringing in the sport's first monster new 454 Chevy's, ----- and a new era had begun.
Kieron has a fund of lively memories from those days, about the intense Smith-Cronnie rivalry in driving and car construction, and which I am NOT allowed to repeat here ---- ;-)
Trevor Chater recalls Stu's tweed-hatted father could be heard in the pits, telling his son that "If you don't beat Cronshaw this time I'll cut the car into pieces!"
============================================================================================================
Below: Don Evans joins Les Mitchell 238 and Dave Taylor 30 in a pile-up at Brafield. That #45 car is no beauty, but Alan Scothern from Mickelover doesn't care --- he raced for more than 30 years.
Date probably 1972-ish, and track photographer Mick Kilby
.


January 2011: Here's
#45 again
, in colour, on Brafield's back straight. [Ron Knight photo]
Rick Young: man at the wheel
Dick Young as he was known when racing in the seventies and eighties, was one of the famous "Beds and Herts" gang, towing everywhere there was a track at any time of day or night. Rick nowadays is a frequent correspondent, journalist [regular column in SHORT CIRCUIT MAGAZINE in the UK] and track photographer. He is also a track-chaser and as of August 2010 had clocked up visits to 182 different race tracks.
Without Rick this website would be a lot poorer. More than once I've had an e-mail from a fan or driver who has said
'Is there anyone Rick Young doesn't know?'
Rick started off on motorbikes in England [he gave me an unpublished snapshot showing a youthful Rocker Rick on his first Beezer Bantam]. He's been driving trucks for more than 30 years, and more than 30 different makes of truck have passed through his hands, ["Scania is the best."] in 14 countries and 19 US states. Rick laughs that despite all this, if he wanted to ride a simple motorcycle in Canada today he'd have to go and take a test.
A few lucky kids can say "My dad's a stock car racer." Carla Young could say it, here with dad at Brafield long ago; and one of Rick's favourite photos with his daughter at a sunny Swindon.
Rick's Leicester wreck was well photographed:
Notice Brafield's brick-walled flowerbeds in the foreground, with some pruned rose stems. "No thanks --- they may be pretty but I don't want to ram a rose bed."
Brafield action in 1975, when Dick Young joined in a Chris Pickup / Sam Seabrook collision
Below, 1976, Dick Young # 67 giving a helping hand to Sam Seabrook. In the background Brian Chappell (Sileby, Leics.) is driving the ex-Trevor Frost car, and Tony Saunders from Hinckley, Leics is receiving the Seabrook bumper. Photo by a track photographer; thanks to Dick for the facts.
Rick Young burning up the Brands Hatch tarmac in 1974. [Colin Casserly photo.] . Dick had TWO F1's to choose from, ex-Chris Pickup cars, in the mid-1980's. The one in the background is Jaguar-motored, and the front one, with an Austin Allegro body, is Buick-motored.
Rick in the Brands Hatch pits: #67 "Run Baby Run". That's a Ford "Y" model body over a Jaguar motor. Rick shared the car with Chris Pickup. On the far right, in denim, is Dave Berresford (260), who is shown elsewhere on this site in mid flight.
Here's a shot taken at Lydden Hill in Kent. Rick Young and buddy Chris Pickup, not satisfied with matching cars, decide to friction-weld them together. Chris is the #50.
Here's the man himself in 2004, Rick doing pace-car and reporting duties at the wickedly fast Syracuse track in New York State. For British 1/4 mile oval fans: Syracuse is a terrifying one-mile dirt oval, nicknamed "The Moody Mile". It is so fast that the World of Outlaws sprint car drivers got together after Billy Pauch put in a qualifying lap at 145mph average and announced "We don't need to be racing here any more ---" and those guys are known for their courage.
----------------------------------------------------------

Here is Johnny Goodhall, nicknamed "Gimpy", being interviewed by Keith Barber at Keith's Long Eaton track. Photo is 1977/1978, thanks to Paul Durham. Johnny was tragically killed at Brandon in what seemed like a common enough racing incident: his car hit the fence and rebounded onto the track, but it was hit hard. Fans are proud of the safety record of BriSCA cars, drivers, and tracks, so it is a terrible shock when things go wrong. It's also a shock because, even in the midst of hard championship chasing, STOCK CAR RACING IS FUN; so a death or serious injury upsets fans perhaps more than it would in other motor sports.
Here is John Thorpe, #367, with novice markings, but he quickly rose to red top. Brafield photo, taken around 1974, courtesy of Paul and Alyson Durham, visible at the fence along with Paul's family, in the background. The Thorpe family run a trucking business from Rotherham.
From the Les Cotton CD, here's John Thorpe again, on one of the Northern shale ovals. Chris Griffiths identifies Bradford.
Sometimes the weather is awful: cold, and wet, and muddy, but Chris Pickup, in car #50, owned by Luton's Dave Kiff, was gonna race, regardless. It's a Fiat 600 body, with that popular Mercedes grille, and a Buick V-8 under the hood. Brafield shot by Dick Young.
Women can race and win amid the hurly-burly of short-track combat. Jayne Bean qualified for two World Finals. Three-men-and-a-dog, and her very own red-top racer: Jayne Bean was fast:

Jayne

celebrating [I don't know the occasion or the track]



Two more photos of Jayne Bean:
One:
Two:

===============================================================

I'd be chuffed if I'd taken the photo below, but it was the lightning-fast track photographer Dennis Mott [thanks Chris G.], and appeared in a supporters club magazine. Dave Berresford goes aerial at Brafield: I think the photo's background was 'faded' a bit to highlight the car. The chap on the far left at the fence is Jim Bashford, and right beside him is his brother Pete Bashford from Dagenham who raced under #107 for ten years. "Outside the bar, of course," said Phil Chance of the VSCA. Also, directly under the "Co" of Control, Susand and George Rimmer are recognized by Kingsley Thorneycroft.
Brian Powles had hard-'n'-fast cars with monster motors, and was a master engine builder in the sport: Stu Smith's motors, for instance. Rick Young photo of #154 Brian Powles. Derek Thornley has told me about Brian's early days: As a youngster Brian worked for Derek's neighbour Nev Hughes (#69) at Nev's garage in West Bridgford, Notts. Hughes helped build Brian's first car, a Junior which won at Long Eaton in 1960. Brian came 2nd in the 1981 World at Bradford, retiring in 1982. He also raced long-circuit "Thunder Saloons" for a couple of seasons. Brian passed away in 2000, but his son Stuart campaigned an F1 stock-car. Graham Shaw was mechanic for Brian. Chris G. tells me this is the ex-Nev Hughes car, which at one time was also raced by Doug Cronshaw.
November 2010: Optical Illusion: Brian Powles and Willie Harrison tangle at Mallory Park in 1970. [photo courtesy of Stockcar Supporter magazine.] Count the wheels and figure out who each one belongs to. Has Willie's left rear just come off or is it Brian's front right just behind Willie's bumper? Then whose is that wheel in the foreground?
Mick Gamble, who raced in the seventies, explains that there are three cars in the photo --- the illusion comes from the 'foreshortening' caused by a telephoto lens, and suggests Powles's car is white with a dark bonnet, but that is probably Ron Rogers on the other side of Powles. Rick Young backs that up. Now you can see three cars and two bonnet sides with two exhaust manifolds ----.
The late great Brian Wallace, # 119, is featured here in 1976, probably at Sheffield. Thanks to Brian's son Simon Wallace [a BriSCA racer himself] for sending this photo. Here is another photo of Brian Wallace lining up at Owlerton Stadium, Sheffield, with John Hillam in the background [thanks Les Cotton for identifying it]. Brian started racing in 1972 and shot up to Star grade in 1974. The car had a big 454 Chevy motor, and was built for the 1976 season by #179 Alan Barker. Brian owned a garage and dealership in Farnworth, near Bolton, and was known as "The Farnworth Flyer". His cars were always immaculate. Racers like Alan Wilson who bought equipment from Brian Wallace testify that the quality was #1, brand-new motors, for instance. Tragically, we lost Brian in a jammed-throttle / fence cable accident at Manchester's White City stadium in 1976. Fans recall the evening's remaining race being a dispirited drive-round, and many drivers had already started to load up their cars as a sign of respect, and spectators were leaving the stadium in tears. Brian's car was later cut up. Thanks to Les and to Alan Wilson for the background to this. By the way, builder and racer Alan Wilson was an early starter —- he won his first stock-car race on his 16th birthday.
One person who was present that night, Joe Jopling, went on later to promote at Hartlepool, and one of his first acts was to install FIVE-cable fences on the bends.
A newspaper cutting about Brian W.'s son, Simon Wallace, who entered F1 racing in 2005.
Les Suckling raced Jag-motored Seniors. Les Suckling # 132 in the Coventry pits in 1970. Just behind you can see Bob Laurie's trailer.
Ian Ireland's red-top #267 snapped in the Brands Hatch pits in 1969 by Rick Young. Next, an undated magazine shot of Ian in full launch mode thanks to a barrel and some rivals.
With Scottish tartan on his car, Ian #267 does the business, with Fred Skinner on the outside. Next, a photo of Ian becoming World Champion under FISCA auspices at the Dutch long-track at Baarlo in 1977, with Chick Woodroffe and a massive trophy. Lastly, Ian Ireland's gold-top in the Wimbledon pits, 1977 or 78, courtesy of Rick Young. Thirty years on: Ian Ireland in the pits at Rye House in 1998, with son Nigel checking it all out. Was Ian Ireland related to that other Scottish celebrity Innes Ireland, the Grand Prix and Le Mans racer? "Only a distant relative" is the answer.
August 2010: If that photo of Fred's car reminded you of George Ansell's, you're right, it was ex-Ansell. Here's Fred again in that bare-bones special, track unknown, 1971.
I had my camera with me at Mendip Raceway in 1975 or early 1976, and snapped an unusual Ford Capri-bodied # 110 yellow-top, on the hook after wrecking a front wheel. It's Ray Scriven from nearby Fairford, Gloucestershire. Ray's son (Rob, #117) and grandson too were, at one time, all racing together. The car had previously been a Dennis Driscoll (#274) special. Rick Young info.
Another shot of Ray Scriven, again in trouble at Mendip, heading for the pits with a flat right-front. And a panoramic photo of Ray in mid-battle, heading down Mendip's sloping backstretch.
Here is the Scriven car 110 neck-and-neck with Danny Clarke 203 at Brafield. [BriSCA cd of Les Cotton.]
A colourful # 257, Bob Tanser, riding out to battle at Mendip Raceway in early '76 or late '75. Bob is driving one of several "Gertie" copies, this one built Big Al Barker. Smith-style cars were being built everywhere, and Warren Taylor #344 from Durham had yet another "Gertie" replica.
Gentleman John Stirk: innovator

Chick Woodroffe, in the borrowed Chisholm car (You can see Chissy's #252 on the back surface of Chick's "1" roof plate) Here Chick is powering up the sloping Mendip straight towards the flag.
Chick Woodroffe #1, at Mendip; beside him is Bob Tanser in a lightweight SuperStu replica.
Long shot of Chick coming sideways out of turn 3 at Mendip, charging straight at the camera.
Colin Casserly relates how Chick had borrowed it while Chisholm was out with an injured back. This car was built by Doug Cronshaw #396 in 1972, with 454 Chev power, but Doug could not make it win, so it then passed via Stu Smith for the 1972 season, then to Chisholm. With Chisholm, the car won three consecutive World Championships, '73-'74-'75. Then the car went to Alan Casserly (#'s 104 and 142) in 1980-81. It eventually went to Mo Smith # 51.
Quite a car with quite a history — I watched it win the Harringay World Final in 1973. Les Cotton pointed out some fine detail on this car. Dave Chisholm loved the design so much he built a DUPLICATE CAR, and this is what you're seeing here. Chisholm's original and the duplicate sometimes appeared in the same races, just to keep fans on their toes.
Bless him, Chick Woodroffe was well liked and is greatly missed. Here he is at the first Wembley meeting in 1974.
In 1976, Les Cotton photographed the two Chisholm cars, and deduces that the "duplicate" is the # 409 in the background. Well, I'll open that debate up: Oh-oh: it didn't take long —- two different fans (one a racer at the time) have pointed out that this photo must have been taken at the Brands Hatch Festival of Speed in 1976; George Ansell came out of retirement, and Sugar Shergold (usually #304). The guy in the hat, back to camera, is Chick Woodroffe.
February 2010: Dave Chisholm's gold-roof days -- in this case in the pits at White City. Then, Chissy again, under a sunny sky, throwing the 252 into a corner at Rochdale.Thanks to Alan Butterworth:
Frankie Wainman Senior and SuperStu Smith at Mendip, 1976. In front of them is Dave Taylor #30, from Nazeing, Essex — probably the last person to attain red-top status with a 6-cylinder Jaguar engine, although here he may have the 5.3 litre V-12 in it [thanks Philip Winterton for the info] running against 454 cubic inch Chevs. That requires great driving and building.
The Welsh Dragon: Glyn Pursey #175 from Bedford, but of proud Welsh blood, 'look you, boyo'.
And a better shot of Glyn Pursey powering up the sloping straight at Mendip, chasing #211 "Gypsy John" Aldridge from Chipping Norton, and neck-and-neck with white-top #170 Keith Harrison from Kidderminster; and again on a clear track. You can just see the little Welsh dragon flag fluttering at the top edge of the back. Glyn's sons Jason and Glen have also raced F1's in BriSCA.
Here below, Glyn Pursey waits for the track to clear on a wet Hednesford day. (photo Alan Butterworth)
Ian Russell (Higham Ferrers, Northants) driving the 38 car here in 1975 at Mendip. Les Cotton has identified Ian's car as one of two Stu Smith-built lightweight replicas of Stu's winning 1969 car. Smithy loaned this car to several drivers, including #293 Gordon Smith, #396 Doug Cronshaw, and # SA1 S. African Harry Van De Spuy. Thanks, Les.
Stu Smith in the pits at Mendip, 1976.
Stu Smith and Alan barker at ---- White City? Long Eaton? Hartlepool? Belle Vue?
The debates have raged over this photo. Carl Hesketh presented a strong argument for White City: the scoreboard is a greyhound board — and Belle Vue didn't do the dogs; also, the track appears to be tarmac, which White City used, whereas BV was shale.
John Mercer sent me a photo of the White City track which, although it has a dog track and dog lights, definitely looks different from the photo above. Carl also identifies Smiffy's rival there as Alan Barker driving the Smith replica "Gertie". **
However, John Baguley has since suggested the photo could be Long Eaton --- the control tower had the same lower brick wall. Everyone seems to agree it ain't Belle Vue.
Graham Shaw (mechanic for Brian Powles 154), says the photo must be 1977, the year Alan B. drove Gertie; Graham also doubts the White City theory, because WC was completely surrounded by grandstands and seating except for the pits entrance. Graham's vote is also for Long Eaton, which had trees close to the track. How about Hartlepool? Could be:
Paul Edwards identifies those leaning track lights as identical to the ones appearing in the definite Hartlepool photo that follows this..
I'm calling "Time gentlemen please": Joe Jopling raced at Hartlepool (#452), won at Hartlepool, and promoted at Hartlepool too, so he knows ***** well that the photo is HARTLEPOOL. The track is gone, and the site up for sale.
Below: Four fast men tackle Hartlepool: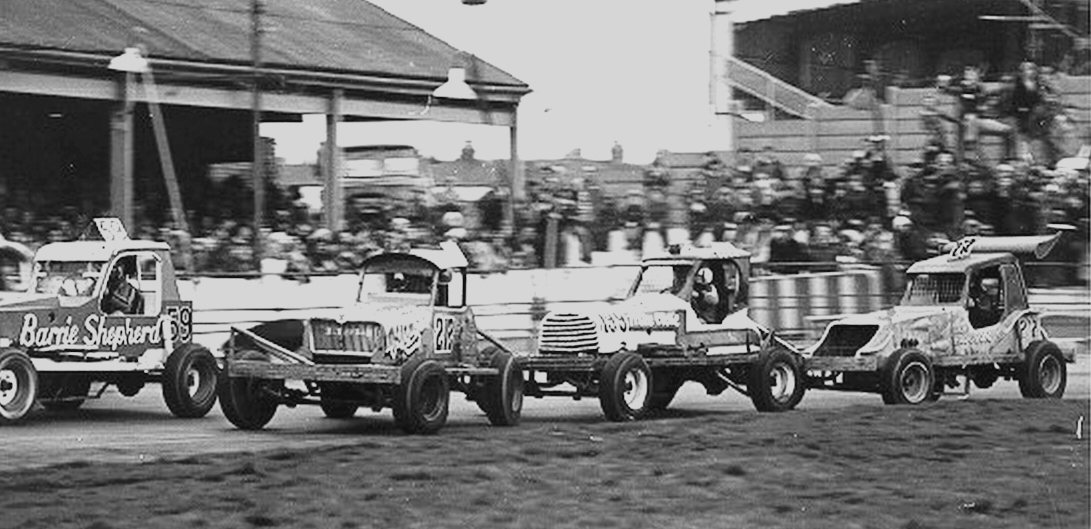 SuperStu photo: Smithy Wings It. [A 1977 stock car calendar photo, thanks to Paul and Alyson Durham]
Smith was the sport's "next step up": pure full time professionalism, and perhaps the man and the car that helped create two categories of racer: the professional-money-dedication group and the fun-part-time brigade. Sadly, in December 2010 we lost Stu Smith Snr.
Below:
"Not fair!"
is a common response when someone moves the game up a notch. They said it in 1960 about the King/Brise #6 car, and they said it in 2000 about Rob Speak's 318 mini-monster. Here is Smithy's monster motor in 1973. When a future Wainman debuts a
Galactic Warp Drive
, instead of the everyday
Stellar-Propulsion
motors, our great grandchildren are going to yell "Not Fair."
Nigel Hardy #317 from Huddersfield, wonders how Alan Barker's Wildcat #179 got up there. Les Cotton identifies Al's car as the Smith-built "Gertie". ["We can tell by the horizontal chrome exhaust pipes".] [track photographer Dennis Mott's 1977 photo at Aycliffe]
Behind them, Alastair Davison #115 from County Durham slips by. Alastair was one of the fourteen different drivers who have raced under the #115 competition number.
January 2011: Ron Knight sent these two photos of Danny Clarke 203: first, Dan The Man in the pits. Then, in about 1981 Danny on Coventry's shale surface chasing (who?)
The cars became more "mid-engined" in the seventies. From Rothwell, Northants, Danny Clarke's #203 on the straight at Brafield.
Dirty Work at the Crossroads. Bill Harrison 287 smiles like a chimney sweep with his goggles off, despite that damaged axle; Bill was from Bolton, Lancs.