Junior 10's / F2's
in the Sixties and Seventies
==============================================================================================
The sad Danny Bassett mystery


I
thank Paul Wright for re-assembling my mess of press clippings about the trial that uncovered the facts behind Danny's death. Click here and enlarge.



==============================================================
"Juniors": Tough little racers for not much money
Unlike the fortunate Senior F1 brigade whose names and numbers have been meticulously recorded by John Greenwood, Mike Greenwood and Granville Holmes, from BSCDA archives, the Junior 10's / F2 cars have no official listing that I know of. So, from programmes and a few close-up photographs I have typed up a list of 450+ Junior racers, in numerical order, with the driver's name and home town if known. Until recently I had not recorded the years they were registered [

some raced for a few months, some raced for 30 years!]

, but from now on I will start giving the year of programmes in which drivers are listed. Here is a my latest version as
a PDF file
, updated December 2014
Mystery Man Identified:
For years I've had a photo in the Seniors-in-the-Sixties page, from Tamworth's Fazeley Road track. I believed it to be an unknown Senior/F1 driver, and various fans reckoned it might be Johnny Piper or 'Chippie' Weston. Weston's son and nephew disagreed, and I let it rest for years. Finally, their memories of a 'Chippie' friend in Hinckley thew up the name
Tom Grant,
who helped run his father's greyhound track, and also raced Junior F2 cars in their inaugural years of 1960 and 1961. Big thanks to
Arthur Marlow
and
Graham Brown
, whose programme collections had Tom Grant, and best of all, a photo that proved the mystery man was Tom. Here he is:
Sid Farndon was then promoter at Tamworth, and is shown handing a trophy to Tom Grant, who is wearing a British army tank suit, introduced in 1943 and immediately nicknamed a "Pixie" suit. You can even buy new ones today!~ December 2012: Polish military-history experts have just told me that the helmet's decoration is NOT a Polish eagle crest. Bill Morris is at the whee of the jeep.
=============================================================================================

"Fearless" Fred Funnell

#58, was one of a British team that raced in northern France in the early days.
==========================================================
March 2021 addition:
Tamworth ran the first Junior F2 races:
and David Hughes was there with his father.
2 Megabyte image:
The everlasting
Roy Goodman
, the 'Pailton Lad' who ran and ran and ran, shown in
1963
Below, the photo of 'Racing Roy' Goodman was taken in ---
2012
.
Do the arithmetic. Roy first raced stock cars in 1954, and retired from racing in 2005. But the 2012 World Final organizers invited Roy to begin that race from the back of the grid and do just a 'ceremonial' half lap when the flag dropped; ha! He kept going and they had to black-flag Roy to bring him off the track, he was having so much fun fifity-eight (58) long bone-rattling years after he started.
USAAF driver
Jack Lawrence #665
at Hednesford in approx 1963, and John/Chris George #570, a Keysoe 'Top Cat' driver.
-------------------------------------------------------------
Vic Cook
#790 and #760
From the 'flatlands' of Sandy in Bedfordshire, Vic and his friends ran several Junior F2 cars in the mid to late 1960s.
This lovely yellow-top Y Type was Vic's second car, built in 1963. It was written off at Ringwood when Vic tried to fence Johnny Marquand but ended up in the fence himself.
The
dark green #760
, shown in the Brafield pits, was built in 1968 and then sold on to a racer from Shepton Mallet.
This lilac yellow-top
#760 Topolino
was built in 1966, with paintwork to match the Toon cars at that time.
On the trailer:
In front, the blue white-top #156 car belonged to Vic's mechanic
Paul Whitehead
. Vic's own red-and-white blue-top #790 car, behind, was Vic's very first racing write-off.
The
red yellow-top #151
belonged to another Sandy resident,
Barry Sawford
, who later helped to build a Senior F1 car for Vic (shown in the '
More Seniors
' page of this website)
Earlier b/w photos from Vic, moved up from later on this page, February 2021:
Bedfordshire always produced a good crop of stock cars and drivers, especially in the Junior/F2 ranks. Thanks to

Vic Cook

for these glimpses of the good old days. A native of Sandy, on the A1 just east of Bedford, Vic raced between 1962 and 1969, starting with this handsome 1937 10hp Y Type Ford:


Vic Cook had two Y Types and three other Fords wearing Fiat bodies. The motor was serious: Aquaplane head and cam, lightened flywheel, close-ratio Wooler gearbox, etc. That's Vic at the wheel, above, with his mates, left to right: Barry Sawford #151, Bernard Bywater, Malcolm Atkins [it's his father's garage in Sandy] Dick Harvey #445 and his girlfriend, Roy Reeves, Eric Gill, and Paul Whitehead #156. (A 1999 reunion group photo I've seen shows that these guys, especially Vic, kept their youthful looks very well ----.)
Vic's local track was Brafield, where as a kid he'd watched the very early 50's midgets race, but he also raced at Walthamstow, Harringay, Kings Lynn, Ringwood, Swindon, Crayford, Cadwell Park, Hednesford, and holidays in the South West gave the opportunity to race at Plymouth, St. Austell, and Newton Abbot. Vic did well in his racing, earning a blue roof.
The urge never went away, and 35 years after hanging up his helmet, Vic was back on an oval with Roy Clark's heritage car at Belle Vue in 2004. "Oh no, not again!" was roughly what his wife said ---- ;-)

==============================================================
Malcolm Mastin #501
was from Wilstead, Bedfordshire
In 1964 when wire wheels were still being used:
And in 1965 in a newer Pop :
Mervyn Payton #637 from Brixworth and Northampton
In the mid sixties, Mervyn Payton's car was serious; the engine had been tested and balanced by Jack Brabham's garage, and used 'stack' exhausts like Graham Hill's BRM. In the first photo, the team, incl. Graham Fitzhugh, is swapping engines in July 1964 in the Brafield pits. In the second, Mervyn is in all the action.
Mervyn #637 in action
==========================================================
One year of fun --- Mick "Mickey" Ridge
Mick raced for just one year, 1964, under number 49. His brothers too were in stock cars, and with his mechanic they all cooked up the unique coil-over front suspension, far ahead of its time. Mick (on the left) was from Watford. He passed away in December 2019, and is remembered as a "wonderful dad" by his family who were regulars at the races over the years. The driver on the right is either the owner of #506, Ron Higginson, who also raced an F1 car #149, and owned the MUSITAPES shop, OR Gerry Higgins --- more info later as I receive it :-)
Mickey Ridge lining up: photo dated 4th October 1964:
=======================================================================================
PENNYCROSS MAN
Rick Knight #566 enjoyed his racing at Plymouth's Pennycross Stadium, but had caught the stock car bug earlier, while watching the old Hudsons, Lincolns and flathead Pilots in action at St. Austell, Ringwood, and Hednesford as well as Plymouth.
Rick's first car was this Ford 7Y, (1938-1938 8hp). An enterprising mechanic, Rick worked hard to fit coil springs to the rear of the car. Then he was told he couldn't race with that modification - not allowed.
One incident was being spun out and unable to re-start the Ford's hot engine. So he was climbing out of the stationary car onto the track beside his car just as John Langston 542 appeared on the scene at speed – bang – Rick woke up on the infield and recalls his eyebrow being stitched up in a hut by the grandstand. John had decided in a flash that he couldn't swerve and miss the car AND driver, so he aimed straight into the back of Rick's car, probably saving Rick's life. Today 50+ years later Rick describes it as "All good fun!" – and John Langston still remembers the impact too.
Later the 7Y was written off against the fence. He got out of the car, hopped over the fence, only to be told he was "on fire". It was Rick's overalls smoking and falling apart from battery acid --- the battery had broken apart when he hit the fence. No worry: in those days "you could get a Junior car for about £5 and away you went."
Next came a classic Y Type Ford in good shape, with which Rick got to Yellow top status. All Rick could afford was an Aquaplane head, exhaust manifold and carbs. "All those fancy balanced crankshafts, lightened flywheels etc. were way above my budget."
Rick's Y Type gain.
Three photos of his Ford Pop 103E:
2. Rick assessing the damage.
3. Rick says "Oh well, that's stock car racing."
Rick enjoyed racing against Johnny Marquand and Roy Goodman, but says he kept a sharp eye out for Gerry Dommet and Fred Funnel -- I wonder why ;-)

In the Y Type photo above you can see the yard and workshops of C. Buswell, the Frigidaire agents in Torquay, where Rick was able to get the welding and metalwork done. Rick appreciated assistance from his brother-in-law Michael Bryant as well as Buswell's.
Rick was active in rally navigating, and competed in sprints and hill climbs and trials. For nostalgia's sake, he even built a model of his old 7Y.
====================================================================
December 2016:


Going ---- going ---- gone.
Chris Elms

#640 raced happily into the turn at Brafield, 3rd May 1964, and ----


Chris Elms

was the first BSCDA Junior driver to be licensed under the number 640. Chris was based in Shepherds Bush, London, and raced 1963-1965. He says of those times,

"great characters and happy times."

Does anyone else have photos?


============================================

The West Country has provided many champions.
One of the popular venues, St. Austell, was a speedway stadium from 1949 to the early 60s when stock cars appeared.
This poster comes from

Cliff Burdett:



Very early BriSCA Junior [F2] racer:

How about 1961, when

Fred Swansborough

got

#689

, and here his licence was signed by Peter Arnold. Fred did most of his later racing with Spedeworth (see the SPEDEWORTH page). At that stage, BriSCA had not altered the class name to Formula 2. His BriSCA membership was signed by the great Johnny King. Here's Fred's photo from a few years later. In this undated photo [track not known] Fred can be seen clambering out of his 689 car. Fred's brother Pat also raced, and in those days Ipswich and Norwich were paying £15 start money!


============================================
Fiat Topolinos
Here is an excellent and detailed article about Fiat Topolinos, in the April 2015 of CLASSIC MOTOR MONTHLY. It's by their writer
Grant Ford
--- yes he has the same name as the USAF Alconbury stock car racer of the sixties --- and he kindly referred to stock car racing, and included my original photo of
Andy Webb
's lovely Junior F2 at Brafield in 1964.
Here is a pdf file
of that page 19 article.
You can find CLASSIC MOTOR MONTHLY via
http://www.classicmotor.co.uk/
and if you don't know it, you should check it out.
February 2016

An "early starter" was a young chap from Somerton near Bicester, a wood machinist at the time:
Glenn Marshall
was racing Junior F2s at the age of sixteen: Glenn still follows stock cars today and stays in touch with 'veterans' like Andy Webb. The Y Type below was bought from Johnny Allen. Glenn's second car he made by lifting the body off a Popular, trimming a massive 18-inches all off the bottom, and re-installing it! Graham Guthrie reckoned it was the lowest car at that time at Brafield.
Below
: Glenn in his later Fiat Topolino:
[Glenn bought a pair of Topo's via the Exchange and Mart from a man in London]
Here Glenn is
with Barry Vernon 774
from Headington, Oxford.
Here's the
798 car
again, ready for the road.
Glenn at Swindon's
1965 World Final
: he is back row, sixth from the right. Glenn qualified at Brafield for the WF, but had to fight hard for the spot because Brafield's qualifier was a 'red-tops-first' event, and Glenn started at the back; but he made it. The programme described Glenn as
a rugged, couldn't care less, press on regardless type. He's on the back row but could be a tricky one to pass - watch him!"
Glenn's parents towed his car to races until he was 17, and then he traveled beyond Brafield and Swindon to Kings Lynn, Ringwood, and Rayleigh. A holiday break let Glenn race down at St Austell and Newton Abbot, and between races he'd park the stock car at Johnny Marquand's garage.
Glenn also built a stock car
[from the second Topolino]
, for a friend named
Terry Baker, #635, who raced for one year
, then the car passed to Roy Goodman. Terry was from Fritwell, nr Bicester. In the photo Terry at 18 years old is enjoying Brafield sunshine. You can see Terry's white Ford Thames pickup that carried the stock car at weekends; during the week it was for Terry's painting and decorating business, which he still does today.
Glenn Marshall's words:
"Happy days."
December 2014
*
The Laurie Brothers *

[also posted on the SENIORS IN THE SIXTIES page]
Thanks to ex racer Bruce Laurie for information on himself and his three brothers. In order of seniority they are:
Cecil #118 and #368
Bruce #281 and #517 (Brafield sometimes wrongly listed Bruce as "Brian".)
Bob #98 and #312
Dick #680 ("Dare-Devil Dick" was painted on his car).
Their sister Marie also deserves a mention --- she dug out these photos, and had to put up with four brothers!
The Lauries were from Westrop Farm at Byfield [between Daventry and Banbury], and all are active today in 2014 and the farm is still in the family. Some stock car fans noticed the Lauries' absence from the tracks during harvest time: first things first if you're a farmer. Farmers have always featured strongly in stock-car racing, no doubt because of their mixture of mechanical skills, no-nonsense attitude, workshop and tools, and of course open fields to test their cars. The Lauries knew, worked with, and raced against local drivers Guy Holtom, Brian Ellard, Andy Webb, Willie Cowper, Steve Bateman and Ian Durham.
Below at Byfield: Dick and Cecil are at left and right, in overalls and wellies. Bob Laurie is on the roof. Friend Mike Gregory on bonnet, Cecil's son David at front, and a neighbour leaning on the back window.
Bruce supplied the for Brian Ellard's Junior and later bought the whole car back from Ellard when he stopped racing. We are currently trying to identify the original body, which is "near" but not quite Fiat.
The Lauries were so popular with the fans that the Byfield vicar blamed low attendance at some of his Sunday sermons on 'clashing' Brafield meets --- but since Bruce also maintained the vicar's car, the good man did not complain. At one time there were six stock car drivers in Byfield, from a population of only 900.

The four Lauries --- their father was a teacher as well as farmer --- all went to different grammar schools. At one school that Bob attended, he was able to ride there and back on his motorbike. Bob told a Brafield regular that he'd been so consistent that he'd been able to judge what time it was by which landmark he was hurtling past.
At another school, Bob's classmate was Mick Noden. Bob was already building his first Senior F1 while he was still in school. Bob and Mick Noden later travelled together to race, Mick's first car having a Jaguar engine from Cecil Laurie.
Cecil and Bruce were both self-taught mechanics, from motor bikes, cars, tractors on the farm. Bruce joined a body shop in Banbury, where he and later Bob learned body and chassis work and advanced their mechanical skills. Later Bruce opened his own garage at the old POW camp at Byfield: "Poolview" was the garage name, see below on Bruce's first Junior F2 (an ex-Johnny Goodhall Ford 10hp), and Bob's sharkfinned A30-bodied Senior F1 in the background:
In Bruce's photos I instantly recognize the typical ironstone/sandstone from that area; I lived less than 20 miles away.

Bruce had to juggle his garage business with racing, but still had time to do tuning work such as regrinding the cam on a bench grinder, adapting the sump for anti-clockwise turns, lightening the flywheel, fitting a Ford 8hp head, [planed down 60 thou to produce a very high compression], and bolting on two Ford 10 carbs. The speed earned Bruce a blue roof. However, Brafield's tough concrete track surface was murder on tyres and steering, (though Bruce had enjoyed racing his Senior on Brandon's slippery loose shale), and eventually work, wear and tear, and some friction with Brafield's management ended his actual racing. Bruce's exit from racing was like many drivers' stories on this website: it was fun, but home-made parts and hand-held tools and no special 'bought' parts meant that many enthusiastic drivers could not win against those with bigger budgets and professionally-built cars and engines: an old story that applies today as well. How many drivers, today, would try to build and tune a complete F2 car in their garden shed or garage at home?


Bruce had first come across stock cars at Brandon in 1954/55, but was inspired to build one through Banbury's John Gunn, an agricultural equipment man. Bruce also knew ex-speedway rider Jimmy Wright who ran a Banbury demolition business, as well as Oxford's Freddie Mitchell. Bruce admired a farmer from Duns Tew in Oxfordshire: D'Arcy Miall, who built, raced, and repaired stock cars. D'Arcy died in an accident rather young and is still honoured today with a trophy awarded annually by the West Oxford Motor Club.


Bruce drove an ex-army truck with a 30hp motor that drank petrol, so he skilfully adapted it to run on TVO ---- semi-paraffin oil for agricultural use --- by fitting a vapourizer from a combine harvester. At other times for towing, Cecil Laurie's car was put on their old Dennis lorry, with Bruce's car on a rigid tow-bar behind, requiring Bruce to sit in it and steer --- and on one steep hill he had to start the stock car to PUSH the struggling lorry up. This was not unusual among stock car pioneers; Freddie Mitchell's mechanic Pete Schafer did the same thing once or twice. Bruce [in the photo] also used a Land Rover for towing to Brafield.

October 2015 'trivia' update: See the reg. number on that Land Rover, LAB 388 ? An ever-since-1960 stock car fan tells me that LAB 388 was issued in 1952 and is still "alive" today on a 2007 Volkswagen ---- :-)


Dick Laurie once made a trek to Cadwell Park with Guy Holtom, taking both their stock cars on a lorry that blew its head gasket on the way. Later, Dick's stock car also blew its gasket in the race. They were rescued by Rugby's Mike Taylour #502 who generously towed them to Cadwell and back home again.

A three-car parade at the farm in Byfield: 517 Bruce, 680 Dick, 98 Bob on the lorry, taken about 1965.

In the days before five-foot deep grease pits with lighting and four-pillar hydraulic hoists: First, tilt it. Next, just get to work on the engine!
Bruce with his #517 Ford Y and its Standard grille. The tower visible behind contained the water tank for this ex-POW camp at Byfield.

Trick photo: is Bruce's friend

Brian Haynes

really lifting that Ford 10 engine by himself?

Bruce Laurie and Willie Cowper on Bruce's Land Rover. Behind them is an ancient-looking but actually 1940's ex-Post Office lorry that Bruce also adapted for breakdown duties. It had a solid Morris 4-cylinder sidevalve.
Willie Cowper [Upper Boddington] in the Brafield line-up, ahead of 522 Bob Jeffcoat.
Smart Ford Pop under Bruce's number 517.
"Larks": Well of course there were a few. Bruce once drove a Talbot to Brafield to deliver it to its new owner, Royce Garton, but the car had no tax disc. The police sergeant directing traffic at the Brafield gate stopped them and didn't believe the excuse that "the tax disc must have fell on the floor", but he quickly waved them in, saying he'd check them again on the way out. The car's buyer at the stadium had a lorry, so they loaded the car up on that, and at the end of the day Bruce and his friends climbed into it a Laurie stock car for the ride home. The lorry was the last vehicle out, and the suspicious sergeant was still there looking for a Talbot to drive out, and never caught onto the trick.
At the Byfield farm we see Dick's quaint daily transport, a Reliant three-wheel van,
behind his 680 Junior
. Sister Marie is there with Cecil's lads. Photo of a
1950s Reliant van
. The farm lorry was a four-wheel drive Ford with a Canadian-built 32hp V-8.
In the happy days of team racing, Brafield's Graham Guthrie organized a wild "Byfield versus Keysoe Top Kats" race. Sparks flew, as they say, and the crowds loved it.
Here are three photos of Bob's Junior F2 car.
Fuzzy shot of neighbour
Guy Holtom's 578 car
at Brafield, showing Guy, Dick Laurie [behind], and Mike Gregory.
Finally, some Brafield action with Bruce Laurie:
First,
look at that crowd
:
I am very grateful to Bruce Laurie for taking the time to guide me down memory lane. Thanks also to some other Brafield 'regulars' who have helped dig out programmes and facts for me. The Lauries thoroughly deserve to have their stock car exploits remembered.
Update / August 2014:
A big collection of photos of F2 Junior cars photgraphed at Brafield, Kings Lynn, Harringay, Swindon, and Cadwell Park


I will load much of this

Gordon / Kevin Fisher

collection

immediately below. But since many photos show several other drivers, I will try to "pair" those with existing links elsewhere on this page. Kevin also supplied 13 photos of Senior F1 cars, which will go on one of my two "Seniors / Sixties" pages.



Gordon Fisher #514

raced in the mid-sixties. Based in Shefford, Bedfordshire, Gordon was at the time a taxi proprietor who raced for the fun of it, in Ford Model Y and Ford Pop E93A cars. "For fun" but nonetheless he qualified for the 1965 World Final at Swindon.
Gordon's son Kevin wrote something very typical of the spirit of stock-car families: that although Gordon was usually a C and B grade driver,

"he was and is a Star grade dad."

The evolution of specials and sponsorship took the racing in a new direction, and Gordon Fisher hung up his helmet, along with scores and scores of other weekend warriors.


Gordon takes a smoke break and thinks about the next race
Gordon and mechanic Des Peck wait for the 1965 World Final to begin
Happy Kids,

who didn't spend Sundays glued to the telly and being bored:
Some cars that Gordon Fisher raced against:


and, for now, the last one: Dave Chisholm hustling 163 Roy Goodman:
It is a treat to see these photos of Kevin Fisher's father Gordon FIsher. I will post more when I get a mo'.
==================================================================================
March 2015
:

The "Hot Rod" / "Modified" Mystery



March 2015:
thanks to
Adrian Norman
for this update and scans from
Spedeworth Stock car and Hotrod Journal
January 1968.

First page [p.17] describing these two experimental cars

The two "modifieds" on parade at Hednesford: Photo is clearer if you copy/download it!

According to the article the two cars were built by

Ron Amas (03)

and

Sid Groves (04)

, presumably
at Amas's petrol station in Dorchester-on-Thames. (After Ron died, approx 1967,
that's where 03 was on display in late 1967)
Although it says the cars were raced with some success, [presumably against rod saloons], Bill Morris & Les
Eaton, now jointly running the hotrod scene, had decided to do away with the 'modifieds' in 1968.


============================================================================

2014:
Here are five unusual photographs that show prototype oval cars that were to be called 'modifieds' or 'hot rods'. My thanks to Russ Thomas, Adrian Norman, and Graham Brown. As far as I have learned, cars 01 and 02 may have been built by Martin Morris (son of Hednesford icon Bill Morris). Who built cars 03 and 04?
These two snapshots were taken by Adrian, who recalls the track being either Ringwood (Matchams) or Aldershot (Tongham).
03
, "on the hook", had hit the track fence and been damaged; the full-contact stock-car crowd that day was not impressed by the cars' speed or fragility.
The following two photos were supplied by Russ Thomas, and came from Peter Arnold's own collection.
On the track. Eddie Asling can be seen standing by the pits gate. Track, anyone? I've heard Ipswich, Kings Lynn, Ringwood, and Aldershot suggested so far.
Courtesy of Graham Brown: car
03
on the Hednesford grid next to Tom Laffey, with starter Al Henderson in the striped shirt:
.
Dates? Some time between 1964 and 1967. It seems that Bill Morris and Doug Warner merged their ideas for a "Modified Hot Rod" non-contact design, and it's possible that Warner may have built the distinctive 03 and 04.
From a Summer 1967 Hednesford Hills newsletter, a pioneering hot-rod with an 1800cc MG motor, and hot rod fans will know who raced under 00 --- Martin Morris, son of promoter Bill Morris (thanks to Trevor Chater who not only recognized the car but watched Martin race it)

[scan from David Hughes]
==================================================================================
Things Change ---
Left:
Harry Andrews #651 does the business with his classic Ford 10 in 1964
Right

:
Peter Hobbs #8
F2 in 2011

(
Daz Kitson-built /
paint and signwriting by Russ Thomas: http://www.rjthomas-signwriting.co.uk/
Below Left:
Willie Cowper
's 1952 Ford Popular front suspension
Below Right:
Peter Hobbs
's space-age springing

====================================================


The 1960's: the fun begins
Scroll down to find the separate even bigger 1970's section

May 2014:

Thanks to

Adrian Norman

, a candid photo of Chick Woodroffe during his battle with the Board of Control. Once under #409, Chick for many years from 1964 onwards had enjoyed wearing the #1 on his Senior F1 car, and naturally used the same number on his Junior F2. This page shows many photos of Chick's #1. Oh-oh, the authorities said No, you must have 601. What did Chick do, only after a lot of argy-bargy? Simple solution shown below, as Chick autographs Adrian's programme.




Adrian followed stock car racing from as early as 1959, at Aldershot, Ringwood, Brafield, Wimbledon, Walthamstow, and Harringay.

He took a break when the cars and racing became tame and the front bumpers stayed unmarked (!), but nowadays is pleased to watch old timers like Andy Webb on the Heritage trail.


======================================================

The First Junior F2 World Final

Note: this also appears on my Spedeworth page, because in 1961 Spedeworth, just created, was essentially BriSCA's "Junior" class.


Fred Swansborough

scanned the programme, and yes Fred's listed there along with some famous and soon-to-be-famous names. Fred scored 3rd place in the final

:-)
This is the six-page PDF file.
The WF was held at Ipswich, and you'll see ads for upcoming Ipswich Witches speedway matches --- in 1961 the bikes were using what is now the longer stock-car "outside" oval.
Also, notice the reference to the celebrity presenter,

Doctor Barbara Moore

. She was the famous vegetarian long-distance walker who I'm afraid many of us laughed at; in 1959 she walked nonstop from John O'Groats to Land's End in 23 days. She was a Russian born engineer, hence the 'Doctor' title, born Anya Cherkasova
,
who won Russia's 1932 long distance motorcycle championship, as well as claiming to be Russia's first women pilot. Lots to see in this programme, thanks to Fred Swansborough.

April 2014:
Thanks to

Steve Pringle

, some fabulous bits of Junior history, starting with this gem, taken at the famous Keysoe "Top Cats" stock-car settlement in Bedfordshire; Eddie Cunnew's car:

Steve is one of many who fondly remember the open-all-hours help-yourself "workshops" on the right, and the field on the left, next to RAF Thurleigh's runway. Do an "edit-find" for Keysoe and Cunnew etc, as there are more down the page.



Then some more local-ish characters:

And from further away, but Steve snapped him anyway,

Walter Bovey

from St Austell, seen in the Newton Abbot pits. Steve Pringle's mum holds their dog on the bonnet, and in the background Irene Bovey with a Cairn terrier, and local man Charlie Rowe.

=============================
December 2013:
Steve Brantom: "anything fast on wheels"

B
riSCA F2, in which he earned a blue roof, Legends, Spedeworth Superstox (red roof), Hot Rods, and even Sprint cars, from which he retired as national champion in 1998: there's not much that Steve Brantom hasn't raced.
He was first inspired when a youngster by an early Leighton Buzzard BriSCA driver, Dave Francis. Steve has been in the haulage industry as an employee and a businessman, as well as in motor repair and sales. He says that none of the racing would have happened without suport and encouragement from friends and wife ---- back then it was a shoestring do-it-yourself game, with not much money and no professional parts. Steve especially enjoyed racing at Brafield, and if asked to pick a most admired driver in that era, would give the nod to slick-and-smooth Dave Chisholm. As regards a common stock-car experience that spectators never know for themselves, Steve said, roughly, "A hard sideways hit into the wall can put you in

real

pain for a week or two!"
Here I will include some of the many great photos and facts that Steve has kindly sent, even though some should go further down this page in the 1970's section. Let's start with a big Brantom victory grin in August 1971.


Older race fans and drivers will recognize the much-loved "Doll" Cunnew, presenting the Cunnew Trophy to Steve Brantom at Brafield.

Doll's legendary husband Ted Cunnew had passed away earlier that year.

After this win Steve was handicapped (as trophy winner) half a lap for the day's last race, and he fought through to fifth.
Starting the trophy ride: Steve and Doll look a bit startled as the mechanic drops the clutch on the "peaky" Brantom engine.

Especially 40+ years ago quite a few stock car drivers started racing a teeny bit before the legal age,

"Say no more"

. Here is Steve with his first car, possibly in the Rayleigh pits.

While we're looking at incidents, Steve was featured on the cover of Rayleigh's October 1969 programme:


Steve crawled out of the car on the far side, on all fours, just inches from Eddie Asling hurtling past. Steve was stretchered off, but managed to get his car into the last race of the night, when it was still awash in oil, water, and battery acid.

More flying action, this time at Brafield, with Brian Jones:


and another shot of the crash, half a second later.


If you search on this page for 'Brantom' you'll find two more photos of Steve's exploits on west country tracks
September 2013:
West country racer

Roger Williamson

raced under #548 and enjoyed Plymouth's Pennycross Stadium in trhe late 60's. Here are three photos of Roger, courtesy of his son Steve:


At speed:
Below, Roger leading the traffic jam:
Guesses: 541 is Cornishman Brian Wilcox
799 may be Bridport's Ron Wood
735 is certainly Cecil "Wiggy" Bennett from Millbrook
781 unidentified, though D.Bowen from East Dulwich raced 781 in the early sixties
794 is the "sit up" style of Dave Gibson


Corrections welcome ;-)







BELOW: All good things must end, helped by 654 Foster Manning:


January 2013:

These are busy days at Oldstox. Thanks to Phil Smallshaw we can see the car of Ampthill, Bedford racer

Richard Inwood #668

, Phil's uncle, who raced at Brafield and Southend in the mid sixties, in variations of the Ford Popular car. Richard worked at LW Vass in Ampthill, and amazingly the Smith twins Wally and Harvey who helped him and ran breakdown at Brafield all those years ago, are still working at Vass today, albeit part time, well into their eighties.

Sadly, Richard died in a road accident not long after he retired from stock car racing.

PLEASE

: if anyone has facts or photos of 668 Richard Inwood, I would be very gratetful to know more.
January 2013:
Roy Clarke

from Datchet was and is one of the unstoppables. Here we see his smart 1960's Junior F2 cars, of which Roy has now created replicas for Heritage racing


Waving the chequered at Ringwood in 1965, below in a Ford Pop:.
January 2013: Brian Chidley

Thanks to his son Rob Chidley, we can look back on the racing career of Brian Chidley #768. Brian was a friend and rival racer with Chick Woodroffe and with Don Roomes, who today still remembers chasing Brian and seeing the nickname "CHID" painted boldly across the back of his stock car. Brian was from North London, drove tankers for a Southall company called Claytons, and raced until 1966.

Brian's wife-to-be, Margaret Davies has been featured elsewhere on this website, receiving a Ladies trophy at Brafield; she had borrowed Chick Woodroffe's Junior and ran away with the race even though she'd had to tie wooden blocks to her shoes to reach the pedals. There's a longer story behind this:

The Ladies Race included a regular racer, BriSCA-registered Jane Douglas in her own car. Afterwards, sportingly, Jane felt the trophy she won should go to Margaret Davies (Brian's fiancee). Here's promoter Graham Guthrie's letter, explaining the issue:

Here are the ladies themselves.

Brian Chidley's 768 in the pits.

For a Scotland vs England match, Brian was "seconded" to the Scots team when one of their cars was damaged in transit (hit a bridge when loaded too high on its bus). He scored a win for the northern invaders.

Brian competed in the 1963 F2 world championship as a red-top, and in New Cross's Lord Montagu Trophy race.


Two nice photos, first of Brian fettling the smoking, or steaming motor of his Ford model Y in the pits, and then below, a great family shot of Brian with Margaret on his right, and Margaret's twin Shirley on Brian's left. I think this may be Hednesford, or (anyone??) It seems to me there were more smiles and laughter in those days.
Here is an action shot, I believe at Plymouth's Pennycross Stadium, with Brian's 768 getting "stuck well into it" against 616 Roy Clarke and 743 Alf Trower.
Brian helps again, by chauffeuring 738's driver, Frankie Wooster.
Ready to go, behind a classic and now rare Standard Vanguard estate car.
Yukk: car smashed on a wet night.
Below, a pleasant contrast: Brian in 768 looking smart!
Visible up there are also a Yank car and a London taxi, and Brafield expert Russ Thomas spots the popular and logical strategy: The V-8 would be taken out of the Yank for someone's Senior F1 stock car, and the taxi's dependable and economical Perkins diesel would go into the Yank to give it the pull needed for a tow car. Russ recalls a hairy ride in Pete Poole's thus-equipped US station wagon through a blizzard.

Happy couple: Brian and Margaret roll up their sleeves.
Dirty work at the 'Stow, also showing 838 Frankie Wooster.
Tying something up in the pits. Aha, Russ Thomas recognizes the "fix", strapping the steering wheel more-or-less straight so that the car could be towed "roughly" in a straight line.
"Chid" had a racing pal under #767, shown below, a Hampstead neighbour named Johnnie Neal.
Room for a little 'un? Brian's lorry gives a piggy back to 767.
There were a hundred ways to transport a stock car. Would you get away with this nowadays?
767 gets a lot of attention, This version of Johnny Neal's car has a Sunbeam Talbot rad grille, thanks to Alan Humphrey for spotting it.
767 on its trailer.
Another of Brian's friends, #817 was Len Tinker, another Hampstead racer.
Brian Chidley died far too young, but was one of the sport's "no budget / no sponsor / do-it-yourself" stalwarts, who advanced to the star grade / red roof, and without whom there would be no stock car racing.
==================================================================
January 2013:

Here we meet George Teece, who raced under 618 and 518 in the Junior F2 wars, but if you check the THE FIFTIES page, you'll see that he was one of the very first pioneers of stock car racing in England.

George was a motor mechanic at Bray Motors in Hampstead, and raced Juniors from 1964 to 1969. His son John kindly sent some wild photos of his dad in action.

First, a rough Walthamstow race in 1965, in which Harry Andrews intended the bump but not the hang-up and arm injury:

1. Bang;

2. Escape;

3. the hang-up lets us see how tidily built this car was.

This photo may be the same meet, and shows George happily on all four wheels, up against USAF racer Grant Ford 664, and Fearless Freddie Funnel 58.

More fun and games when George borrowed the #705 Ford Popular for a Harringay outing. Hold your breath:
Looking good before the race
Worth quoting son John Teece: "I was lucky to have a stock car driver for a dad."
August 2012:
Hornsey

in North London was a Mecca for stock car racing in the sixties (the Vincelli family for instance, and of course Harringay Stadium), and here's a photo of local racer

Doug Blackwell

relaxing in front of his Fiat-bodied F2 car. He also raced F1s under #167 and #336. Sad to say, Doug passed away in 2012, but his daughter Kay, who sent these photos, says Doug used to love talking about his glory days from 40 years ago. That cheery, ready-for-anything look is instantly recognizable as a feature of stock car racing in the golden age. Doug sold this car on to Brian Holder, and was also happy to

weld up a Banger for anothner Brian.





Doug raced at Harringay Stadium, naturally, and here he is on the centre green waiting for his Ford Prefect to cool off a bit. As well as Juniors, Doug also raced a Senior F1 #167 in 1963, and another F1 #336 in 1969-1970.
February 2012: "Fun" is what Eric Taylor recognized as soon as he first saw stock cars ar Harrigay, and at age 19 he was in at the beginning of Junior racing with a 1937 Ford Y under competition number 674 ---- and his debut at Brafield ended as often happens: on lap two, on his roof. Undeterred, he then built a 1948 Ford E93A
and below is Eric's all-time favourite, a 1937 1100cc Fiat, in which he scored places and wins until a Harringay wreck wrote it off. That's a nice Armstrong Siddeley Sapphire tow car in the background.
In 1966 Eric Taylor moved up a notch and bought a Cayzer Senior F1 car, which you'll have to see on the SENIORS/SIXTIES page when I get that ready. Eric fought his way to Blue top status in both Junior F2 and Senior F1, racing in both formulas for two years until 1968.

Additional:

Eric started working on engines at the age of 10, and by age 15 had built two Ford specials! In between stock car stints he raced very successfully in grass-tracking. Here's one of his cars [Ford straight six, triple carbs] at speed, and here are Eric's many trophies.
Thanks, Eric, for the photos and facts.


August 2011: Doug Fisher's photos and facts --- 10 photos from the early to mid sixties:
Before we start, here's a happy Doug on his 1977 BriSCA licence, whe he raced #63 in F1. And here's the rules he had to follow. Earlier, Doug Fisher had started in Junior F2's, racing this handy left-hand drive Ford built by Roy Clarke.

Brian Baker 675's before and after at Ringwood's Matcham's Park, and it was Brian's first stock car race. He was a mate of Pat Willis, Roy Clarke, and Doug Fisher, and his family ran a limousine service in Virginia Water.
Wrecks on the infield --- 85 was once Pete Tucker's number; Pete's last race was July 25th 1963 ---.

This Doug Fisher photo of

#687 in the Brafield pits may have been taken the same day as a 1962 programme photo shown here. It is

Fuzz Feazey

from Biggleswade. An unusual and attractive narrowed body --- lots of hacksaw artistry there.
This Fiat at Brafield is 616 Roy Clarke from Datchet.
Dave Collier #624 raced back then, and like Roy Clarke is still to be seen at Heritage races. In the background is #502, just possibly Bournemouth driver Bob Plowman. At that time Dave lived right next door to the Clarke bros in Datchet.
Roy and Dave pose in the sun; check out the cowboy jeans and bandana!
Car talk, as Roy, Dave, and "A.N.Other" chat beside Roy's Fiat.

Below:

"It's not

my

car,"

says Don Roomes today, who once raced under #629. Possibly

Graham Reynolds, who was

from Banbury but moved to Staines and worked with Roy Clarke in road haulage.

However, Johnny Walker had 629 a few years later.

Anyone else like to guess

? See below ---
Answer: it was built by the late Andy Webb:
"This the car I built through the winter of 1964/1965, my first Topo / Ford build, which I passed it on to Graham Reynolds end of 1965 when I left for Australia. Graham Reynolds used it through 1966 and I had it back for 1967 w
hen I returned
."
Last of Doug Fisher's photo group, also in the Brafield pits: #658 Ian Durham , almost certainly.
.
May 2011:
Ted Flory

#719 tore up the tracks in the mid sixties, winning a handy bunch of tropies.


That familiar grin of Johnnie Hoskins, the eternal showman, reminds me that he lived to be 95 and receive an MBE --- and in the midst of mud and dust at a dozen speedway and stock car tra

cks he would always wear that formal suit and tie and overcoat and hat, and make any winner, no matter how modest, feel like a champion

.
Here is Ted Flory on parade:

Ted learned the trade under veteran racer Harry Foote, who handed him a half-finished car, and with pal Bryan Hinckley (with whom he later shared racing), Ted got it on track and was winning at Harringay at the age of 18
, beating Dave and Ted Chisholm. Ted also did well at Rayleigh, Brafield, Crayford, Walthamstow, Kings Lynn, etc.
"Harringay was my favourite track." Ted was regularly a blue-top, and a couple of times made "star" red-top status. Time and cost of travel, and the advent of "clever" cars, sponsored rivals, racing tires, and full-race engines, plus a growing promoters' preference for bangers, obliged Ted to hang up his helmet. Ted's son David carried on the racing tradition
(But no fencing!)
with success in karts,
formula cars and sports cars.
May 2011:
A treat to hear from Don Roomes who raced Juniors under #629 and 729


Don, from Staines, was winning races against the stars, and working for two elite outfits: Ken Freeman until 1964, and then Jock Lloyd.
[In the 1950's Ken & Jock had identical cars built on Packard chassis with V-12 Lincoln Zephyr flathead engines and Morris Minor bodies.
In fact Don Roomes started as a 15-year-old at Staines in 1958, handling Ken's V-12 monster, under #281. Don learned to drive in Ken's Ford service van at the age of 12, in the field behind the Freeman garage; the van had the accelerator in the middle --- remember those? ] He also helped Ken build the famous

Freeman Senior F1 car

s, some of which used a powerful Cadillac engine from a Pete Tucker car, which Don fitted with imported race pistons and an "Isky" (Iskenderian) cam. Later Don built Jock Lloyd's last car, a full-race Jag motored device on a Morris commercial chassis.
Don: we used to balance the cars with a scaffold pipe across the chassis on a trolley jack, with a driver in situ, and then roll the car back and forth on the pipe to make it
just
front end heavy. The other mod was to the rear spring hangers, by inverting them it lowered the rear end and this in turn tipped the front of the diff down and it gave more traction.
Real home engineering. Don's engineering skills created a unique modified cam gear for Junior F2 use, with what he calls a 7-degree difference, that no-one else was using. Don did absolutely all his own engine work
"except for boring because I didn't have a boring bar"
. Like many mechanics he recalls the awkward upside-down fuss and risk of dropping valve collets down into the sump of a side-valver! He also remembers Aubrey Leighton's hospitality: when Ken Freeman's stock-car fishtailed during a tow to Brafield and hit a lamp post, damaging the front axle, Leighton put his garage and equipment immediately at their disposal, and they still got to the track in time to race.
Don contested the first Junior F2 World Championship title at Swindon in 1963, and was in the leading pack until a pothole he'd been carefully avoiding finally put him in the fence. Here's Don marching beside Chick W. in that championship's pre-race
parade
, with the drivers marching in their grid formation (Goodman, who won the WF is just visible in row 2). Also in 1963 Don picked up Harringay's Raceway Trophy [photo at top] In 1964
Don got the Swindon checkers
, here sharing the victory lap with Woodroffe.
Don in action at Harringay,
on the outside of Roy G
. with 140 Slick Slater and 549, perhaps Neil Johnson.
Here
Don is again
at Harringay, closely pursued by #30, probably Maxie Bacon. [Junior F2 numbers changed constantly.]
Don Roomes really knew the business; he was made guest-of-honour at Smeatharpe for his 60th birthday, and today is a keen 'radio ham' and amateur photographer at his home in Devon.
Below:
Don and Maureen
are blessed to be able to look back over some 48 years to those happy early days of stock car racing; and hey doesn't that handsome guy remind you of Bruce Springsteen?!
I reckon fans will be very happy to see these photos and facts.
Cheers, Don.
----------------------------------------------------------------------------------------
April 2010:

Unidentified car on its side in Brafield's Turn One, with the driver leaping to safety while the radiator spews water from its underside; 1962 photo.
January 2011: Brafield 1963. Junior racing was so popular with drivers and spectators, and these two copyright photos show those happy days. First, a schemozzle at the end of the front straight and first bend: we can see numbers 843, 555 [maybe Nobby Lambert], 62, and perhaps 595 in the background. Next, a rollover at the 'bottom" bend. We can see dear old Fred's Hot Dogs, and at the top right, in the distance, a curious group of white structures, probably on a farm --- any guesses --- fair/gymkhana?
February 2011:
Say cheese:

Brafield's 1966 F2 World Championship entrants.
Recognize some faces?
Bateman Beats 'Em:
while Eddie Asling [left] and Johnny Marquand bravely "enjoy" their 2nd and 3rd places ---

Eddie Asling, originally from Dulwich [home to some of the sport's wildest men ---] later settled in South Africa, where his son Chris Asling has carried on the Aslling racing tradition. Does anyone know whether an Eddie Asling car is on show or in storage, perhaps in Swindon? His nephews Ken and Mark Asling would like to trace it. Eddie raced under #253, 283, and 646, and I believe his dad or brother Cyril Asling also raced under 746. Below: a yoing Eddie Asling, already practising "the eye" on rival drivers.
Johnny Marquand passed away in 2011, a man who "lived life for the moment" according to one of his old friends, one of many who travelled down to Notter Bridge to say farewell. Johnny opened Notter Bridge Garage in 1963, still flourishing, and today his grandson Joe continues the Marquand racing tradition.
That photo, and that WC programme cover, courtesy of racer John Langston.
South West racer John Langston, #542
John sent these shots of action at Plymouth in 1966/67. Plymouth was tarmac'd in 1964, before which cars shared it with greyhounds and speedway:
Three Plymouth programme covers: one; two; three.
=================================================================
January 2011: Clear Brafield sky in December 1965, and the fans were "friz" as they say in Northamptonshire. But Dave Chapman's camera was working, and here are two photos of action in Turn 4:
One:

The mid-pack blue top is identified by Rick Young as The Announcer's Nightmare --- just try saying "

666 Slick Slater from Sherrington".

Can anyone help with 514 or 350?
Did you notice some unusual 'patrons' occupying the back of the grandstand in those photos? Look again. When I saw these photos, I figured the neighbouring farmer had quietly stored his hay bales there for the winter; but Rick Young recalls the bales were brought out and propped in front of the steel fence posts as protection for pre-race go-kart activities. Good idea.
December 2010:
HELP, Whose car??
This photo was taken by Bedford racer Andy Abel, a Junior coming out of the bottom turn at Brafield. It is

almost

certainly the Fiat Topolino #699 shown in this photo, but I don't know which 699 driver it is, as three drivers had #699:
J. Johnson, John Paddock, and Ron Wood.
(Or is that a 689 --- ?)
November 2010:
Colour photo of the #93 Junior car of Tony Wicks from Wisbech. Better known for his Senior / F1 exploits, Tony also raced this Morris-bodied F2; photo courtesy of Tony's daughter Susan, [visible at the front in the stock car jumper]
August 2010: Panoramic photo of an unusual kind of race --- Brafield's management loved novelty, and so did the crowds -- what is wrong with this 1963 Junior F2 race?

Above you can just see the #230 car of

Johnny Allen

from New Cross in this

"Wrong-way-round Race"

, whose aim was to confuse and entertain both the racers and the spectators. Johnny Allen coincidentally can be seen helping out in the photo below from the same anonymous donor, a fine tangle between 711 and

675 Terry Trew

:
September 2010:
Jack Kitchen #750

was a stylist; see his trademark opposite-lock arms and elbows as he throws his car into the corners. Today at 81, Jack can look back to six years of racing, 1967-72, followed by a spell of scrutineering. With his son Tony, who sent the following photos, he rarely missed a meeting and still stays in touch with some of the old bunch, including Dave Chisholm.

November 2010: a welcome surprise from Jack's son Tony is a photo of a painting of Jack Kitchen in action, diving crossed-up and opposite-locking into the corner --- a dramatic piece of art.



Sad update

December 2012: A busy, happy man for 83 years,

Jack Kitchen

passed away on 13th December 2012. His son Tony gave me the news. Jack was a lorry driver all his working life, loved to tinker, grew fruit and vegetables, and was married for 52 years; Jack was based in Upwell and then the tiny village of Three Holes not far from Wisbech, on the Norfolk-Cambs border --- the same flat countryside that produced racers like Tony Wicks, Ron Pears, Viv Harper, and Haley Calvert.

=========================================
July 2010:

Brafield Bash:

#642 Pete Poole from Bedford starts to unbuckle from his wreck, while 66
scoots past
. (no F2 name for 66 in my lists, but that signwriting is certainly USAF Ted Janes' trademark and F1 number) Photo from hot-rod champ Gordon Bland.


July 2010: From an anonymous contributor: a panorama of Hednesford Hills [showing clearly the nature of the old reservoir bowl], their Easter Monday 1963 meeting. I can only identify the

646 Eddie Asling

car, and

695 Bill Morgan

from Derby, but do not have id's for the others, but the donor tells me that J838 Frankie Wooster was the winner. The meet included motorcycle outfits as well as Juniors.



Below:
What a gem.
This early Ford Y raced the tarmac at Brafield and I snapped the photo in 1963 when
Danny Bassett
was both National and European points champion.
The "Juniors", later renamed F2, provided red-hot racing with side-valve engines and maybe a couple of SU carbs bolted on. Danny [actual name Dennis] was from Woolwich, London, a larger-than-life character who was always grinning, and I hear he had done some wrestling too. Danny was to die tragically in January 1964 in the English Channel, with the mysterious loss of the motor yacht "Christine", sailing at midnight from Ramsgate. The incident was the centre of a legal case and a coroner's inquest in Dover, amid various stories and gossip in the press about the ill-fated voyage and who else was on it and what they were carrying, and where they were going; not the only time the world of stock car racing has been touched by whodunnit rumours.
March 2010: Forty-six years on, Danny's niece Linda still remembers him as being her "favourite uncle", and who was known to pals as a loveable rogue, touring the tracks with his racing buddy Maxie Bacon, also from Plumstead. Nudge nudge, "someone told me": at a London track Danny came to the rescue of a racer pitted next to him, whose Junior 10 axle had sheared, and within 10 minutes Danny came back with and fitted a replacement. Danny packed up and left early that night, but later at the end of the evening, a lonely spectator car was sitting axle-less in the parking lot ---- just a coincidence, right?
Danny's last car went to Eddie Asling, but his first had appeared at the very beginning: New Cross in April 1954, alongside his friend Pete Tucker [who, for Linda, autographed a copy of his "Thrill of the Century" with a dedication in memory of Danny]. Along with the national headlines of the Daily Sketch, Linda has kindly sent two touching photos of Danny's headstone, with a typically generous spread of wreaths from the stock car community.
JULY 2011: Ex-racer Grant "Tiny" Tabor, who raced Junior #428 and Senior #29, in cars built by Barry van den Oetelaar, by Spedeworth champ Stan Engle, and jointly built with Gerry Sheldrake. Grant remembers the carefree days at the Cunnews' caravan settlement at Keysoe, Beds. ("Stock car heaven"), noisily located close to the end of the RAF Thurleigh runway, and a collecting point for racers --- Danny Bassett was one --- converging on Brafield and Coventry. Grant has many memories of people helping each other out and working long and hard to do so, even if they'd been fencing each other the day before. Danny Basset's car once had an engine replaced in it while it was on a transporter travelling to Brafield, and it was ready in time for Danny to pick up a 2nd place. Grant Tabor himself had 'grown up around engines', and once built Jaguar engines for the famous Lister-Jaguar sports-car outfit in Cambridge. He later moved to the US, raced midget cars but his "Tiny" 6ft 4in stature was an obstacle. Grant also ran the big winged Sprint cars, and ushered his son through the Midget ranks. Grant found his niche building race engines for NASCAR's multi-million-dollar Childress Racing team, and still keeps his hand in doing engine work for other racers. Grant, [who was back then listed as Graham], remembers the long-ago labour of having to personally machine every special part for a motor, compared to today's wealth of off-the-shelf performance parts.)
Ted and Doll Cunnew were adored by the stock car community for their unhesitating help and generosity to one and all --- caravans for sleeping, tools and parts for cars, and mass breakfasts -- Doll sometimes cooking for 30 hungry drivers and mechanics. Ted and Doll both worked at RAF Thurleigh (later Royal Aircraft Establishment), but when they moved up from London for the job, they could not get planning permssion to build on their purchased plot ---- it was under the jet fighter flight path! Hence the wonderful 'settlement' of informal temporary buildings and structures at their Keysoe paradise.
January 2012:
Another "Keysoe pilgrim" was

Steve Pringle.


From Leytonstone, Steve at a very young age was a helper to Terry Coell, and knew Les Suckling, Reg Pryor, "all the Plaistow crowd", and the travelling got Steve to Keysoe, where he learned to drive at age 9 in the field behind the Cunnew settlement. [One stock car driver got

married

in the field.] Keysoe meant that Alconbury USAF was not far away, and Steve got to know Ted Janes, Grant Ford, and Dick Hawkins. Here's a rare photo of the KEYSOE TOP KATS celebrating

[full size jpg available]

:

The legendary Ted [bow tie] and 'Doll' Cunnew have son Eddie [glasses] to their right. Directly behind Ted and Doll is Keysoe racer Chris George #215, and if you look right from him, without a hat, that's Tommy Keep #83/783 from Chingford. Scrutineer George Stannard is almost hidden at the back, third from right. Big thank-you to Steve Pringle for the photo and the names.
Three photos of young Eddie Cunnew in action:
May 2012: A big thanks to Steve for this bit of history -- a recent visit to the still-extant Cunnew "compound" at Keysoe found this Eddie Cunnew car quietly returning to nature. It was bought from Fuzz Feasey #687 in 1962 on this day in this state, and Eddie still has it!
Steve Pringle #528 in action, first at Stoke / Chesterton which operated on-again off-again as a stock car venue under various names.
Waiting for the off [and kids dangling their legs over the fence ----]. Steve tells me that That car was given to me by Eddie Cunnew #734. I removed the 1172cc side valve & fitted a 1098cc BMC engine and grearbox that came out of the Cunnew's old generator. David Newman Sprint cam, 60 thou off the head and an old pair of SU's on an inlet manifold that I'd found. Original shells and rings. Converted the back axle to a Morris Minor, retaining the transverse leaf spring. Made it up to A grade (blue). The engine lasted two seasons, untouched.
Now Steve at Brafield:
On the grid beside 525. The 'blanket' fans at the fence are Steve's mum and dad and wife-to-be June.

A classic sunny day Brafield turn 1 shot, with Steve lifting the inside wheel.
More recently Steve not only joined the VSCA but also did Veterans races at Areana Essex and Bristol, borrowing Jason Walter's 540 car: Modern speed (Steve's comment below), and Don Round presents a prize to Steve, beside Jason W.
'The main difference between my old cars and Jason's 540 car is that the modern version does everything you ask it to. Also when you hit the brakes it actually stops!
They nearly all handle the same and I think the majority of modern drivers could swop cars and not notice the difference. In the "good old days" not many cars were the same, which meant more enjoyable racing. Back then we all built our own cars and maintained them ourselves as well. Our success or failure was normally down to us and not someone else.'
Steve went on to race SCOTA cars, which I will put in the SEVENTIES page. Other memories include helping Dirty Dennis get his brakes done enough to pass scrutineering; going to the Graveley air strip with Keysoe racers to test cars; sunny Sunday lunches in the Keysoe field, with Doll serving a feast to some 20 stock car drivers and mechanics; the early days when the Cunnews did not have mains electricity, and "someone" who needed to arc-weld tapped into the RAF Thurleigh landing lights; mechanic'ing for Steve Hibben, Mini-Rofd and F2 stock car racer; friendship with Graham and Stuart Guthrie and Cunnew mechanic Terry Farmer; trips to stay at the St Austell farm of Walter Bovey #565. Steve Pringle's first stock car was an ex-Eddie Cunnew car, though he built his own later F2 and SCOTA vehicles. THANKS STEVE FOR THE PHOTOS AND MEMORIES.
Flippin' 'eck -- those Juniors gave us a lot of light-hearted fun. This one is flippin' over:
--- and here below 766's driver Doug Barber is watching 627 on its back and 744 Len Field stalled across the track:
Below

, 644 Len Field from Solihull, 668 Brian Chidley from Hampstead (was #768 the next year), 468 American Bud Meyers, and possibly 409 Woodroffe, all watch another typical "Junior Rollover".
Chick Woodroffe and Don Roomes ended up with a dead tie in the Brafield points title; here is their lap of honour before a one-on-one match race decider --- which Chick won. Don Roomes was a true pioneer --- he began his racing at age 15 at Staines in 1958, and raced until 1964 under numbers 281 (Seniors), 629 and 729 (Juniors).

"Junior Jam": One reason those terraces were packed on a Sunday was that, with Junior 10's / F2s racing, everyone knew SOMETHING was going to happen on every corner. Happy days.
Below:

Roy Goodman 163

(the longest career in stock cars: he was on the grid for his

fiftieth

season in 2004) being towed. Remember plastic macs? Looking at the crowds in these photos, over the 48 years since they were taken, --- were there more "family mums and dads" and grandparents of mature years than we see at today's races? It was after all a Sunday afternoon out, including

"a nice drive in the car"

, which was still a pleasant novelty for many people in 1962.


I am very grateful to the kind anonymous donor of these early colour photos: a real treat for everyone.


: Pioneers at New Cross.
Friday July 20th 1962 saw a big Johnny Hoskins promotion. Fan

Graham Cox

, who was there that night, kindly scanned the programme, results written in [note: high-resolution, large jpg files].
Front and back covers; pages 2-3 with driver list; pages 4-5 with results; and pages 6-7 points standings and adverts.

Oops, look who else was there that night:


Lord Montague of Beaulieu was part of the New Cross event, and he completed a few demo laps of the track in his own car. His lordship did the same at Belle Vue and/or Brandon later on. O
ld Johnny Hoskins was a shrewd promoter and no snob.
Two Junior racers, and 684 is John Lynes who took part in a "Stock Car Racing School" at Brafield, described in the SENIORS IN THE SIXTIES section. The 688 car is Brian Cook, and both photos are from a Brafield programme scanned by Russ Thomas.
"It's a Small world" as they say --- just a week or so after loading the John Lynes photo above, Nigel Harradine (featured just below by pure coincidence) e-mailed to say that he raced John Lynes's last BriSCA F2 car; Nigel had known John through work, travelled and helped him out with the stock car, and eventually took over the car. John Lynes had a lucky angel even before he raced BriSCA, surviving a massive road crash that put his steering wheel up to the roof ---.
=================================================
Ex-racer

Nigel Harradine

sent these Junior F2 snapshots from mid-sixties Brafield. First three shots from 1965 of Bill Barker 681 getting stuck in (Gordon Aucott somewhere in there), then #230 Johnny Allen who backs out safely, and then Bill escaping as two more cars pile into the mess (163 Roy Goodman, and perhaps that's Chick Woodroffe with him). Bill Barker (winner at the 'Stow in 1965) was a plumber, and sometimes raced under the name "Bill Beltem". In a separate incident at the same turn, car #514 of Gordon Fisher clips the RSJ while #756 scoots past, and finally 501 hits the fence. Hot rods were a new formula in 1965, and unlike today's "cookie cutter" specials, here we see a Morris Minor, a Lotus Cortina, and a 105E Anglia.

And since Nigel sent those shots of other drivers' cars, here is his 1973 "Modstox" racer, #314, and a rear view of the Mini-bodied missile, showing his proud membership of the numerous "Hatfield gang".


Another 1965 Brafield photo just arrived from Nigel H., showing #502, who is probably Mike Taylour

[sic

] from Rugby (Thanks Russ Thomas) although Bob Plowman from Bournemouth once had that number --- but in those days racers were in and out of BriSCA Junior licences so often that you can't be sure. Anyway, as Pete Tucker says in his book, you simply could not beat the 1960's Junior 10's for sheer fun and action and laughs and excitement, at little cost and mostly no harm done.


If you've watched ESPN, Speed Channel, etc, you have probably seen

Derek Daly

presenting motorsports programmes. If you've followed Indianapolis and Formula One GP racing (March, Williams, Tyrrell), or F3 racing, you know that Daly raced internationally for over 17 years. He now runs successful racing academies and motivational seminars, and has authored a book. At the start of 2010, Rick Young took a snapshot of a Daly presentation at a motor sports show in Canada --- when Daly projected a slide of his very first competition car, which he raced at the age of 16 in his native Ireland --- and here it is

Juniors at Brafield from 1962, from Trevor Richings [Rod Dore's mechanic]. Fearless Freddie Funnell 58 turns the corner while Eddie Cunnew's 727 flips in front of Fred's Hot Dogs.
No wonder the crowds loved Junior racing: three rollovers, and that's just what's visible in this shot; the 140 car going past was "Slick" Slater.
You want proof of the popularity of stock-car racing in 1962? Here's a full house watching Chick Woodroffe's #409 get into a tire smoking spin. Quite a few drivers raced both Junior and Senior cars, often under the same number; here is Rugby's Ted Elliott [cited as "Eddie"] in his upturned #444. John Miles in 672 was not left with much car to hook up, after this incident. Here is a distant blurry photo of Gordon Aucott, I reckon one second before he got a stiff neck. Lastly, a mystery photo, no names, but it may be of Senior cars, and may be 1950's, as the one on the left looks a bit like Leighton's Chrysler, but --- the rest look like skinny Junior cars. Any guesses?
Thanks to

Tim Thompson

for this newspaper clipping. The track is Kings Lynn, and the smiling promoter at the front is

Chick Woodroffe

-- see the "WW" monogram on his overalls? The second "W" would be Dougie Wardropper, who partnered Chick in opening the Kings Lynn track. Two other definite identities are

Ron Pears

, second from left, scowling in his helmet, and

Haley Calvert

on the right

looking mysterious with a drooping cigarette. The smiling man on the car's bonnet also has a smoke.
The year before, these chaps had been asked to pose by a photographer, sitting on their cars, holding tins of Player's SUN VALLEY tobacco "for a local magazine", but it appeared in a national daily's Saturday edition. I believe the man on the far left is

Arthur Handley

, and the smoking "mechanic" is NOT

Dave Chisholm

but Dave's mechanic Charlie

[thanks to Tony Kitchen and Dave Chisholm himself for that 2010 update]

.


For those who bought baccy and rolled their own, here's the trademark:
Thanks to Russ Thomas, one-time "deejay" at Brafield Stadium, some tasty shots of the Juniors in full 'wrecking' mode: Willie Cowper #553 being rolled by dashing Dave Chisholm #552, back in 1963. Here is one of Willie Cowper #553, [I'm guessing] diving into his car while someone [old enough to be young Willie's dad?] enjoys quick puff.
Okay, education time, thanks to Brafield's deejay Russ Thomas who knew everyone: stock car racer Willie Cowper was descended from the 18th century Northants poet and hymn writer William Cowper. If you recognize the phrase GOD moves in a mysterious way, His wonders to perform, that's from a Cowper hymn. Variety is the spice of life or Monarch of all I survey? All from William Cowper poems 200 years ago. Sermon over, folks.
Here's a photo that Rick Young sent me years ago, which I just found again. Here are some of his mates' motors in the pits at Brafield: Packed in the truck is the Tony Southam car from Haddenham, behind it is # 625 John Gray from Oundle, and nearest the camera is the stripey part-Renault 4CV car 773 of Mick Whitney, another of the Beds-'n'-Herts posse. John / Johnny Gray shown here.
Thank you, Brian Clements. Brian is still in touch, 40 years on, with F2 racers like Mick Whitney, Tony Southam and Kenny Horne. Brian names the "waltzing five" drivers in the above photo as #500 Con Lambert [Lewisham], 689 Johnny Marquand [Saltash], and 735 Cecil Bennett [Millbrook]. Any offers on #528? In the Clements collection is this centre spread of an Abbey Stadium programme from April 1963, which shows Con, Johnny, and Cecil.
Also from Brian, the cover of Swindon's 1963 World F2 Final programme; and from its back cover [and not necessarily a Swindon photo] Jock Lloyd 131 and Chick Woodroffe 409 coming together in fine style, as they did for so many years at so many tracks. On the left is 608 Eric Trowell from Brockley. As Brian Clements says, the great thing about Junior / F2's is that everyone, drivers and spectators alike, felt it was "their" formula.
At New Cross, circa 1962/3, a headache coming for someone's nose-diving car as #206 Bill Wright # 206 hurries past. Bill from Plaistow (so many drivers from there!) has a Junior F2 and a Senior F1 both under #206.
This Swindon programme from 1964, thankfully, gives all five names from a night-time race.
Waiting for the flag to drop in 1962 at New Cross stadium; 833 is Laurie Stott from Beckenham, 714 is Brian Seynour from Southampton, 649 is Jimmie Weston. This Lewisham SE14 oval, adjacent to the fearsome Milwall Football Club, was for years home to speedway, had a 26,000 capacity, and filled it to overflowing for Britain's first stock-car race in 1954 (what an optimistic time that must have been), it was sadly left to go derelict and demolished in 1975.
Junior F2's at Hednesford in 1963, and spot the escaped wheel coming into the picture..
At Matchams Park nr Ringwood, Chick Woodroffe's distinctive # 1 car is one of the waltzing five , and 689 is Johnny Marquand, with #500 being Lewisham's Con Lambert; 1964 photo. As I often ask on this site, let me know if you can name any un-identified drivers.
Junior F2's galore!
Below, T
revor Richings sent scans of lively Juniors in action at Walthamstow, Harringay, Brafield, New Cross, West Ham and Hednesford, from 1963-5.
Harringay, with 230 Johnny Allen and 608 Dennis Pemberton;
Car 518 at Harringay; Car 651 Ron Williams, possibly at Walthamstow;
Twice in a row at Harringay in 1964, car 663, and 663 again here with #37 Don Evans;
Car 674 Eric Taylor from Ware in the pack at Walthamstow; More Brafield action;
Jayne Douglas, a USA visitor raced Juniors under #609. Jayne written up. Note: Plain "Jane" was Roy Goodman's 'whoops' spelling signwritten on her car. I have heard from elsewhere that a light-hearted promoter's conspiracy had Jayne's front axle/steering set up to encourage whacky cornering --- wonder if that's true?!
A 1964 Brafield programme photo of Jayne Douglas, with a witty caption.
Lewisham, SE London produced many stock car drivers, such as Lambert brothers Con, Ken, and Nobby, as well as Harry Andrews.

More Harringay fun: 511 "D.Pakman" gets part-airborne, chased by what look like 627 (Howard White?) and 582 (Barry Moore?), and #616 (twin SU carbs poking out of the side) has attacked # 652's door.
Who's going where? 662 chases 658 Don Blenkinsop one way while 681 and 567 head the other way.
West Ham saw 716 (Datchet's Roy Clarke) sideways while 677 is heading for it.
Speakers on

! If you are a YouTube surfer you may have come across this excellent 5-minute clip, from an early-1960's amateur cine film: Junior F2 racing at Arlington Raceway. Let's see if the link works. The video owner has kindly added some trad jazz / boogie music to the silent film.
Here's Brian Hallam #623 from Sapcote with some serious crash damage. (Scan thanks to Trevor Richings).
Courtesy of Alan Humphrey (a ton of Alan's Spedeworth archive photos are 'stacked up' in my cyberspace waiting to be loaded here), two shots of Barry Van Den Oetelaar's cars. Barry originally raced Senior / F1's, but then moved on to both racing AND promoting Spedeworth.
Barry 1 and Barry 2 (in that one it looks as though B. has two cars running).
'Hot Rods' back then
Making history, in more ways than one. The late great Peter Arnold, who with his devoted wife Frida, were the "heart" of stock car racing in the early and mid sixties, appears in these two unique and rarely-seen photos sent by Russ Thomas. When Hednesford / Bill Morris / Doug Warner were evolving the hot rod formula, Doug built a lightweight prototype, and here Peter Arnold (in a proper sports jacket and tie, of course!) tries it out. Track not certain. Peter 1; Peter 2 below:
May 2014:
To back up the early hot rod story that's been here for a few years, two great photos of these experimental 'hot rod' protoypes:

thanks to Adrian Norman

, who took the snapshots at

Aldershot

[note: 'probably"]

, showing the 03 and the 04 cars.





Side trip for my BriSCA site, but these hot-rod photos are amazing. Doug Warner was racing a stock car in the late 1950's, and was a regular in Hot Rods in the 1960's. Hot Rod World Champion (1979) Gordon Bland has sent me these. First is Doug in his 1963 hot rod. Gordon has rebuilt that old car to perfection, and on a sunny July Sunday in 2008 Doug climbed "back" in and ran some fast laps at Hednesford, even giving it some opposite lock --- but then Doug is only 84 years old! Doug 1963. New Doug 1. New Doug 2 New Doug 3.

Gordon Bland was also Chairman of the British Stock Car Racing Supporters Club in 1968/69, and co-edited their magazine.

Ancient & Modern: Gordon Bland kindly passed on this photo of the late great Bill Morris and his son Martin, in front of Doug Warner's hot-rod (before Gordon's super restoration).



Martin Morris

had just turned 16 years old when he took a 'prototype' hot-rod to a New Cross Junior meeting in 1962 (May 30th), in an attempt to break the track's 4-lap record. Here's Johnnie Hoskins's programme note (bottom of 1st column, top of 2nd.)

Here is the full roster

of that night's Junior/F2 racers --- some wonderful nicknames. I understand that when Martin was told about the existence of this programme scan recently, even before reading it he could accurately name a good many of the drivers present and recall exactly what he did --- the Morris memory almost 49 years on!



That night's programme also contained this photo of Chick Woodroffe tangled with Johnny King: Woodroffe's 409 is obvious, but which is the King car --- anyone?
August 2010: Viv Harper climbs out of his high-perched car on top of Brian Priddle #696. Photo kindly sent by William Smith, who lived in the same village as Harper (and Tony Wicks, and Ron Pears, and Haley Calvert ---- was there something in the Wisbech water?)
Here is # 661 (recognized by Rick Young as Dave Wycherley from Crowland, Lincolnshire), a bit daring in bare arms. Forty years on, Dave Wycherley is back racing a replica of that Topolino, #661, in the BriSCA Heritage series, and his son races F2's as well.
USAF Alconbury Spartan team member Ed Bilak sends six photos of Junior and Banger action at Brafield and Walthamstow. The digital dates you may see on the photos are NOT from 40 years ago. Unknown Brafield bangers. Banger #664 at Brafield. Ed himself in 653 at Brafield.
Then come three shots of Ed in his 653 Junior at Walthamstow. One — Two (with 204 Tony Southam) — Three (with 216 Roy Clarke). Ed Bilak raced # 653, and here is a super photo of Ed himself at the base on a bright and breezy day, sent in by Hank Nalli. Ed was based at Alconbury and was an ace mechanic, painter, body man, and racer. Ed raced at Kings Lynn, Brandon, and Brafield. Like most USAAF men Ed had the run of the base workshops, a wise policy by "the brass" to make sure the guys were happy on their foreign postings.
Proud souvenirs: March 2011: Ed Bilak kindly sent this recent photo of his Alconbury Spartans helmet and jacket, that he has loyally preserved through all the years.
USAF veteran George Fennell who was based at Alconbury 1967-1970 sent this great action shot of F2 Juniors on a sunny Sunday in 1969 at Brafield. Zooming past are Viv Harper #713 in yet another Topolino [where DID they find those Fiats?] from Wisbech, and Eddie Cunnew #734.
USAF racers: British stock-car racing benefited hugely from the participation of US servicemen from the many air bases, especially in the Midlands and East Anglia. Many are mentioned under the SENIORS IN THE SIXTIES section. Here are some photos from Ed Bilak of the Alconbury Spartans stock-car team. Ed, who was originally from Pennsylvania, has kept some of his mementoes from 1965-1966 and has kindly sent these: Kings Lynn Poster; Brafield Pass and Membership; another pass. Here is Grant Ford, who is also shown further down this page; here is Ron Shomber; and here is a super group photo, and the names are — A2c Ed Bilak, A2c Jim Crye, A1c Clyde Nichols, A1c Mark Thomson, TSGT.Ted Janes, A3cSSGT Grant Ford, A3c James Sawyer. This photo was in the "Photogram" Alconbury base paper from 11th March 1966. Thanks to Ed for this slice of history.
More USAF: A big thank-you to Aubrey Leighton's daughter, Carol Cockings, who gave me a ton of terrific photos, including these of USAF flyer Grant Ford, from the Alconbury base, who raced Juniors under # 664 in the 1960s and who married Miss Brafield, now Maggie Ford. Below, at Brafield Grant gets spun in front of Fred's famous haute-cuisine dining experience:

Grant sits in the fence. Mud splash. Grant as a proud dad with daughter Annette (Notice the Keith Barber logo on the car.). Grant tries to slip through the outside of this tangle. Grant Ford is the sandwich in this night-time crunch with Steve Bateman 676. Parade lap in colour. And mid-parade, facing the camera, at unidentified track.
Brafield pile-up between 637 Reg Spragg and 370, among others. (Photo courtesy Carol Cockings)
Grant Ford in a night crash — track and other car, anyone? Thanks to keen-eyed Ian "Mac" McCarthy, who pinpoints both the date and the track: Walthamstow Stadium in 1965 — 1st October to be precise — and the 541 car entangled with Grant Ford is that of blue-grader Brian Wilcox, a Cornish driver. Mac raced in BSCDA # 641, in Spedeworth #111, and Alwalton Superstocks #33, and still has the Walthamstow programmes for that year and that night.
Two more treats: from the 1960 STOCK CAR HANDBOOK, four years' results statistics; and a LONG EATON programme from May 21st, 1960, listing four American racers from Chelveston (it says "RAF" because the RAF actually owned it.).
Grant Ford with two very well-groomed gentlemen leaning against Grant's #664: Chick Woodroffe (left) and Jock Lloyd no less. Grant rolls his Ford Model Y while #689 [not Bill Barker as previously labelled] leads in his Topolino F2.
What British stock car racing would be like, if the Americans hadn't been here in the early sixties?
More gems from Steve Farndon, [see more below] about his father Sid Farndon's opening and promoting of the Tamworth track. By the way, Sid's older brother Tom Farndon was one of Britain's greatest speedway stars, and rode for the Brandon Bees at Coventry. First, a historic document: in 1960 the BSCDA inspected the facility and gave it this 100% provisional approval. Notice that Fred Mitchell was there to represent the drivers, and Darkie Wright for the Control Board. Darkie raced there in 1960, as did Ted Pankhirst and Pete Tucker, as well as Pat Willis #25 who was also Secretary of the BSCDA. Sid Farndon raced under #224, and here is his licence cover, and his signed licence for 1961.
The very first Junior (F2) meeting held, at Tamworth on August 21st 1960. Steve Farndon has sent these great photos. That day's programme, first list, and second list. CHIPPIE WESTON, that name brings back memories! Then a terrific shot of a cars leaving the track; 123 is Les Wesley. Look at the chap on the bottom right —- you don't see many people dressed like that today at a stock-car race. Then a dramatic photo of starter Jim Beet dropping the chequered flag. Jim was later to be one of the very rare fatal casualties of racing. My thanks to Steve.
In the same month, two people have donated photographs of their fathers' racing activities. First, Neil Walker, whose father Will Walker raced in Northern Ireland, in County Down's CLANDBOYE STADIUM in the late 1960's. Clandboye was managed first by "Barracuda Promotions" and then by Spedeworth. Not only Neil's father but his uncle too raced there, and one enterprising team was soldiers from Belfast's Hollywood Barracks, whose car had real horns attached to the bonnet, and a "tail" of rope hanging from the back; of course it was nicknamed "The Bull". I will simply list the images by number and leave you to enjoy them: 1; 2; 3; 4; 5; 6; 7; 8; 9; 10; 11; 12.
January 2016: Harry Andrews
From Terry, a niece of the Lambert brothers and of Harry Andrews, comes this snapshot of Harry smiling with the chequers at an unidentified track:can anyone hazard a guess from the bit of background? Rayleigh?
Roy Andrews sent these excellent photos of his father, Harry J. Andrews, who raced at West Ham in 1964, and who reached "red top" status. Harry on parade; and then some shots of Harry in vigorous action: 1: 2; 3.
=================================================================================
Terry "Chick" Henson raced this Junior at Brafield at the very first-ever Junior 10 event there; only two Juniors were approved as being to spec., and the remainder were quickly re-classified as 'Jalopies'. These two photos were taken in about 1960. Terry's nickname? "HEN + SON = CHICK" —- the promoters loved to cook up corny nicknames back then. Forty-six years later, here is Chick's car; and another view.
More from Terry "Chick" Henson, and very high quality photos they are too, so thanks Mr Henson. Brafield in July 1964 sees Chick's 177 parked in front of an "ambulance" coach. In the far right background you can see the white 301 Senior of Dirty Dennis Burdett-Coutts on its trailer with its Austin Sheerline limousine.

Two years later in June 1966 Chick is running the popular Fiat Topolino body, here shown getting attention on the centre green (with Fred's Hot Dogs in the far background of course). Getting a nudge in turn 1, courtesy of #502. Mike Taylour from Rugby, #502
died in 2019, and as well as his well known fuel supplies company, was known for his heroic rescue in 2000 of a driver who had crashed into a water-filled ditch.
Rick Young pits shot of Mike. Mike used a very smart van in those days, 1967 photo:

And here's fame for you: Chick Henson introduces sixties pop singer

"Eden Kane"

to the world of stock car racing.


Eden Kane [born in India as Richard Sarstedt] topped the hit parade in 1961 with

"Well I Ask You"

, and had several top five hits, toured with Marty Wilde, Joe Brown, Helen Shapiro, etc. His career later continued in Australia and then the USA, where he still lives. Star Trek fans may recognize him as one of the pilots of the Starship Enterprise. His brother Peter Sarstedt scored with "Where Do You Go To My Lovely?" in 1969, and another brother, Robin Sarstedt, also recorded songs.

http://www.edenkane.com/index.html



Finally, a photo taken at Kings Lynn, also in June 1966, where Terry Henson enjoys the sunshine on a parade lap, and if you enlarge the photo to look at the spectators --- suit jackets, dress shirts, smart ties --- we were not a scruffy bunch in the sixties when we went to the stock cars.
Alan Conway sent me this photo nearly 2 years ago, and it got lost in my files since then. Anyway, Alan was Chissy's mechanic on F2 Junior #552, and here is DC well in the mix with 511 "D.Pakman" and 676 Steve Bateman. Thanks, Alan.
Thanks to Rick Young for this action shot of Todd Sweeney 531 at --- Brafield?? NO: eagle-eyed Alan Humphrey has sent the next photo of the same crash, taken from the other side, and the track is Arlington Raceway in Eastbourne, date 1967.
John Todd, # 631, used to build 'em, race 'em, mechanic 'em too. Here's John on only his second outing (in 1979 ) at Brafield, having a turnaround. [Photo from Paul Huggart's book 'The Complete Book of Short Oval Racing', 1980.] John's first race, at Skegness, earned him one whole quid, for 6th place: the prize wouldn't make you rich, but a 6th place in a debut race was quite something. John also used to build F1 cars, and mechanic'd for Alan Scothern for some years. In the photo, the guy going the right way was Vic Milner #592.
THE INSIDE VIEW: circa 1962, the interior of a Ford E93A showing the driver wisely installed in the centre, away from the right-hand steering wheel. And a fantastic and lucky spectator snapshot of a rather nasty F2 crash in the late 60's or early 70's:
At this point I have removed a photo of the serious Chris Love / Eddie Cunnew crash
Below is an S.C.N cover showing a pit-full of the little 'uns ready to rumble: thanks to Diane Sutton (whose late husband Aubrey Sutton was a long-time mechanic for racer Jumbo Tustin), a colourful and busy pits scene, from 1963. The panoramic photo was actually taken by Pete "Pop" Christie, at Southampton's Bannister Court Stadium (typo now corrected). Pete raced "Juniors" as #682, was mechanic for Bill Barker #681, and later raced Spedeworth as #59. He was everywhere, giving a helping hand and always "boosting" the sport, and a regular columnist for SHORT CIRCUIT magazine. Pete identified most of the S.E.London drivers visible below: 555 Nobby Lambert, 610 Ken Lambert, 643 Danny Bassett, 681 Bill Barker, 230 Johnny Allan, 738 Frankie Wooster, 651 Harry Andrews, and 629 Don Roomes who was not one of the S.E. "bunch". Thanks Pete.

Pete Christie passed away in November 2008.
Scrooge said "Bah, humbug!" This car was nicknamed the Humbug, with its hacked-about Renault 4CV body on Mick Whitney's # 773 at Brafield. Mick was one of the 'usual suspects' from the Haddenham & District Stock Car Club. [Rick Young photo]. 4CV Renault intact.
The Champ: In 1966 Steve Bateman took the F2 World Championship.
Thanks to Allan Wardle for these photos of his father Albert Wardle's car and career in the Scottish stock car drivers' association. Here's an early car, with Albert and friends. Here's Albert's very tidy red-top, note the exhaust deflector. Membership card. And a press clipping that also mentions Pete Dent who of course was nicknamed "Pepso" Dent (groan). Here's a victory-lapping Albert, from a programe that predicted a 1964 championship win. Albert raced at Ibrox's White City track, up against aces like Chick Woodroffe and Jock Lloyd. For the meticulous record-keepers and historians among you, here are some White City line-ups: first, second. These shots from Allan Wardle, Albert's son. Incredibly, fans could see cars like this E-Type Jaguar, back in 1964, putting in fast laps — at great risk from that track fence. Programmes reported that briskly-driven 10-hp Juniors could often lap faster than such powerful but heavy GT cars.
============================================================
Scotty Hewitt: racer, engineer, 'live wire'
Scotty Hewitt, who competed against Jock Lloyd at Glasgow's White City track in the "Junior" F2 class, before heading for sunny California. Scotty raced under the name "G.G.Edwards", and one race is never-to-be-forgotten. Jock Lloyd was already famous and respected, and Scotty deliberately backed down the grid to start beside Jock, who grinned across at him and called out to Scotty "SO YOU FANCY YOUR CHANCES?" Jock waited a second or two before taking off, and that enabled him (and the canny Scotty) to dodge the first turn carnage. Below: Scotty driving his "Zebra CRossing" stock car.
Scotty's words:
"It was the best thing I could have done. I learned so much that night. I was right on his tail lap after lap, sticking with him learning his line and the way he handled that car. I saw that on occasion he would enter turn 4 a little wider than I, so, I said to hell with it, and on the last turn of the last lap, I stuck my S70 under Jock, and it lifted, as I knew it would, but it laid on Jocks car all the way round, and I crossed the start finish a foot in front of the master. In all the races I have run since, and won, none have stuck with me like this one. Jock came to me after the race grinning from ear to ear, shook my hand and said "If you don't die, son, you'll be a hellova racer". The story in the Evening Citizen said The "Zebra Crossing" does four laps on 3 wheels, then wins the main".
That night, the promoter offered cash to any two volunteers willing to race their cars up opposing ramps, collide in mid-air, and drop onto a group of wrecked cars. Scotty jumped at the chance, and his bonus paid for a rare bout of "liquid refreshment" with his pals.
Scotty raced under the name "G.G. Edwards" because at the time he was mechanic and pit crew for the legendary Ecurie Ecosse motorsport team run by wealthy Scottish businessman David Murray, who (true to RAC principles) strongly disapproved of stock-car racing. Their Jag D-Types won Le Mans in 1956 and 1957. Scotty tested their Le mans Healey and their Cooper Monaco cars.
Bumper-to-bumper stock-car racing prepared Scotty for this: while crewing at the Le Mans 24-hour sports car classic, he tested this Cooper Monaco (Coventry Climax motor) and this Austin Healey Sprite, whose little BMC four-banger pushed it to 120mph —- but the aerodynamics gave the Sprite so much lift at high speed that the front wheels were too light to steer properly. Scotty's bold and simple answer: pat the brakes while at full speed, to lurch the car's weight forward and THEN do some steering!
December 2013: Bonhams auction house in London has just sold the complete restored Ecurie Ecosse team cars and transporter for £8.8 million ---------- wow.
Scotty
wasn't done with racing even after he emigrated to work at a California Jaguar dealership. Over the years he has won five regional production-car championships, and has been chief driver instructor for California's section of the SCCA. Who'd have thought 52 years ago that this Glasgow youngster, raised in the Gorbals, racing a stock-car on the cinders of White City, would later be rubbing shoulders with international racing stars like
Innes Ireland
and
Stirling Moss
? In the 1980's he helped Honda with record Bonneville runs solo and with a sidecar; even today all these years later, Scotty still enjoys a fast canyon ride on one or another of his collection of motorcycles. Those who have had the pleasure of talking to Scotty know that he has loyally retained both his home town accent (and his adjectives!) Scotty is also a brilliant engineering craftsman, creating miniturized engines of all types, some of which he has donated to this unique California-based museum: http://www.craftsmanshipmuseum.com/hewitt.htm




================================================================


Ex-racer Rick Young has kindly given me a scan of a White City programme cover. White City programmes from Rick Young's collection include these photos of Bill Thompson, (the programme shows Ibrox was full of Thomson's!) Jock Lloyd (#131 same as his Senior), and a crowded Junior race. Here are some notes from the track and comments from Johnny Hoskins. Lastly, two lists (well here's the 2nd!) of drivers' names from 1962.
Thanks to Pete Schafer for this historic photo. The very first "Junior" formula race in early 1961 at Tamworth, promoted by Sid Farndon. Sid had been chatting to Fred Mitchell about the idea of a small cheap stock car formula, and Fred dug a Ford 10 out of his yard, stripped it, locked the diff, and had Roger Mortimer test it round Tamworth. (Roger was Fred's bro-in-law). Sid Farndon gave the thumbs up, and here is that car jokingly numbered 38 1/2 and painted pink, ready for the first Junior race. Roger went on to mechanic Mitsubishi's international rally cars. This photo came from Fred Mitchell's daughter Pauline Holden (mom to Jason "Hurricane Holden" # 38 today). Sid Farndon himself raced Seniors under # 224, and rose to red-top status and contested the World Final at Brandon. Thanks to Pete Schafer and to Syd F's son Steve Farndon for the info.
"I remember You-oooo —" : Frank Ifield was not just a crooner, he had raced in Australia in a Caddy V-8 [model 60, 1938-41] built by trucker Col Dennis.
The name "SCODA" is not an Aussie misspelling of Skoda --- it stands for Stock Car Owners and Drivers Association. Here is Frank Ifield in England beside Ken Norris's 667 F2 at Matchams Park, Ringwood during a Southern TV news filming. A big thanks to Pete Dodd, who was 795 Tom Pitcher's mechanic. Pete points out that Frank in this photo has borrowed Tom Pitcher's race suit, with its Team Karena "K" monogram on the sleeve. Pete also recognized Pitcher's 795 car and John Holley's 554 in the background. If you are interested in Frank Ifield, here's his website: http://www.frankifield.com/faq.html
Several photos of Arnie Hawes 777, from Arnie himself and also from programmes in the Rick Young collection. My thanks to both. Arnie was from Maulden, Beds., and was nicknamed "The Mad Milkman" because Arnie owned a dairy. Arnie was introduced to stock car racing by Stan Coles Snr, who also painted Arnie's cars.
Here's Arnie's

2nd- place record in a 'consie'

at Brafield

[at 25%: enlarge it].
Arnie in a pic of his car on the trailer.
Arnie's first car, plus 'the kids', both of whom grew up to race in the 1980's. Arnie tells me that although the early Juniors were fun, they were mostly out of control and frequently demolished, and that the later cars were so much faster and easier to handle.
Heat and final wins at Brafield got these trophies, with a well broken-in car: built by Batten, then used by Brian Taylor and Dave Bunt car, 1980's. A Brafield final win was August 1983.
Arnie at speed in the rebodied Dave Bunt car.
And 'man at work' on his 1300 crossflow Ford lump, Cosworth pistons, dry-sumped, Holbay exhaust, steel crank, roller rockers, twin Weber 45's — 'the business!' Probably 1984, when F2s yused Yokohama tyres.
Oops: the wrongly-identified car that was here: actually Brian Ellard's. Now removed.

The famous (some say infamous, with a grin) Pete Tucker loved the then-new "Junior" formula, which made exciting racing possible at minimum costs to promoters and drivers. Here Pete, the winner, is at New Cross stadium (SE London) in 1962.
Pete wrote and published the fascinating and entertaining THRILL OF THE CENTURY, once out of print but now in 2010 available again. In 2010, Pete is still up and about and busy with his company TUCKERS USA CARS, and has a hundred rip-roaring stories of his racing days that'd make your hair curl; Pete's a national treasure.
February 2010: In 1962 at Brandon, Chick heads into orbit, while Pete Tucker 85 sticks to terra firma.
Keith Barber: historian, builder, racer, journalist, publisher, graphic artist, one-time Long Eaton track promoter, and 100% stock-car devotee, who I was lucky to snap on his victory lap in his beautiful #422 Junior at Brafield, early 1960's.
In 1998 Keith began fostering the "Heritage" movement, encouraging the building or re-building of 1960's racers, and has completed a rebuild / creation of Aubrey Leighton's 42 and Roy Goodman's Ford Pop, as well as his own once-famous "little red rooster". Here's the cover of Keith's 1971 book, WILD BILL TO WILDCAT, a great potted history of the sport, which later blossomed into the big book THE BIG LEAGUE. Both out-of-print rarities nowadays. (Keith deserves chequered flags to this day, in my opinion.)
Here Keith Barber shares his trophy limelight with Miss Brafield (Maggie Ford). Keith beside his controversial 686 car, which I believe he converted from a "pickup" to avoid a rules ban. Keith has a big K on his overalls; notice the grandstand tocket was 2 shillings back then. This shot shows Keith in USAF flyer Grant Ford's car. [Photos from Carol Cockings] A pits shot that I snapped of Keith B's slick little Morris: Keith's #422.
Here is Keith Barber in 1966, happy to receive the Essex Trophy from oh-so-smart Jock Lloyd. (Ken Mason scanned it.)
One of the numerous "Beds 'n' Herts" stock-car crowd was Dave Gibson #785, shown here a bit sideways on a wet Brafield track. That corrugated-iron grandstand took a hike during a hurricane and spread its bits all over rural Northamptonshire. It was absolutely deafening under that roof when a pack of open-exhaust F1's came out of turn 4.
Two photos that someone sent me, and I forget who. Brafield's the track. In the first photo, we see 519 Ralph Bruce helping a younger Dave Chisholm 552 , and in the second photo Johnny Walker (no whiskey) in his tiny "Wildkitten" copycat car chases 704 Pete Vincent from Bournemouth and the famous Eddie Cunnew 734 from Keysoe Bedfordshire. And another big thank-you to Rick Young for digging those names from his archive.
October 2011: Talking of "Chissy": thanks to Steve Harrison, here's a younger Dave Chisholm #552 obviously headed for great heights --- not just later in his F1 career but right here above Brafield's turn 1. Bang.
Maybe the first of the "special" Junior F2's, long before the Bill Batten-style aero-featherweights:
I put the stopwatch on Andy Webb when he practised with this little bomb after the races at Brafield 1963/4; he nearly equalled George Ansell's Senior laps. This pic stirred memories for Brian Goodspeed, who told me in summer 2000 that he was at that same Brafield meet and watched this little screamer tear up the tarmac; anyone else see it? Remember that these were only 1172 cc side-valve motors.
Thanks to Andy Webb, 40-something years later, for the following info on this super little car. Andy backed up my comment elsewhere on this site: nobody ever saw Fiat Topolinos on the road, but Andy and Ian Durham found two side by side in a scrapyard in Bloxham. Steve Bateman found one in a yard not far between Northampton and Brafield — who was scrapping them? The car in the photograph had been debuted the night before, at Harringay, where its slick appearance drew so many people that Andy could hardly get back to it after booking in. [I remember the admiring mob at the pit gate as Andy took it out for practice after the Brafield meet.] Andy also mentions a bump-and-spin with Johnny Marquand's car at Harringay which led to lively 'exchange of opinions' between them after the race --- which left them lifelong friends. "Great days" is how Andy remembers the spirit of those times. Nowadays [until 2011] Andy and Johnny used to beat each other at golf, as competitive as ever.
Here's his buddy Johnny Marquand # 689 celebrating a win at Brafield (thanks to Alan Humphrey for the correct number)(Carol Cockings photo).
Andy Webb tells me he first raced at Brafield in 1963, helped by Steve Bateman, Ian Durham, and Bruce Laurie.
2011: Johnny Marquand passed away this year at the age of 74. One of his friends and rivals was Don Roomes, who recalls a lively Plymouth final, which he and Johnny started from the back, having won their heats. Marquand was leading until late in the race, he passed a white-top, and the pursuing Don quickly "used" the white top as a cue ball: JM flipped and DR took the chequers. For many years afterwards, Johnny believed it was the white top that had fenced him, till Don let on at Don's 60th celebration at Smeatharpe! Johnny Marquand and his brother had a transport business that included hauling to and from Covent Garden.
This photo, from a fan magazine, was sent by Rick Young, but I think I have pretty much wrecked it with my computer. Brian Jones, # 551, drove up from Hockliffe, Bedfordshire to Brafield with this nice little F2 and found the fence.
With a name like SWORDER, you know you're going to make an impression; Dick Sworder's car, shown in approx. 1964 was #720, a Topolino bodied Junior F2, and you can see the twin carbs peeking out. A dull rainy day at Brafield, but the crowds were there as usual. Want to see Dick in his big Senior car? There's a shot of him in a monster four-car sandwich, in the Seniors section. Forty years later his son Mick Sworder would be winning too, in F2 and F1. The Sworder family were / are in breaking / salvage / coaches etc, and one of their premises at Molesworth (once belonging to the "infamous" scrap characters Joe and Jacob Hunt) sits close to the "hush-hush" RAF / USAF base at Molesworth in Cambridgeshire (on Google Maps you can still see the reinforced bunkers that held cruise missiles until 1988.)
What an entrepreneur: promoter (West Ham, Arena Essex, several more), smiling bespectacled pipe-smoker, invariably with a feather in his hat, and racer of both Junior and Senior class cars, and proud wearer of # 1. Chick hit BriSCA in 1961 after a spell in go-karts. Chick's Junior on a parade lap at Brafield [Rick Young photo].
Below: Chick's Junior #1 (he also raced as 409) sits on the trailer while his big 'un is tready to race at Coventry in 1965/66.
Very similar photo of Chick's two cars, and leaning on them is a young lad called Rick Young who would himself race F1 and F2 cars. Chick Woodroffe passed away at the end of 2000, after a non-stop busy life racing and promoting, all in the face of tough health problems.
In 1964-65, when the M1 motorway was new, the road research boffins wanted to test some safety fences and barriers, and shrewdly they asked Chick Woodroffe to come along and crash into a barrier. Pete Arnold's notes in Harringay's March 1965 programme say that Chick offered to bring his big 'un or the Junior, and the scientists cautiously settled for the Junior. For a lark he first did a ram-and-roll-over, then backed up 30 yards and charged and demolished the fence. I hope the experts learned something.
February 2010: Chick Woodroffe #409 parades his 1962 championship trophy at Brafield. Don Roomes is driving Chick's car for him.
The mad artist at work. John Davies #754 from Highbury, London was years ahead of 'psychedelic flower power': Ford Pop 1963/4
Two friends enjoy the calm before the race, in Brafield's rural setting. Number 724 is American airman Dick Hawkins of Houston Texas, and 230 is Johnny Allen from New Cross, S.E. London. Below, "Tex" Hawkins:
Dick Hawkins trying to dodge a collision coming out of a Brafield corner [DY photo]
May 2010: Thanks to Nigel Harradine for this pits photo from 1965 of Texas racer Dick Hawkins, parked beside 606 Bryan Hinckley and 83 Tommy Keep.
No dents yet: Den Rothwell's 722 Fiat Topolino-bodied Junior. Where did all those Topolinos come from? We never saw them on the street, but there were scores on the race tracks.
Alan Russell #621 brightens the Brafield rain. That radiatopr gille is from a light-weight Bradford van., made by Jowett from 1947 to 1953. Alan was from Toddington, Bedfordshire:
A few years later, some before-and-after shots by Dick Young that Alan Russell might like to forget: before and then after the roll. Alan's brother Ian Russell later raced number 38 in Formula Ones.
This Triumph Spitfire was a different looker, compared to the Ford Y's around it: Gordon Aucott
"Waltz me around" Juniors mixing it up at Brafield #713 is probably "G.Worthington" from Romford. Notice the steel I-beam ("RSJ") posts and steel cable fence — those bags-of-straw and old tyres helped a bit. I still remember the sound of a car snagging its rear axle on a post, at full speed: some cars ended yards further on minus the whole rear end.
The three photos below, courtesy of engine-man Mike Rust, are from 1968/69. Norman Ricketts from Haddenham, Bucks., was the driver; he went from white to red top eventually in about 1971. Car #604 [in Brafield's pits next to #693 Allen Young and #520 John Bush]. Norm's car had probably the ultimate 1172 side-valve Ford motor ever built. Mike Rust built the motor, and sent me these slides. The body is a cut-'n'-shut Fiat 500. The special exhaust was by Janspeed. That engine: A racing Weber carb on a Janspeed manifold — nearly everyone had used SU's up to this point. 604 could be revved sky-high to 8,000rpm, thanks to some rare and special Formula Junior (ie RAC circuit racing) con-rods of super-hard steel that drove machinists crazy, and were the last set of a batch fabricated. Mike Rust remembers the kindness of the great John Holley, who gave their team a Mini oil pump along with advice on using it with the dry sump they had contrived for the old 1172; the pump's compact size made it easy to install on the 1172 cam drive. The cylinder head and the flywheel were special aluminum Aquaplane items. They canted the engine over at 15deg. to improve fuel-air inflow. The motor parts were balanced, crank hardened and ports "flowed". The valves were huge Bill Cooper specials, and the whole thing was actually tuned on the dyno rolling-road at Downton's in London! Bill Cooper was a top-flight Formula Junior racer who literally wrote a book on tuning 1172 motors. Thanks to Mike Rust for the technical data.
In the drama below, the overturned car of Nigel Harradine 717 ---cont'd:
--- had been snagged by Norm's bumper and dragged all the way from the Brafield pits entrance — Nigel tells me that while upside down, the petrol from his upside down tank was dripping 'down' into the roof, which was having a hole ground in it by the tarmac. "Fairly lucky escape, really" says Nigel. Nigel retired in 1978, then retired again in the late 1980's, then again, then raced in 2006, then raced again in 2007, and this year 2008, the "retired" Nigel Harradine expects to be out on the track yet again, under #97. This is a happy man who does not know how to stop.
Also visible in the photo are: 652 = Ken Horne, 773 = Mick Whitney (both Haddenham; Mick was an auto mechanics lecturer at Aylesbury College); 650 = Roy (not Ron) Innocent of Northants; 672 = Peter Baines (Lincs, and later the 3-Star promoter); 698, just visible in the pits shot = Jim Welch (Lincs, later the Spedeworth Superstox champ); 520 (man-in-the-window) = John Bush from Raglan, Monmouthshire; finally, 717 = Nigel Harradine from Hatfield, Herts.
Still more of the inexplicably numerous Haddenham bunch were Tony Southam, Mick Penn (who mechanic'd for Tony S.), and Brian Baker (a BriSCA scrutineer). Also, Bob Boddington whose F1 car was 196, and his F2 car was 596, and an honorary Haddenham club member was F1 racer Dave Saunders #227 — who actually lived in Wendover! According to Mike Rust, the local saying was "The Bucks are from Berks and the Berks are from Bucks". And they say cricket fans are fanatics for detail. Thanks to Rick Young and Mike Rust for this mine of information.
A Brafield photo taken in 1966: #707 is Johnny Sparks (I'd pay to have a name like that.), with #611 Nick Edwards, two racers who made the trek from Cornwall to Brafield Dick Young photo.. Here's is Johnny Sparks 707 unloading at a snowy Norwich December 1962 race.
Stan Stacey #290 towed down from Alton, Hampshire to snowy Norwich 1962: that's 170 miles! It's possible that Stan knew Les Eaton, who was also from Alton.
The similar-to-F2 "Trackstar" machine of Dick Willows, lurking in the back yard. Dick built the car with racer Pete Prince, and raced at Boston stadium, Lincs. (Photo: Paul Durham). Dick Willows began as spanner man for racer Peter Prince, and went on to completely self-build this car: Prefect front with Corsair discs, Minor rear with welded diff., and a full-house 1000cc Ford circuit racing engine from Alan Scobie — topping out at 9000 rpm, it was a bit peaky for oval track combat! Dick later moved onto rallying.
February 2011: Before we move on to the Seventies, where a mass of F2 photos can be seen, here's St. Austell from way back in 1966. John Langston sent these two programme covers, which oddly show an artist's impressions of "Vauxhaul/Ford" saloons: 23 August, and 13 September. John also sent the following:
Plenty of action here, at Ringwood and look how high the fans have climbed to get a good view. 735 is Cecil "Wiggy" Bennett and 253 is Eddie Asling. Two "maybes" are 599 [Brian Mills or Roger Legge] and 508 [Harry Collins from Launceston].
========================================================================================================
Next Decade:
The 1970s
+++++++++++++++++++++++++++++++++++++++++++++++++++++++++++++++++++++++++++++++++++++++++++++++++++++++
Al Reeday
from Plymouth was well known for brilliant racing and for quality oval-track car construction at his garage, Reeday Motors, where Kevin Stack's #628 car was built. (Today Al can be seen
on the road with a 'big-bike'
group of Plymouth pals). When tough guy Les Palmer first got into oval tracks, and wanted quality, he picked Al to build
his hot rod mini.
Al was a frequent chequered flag winner at St. Austell and Newton Abbot, once winning 6 races in the course of 4 race meetings in 1975, and F2 Review predicted a red roof in the very near future.
Al Reeday with a familiar chequered flag:
Al Reeday second from right in a snazzy shirt ;-)
:
Pitted next to 656 Sid Collings:
Lasly, some "mug shots" of Al Reeday and 17 of his stock car rivals:
-----------------------------------------------------------------------------------------
Courtsesy of Steve Palmer, who scanned this programme at very high resolution, in this pdf file (clck on link):
Mendip Raceway 28th May 1973 with results written in.
Les Palmer
The fans, the drivers, and the authorities all knew Les Palmer. Those who loved action on and off the track, said "Hooray, here comes Les Palmer." As often in stock car racing, there were other opinions too! Here are two cuttings from the 1970's:
Les's business interest was taxis, and his racing interest was 'war on wheels':
Mendip in 1971, and here is Andrew Roebuck #370 on his side:
Let's jump forward to 1977, when the F2 World Final was held at Smeatharpe Stadium, and here is a direct link to a high-resolution pdf file, 20 pages, of that meet's programme, kindly scanned by Steve Palmer.
(I wonder if this driver, racing that day, is any relation ---)

This was only Smeatharpe's fourth year of operation, yet the race attracted racers from almost 400 miles away --- County Durham: 560 John Moore and 556 Frank Horner. Roy Goodman also brought in legendary lap scorer Ken Mason, and Brafield's familiar announcing voice, Bev Greenhalf.
Second place in the world final went to 628 Kevin Stack from Cullompton, and third was 553 Mike Nancekivell. You can guess who won ---- the results are neatly penned in on the programme. Big thanks to Steve Palmer for this scan.
=========================================================================
And here is the Formula 2 Review magazine from October 1977.
A pdf file, scanned and sent by Steve Palmer in high-resolution, so opportunities to 'grab' and improve some photos.
February 2017:
Thanks to Nigel Hosken for these photos and memories from his time racing in the South West in the mid-seventies.
Nigel raced in 1975-1976 with his stepfather Nick Edwards. His first car was built working with Nick, a skilled fitter, using Nigel's bodywork and welding skills [ "something you need in the racing game!" ].
In his second year, Nigel drove an ex-Batten car, while Nick Edwards took over the first car. "We raced at several venues through the summer, mostly promoted by Trevor Redmond. St Austell on a Tuesday evening, Newton Abbot on a Wednesday evening and possibly St Day on a Thursday evening, leaving Sunday which could be any of these tracks, or Mendip Raceway Bristol, or Smeathorpe Taunton or further away."
Smeatharpe was one of Nigel's favourite tracks, where a win got him a trophy from Merv Hutchins of Mandrake Motors. He also enjoyed sliding to 2nd place behind Ian Illman at the shale Weymouth track.
Below: The 599 car on 27 July 1976, after a win at St. Austell:
If anyone has photos of Nigel Hosken's racing, feel free to get in touch.
============================================
August 2015:
Pete Jones and Mick Avery were racing pals back in 1971, and both achieved red-top status. Pete has just sent me two "new" pics of himself in action. From Ripley in Surrey, their workshops were near Geoff Rumble's well-known DASTLE outfit, where oval-track midgets and circuit-racing F3 cars were built. Pete helped build Mick's Mini-bodied car [662 below] and took it over when Mick Avery went to DASTLE, where in 1972 he actually built an F3 Dastle on behalf of Lord Hesketh [left], for James Hunt [right] to drive. You could say that Mick put "Hunt The Shunt" on the road to his 1976 Grand Prix World Championship. With a Dastle midget, Mick went on a racing tour of Jamaica. Later he worked for Colin Bennett's historic Lotus F1 team, about 1989.
January 2014: Pete Beckenham and his brother Stuart grew up watching stock car races at St Austell and Newton Abbot where Trevor Redmond promoted. Johnny Marquand was their hero, and like many youngsters they remember seeing his stock car parked outside his garage in Notter Bridge. Pete and Stuart built their first car in a nearby field, without electricity, so the work was all hand tools and bolts, and the seat was made of wood. "Later we taught ourselves welding and building engines." Both brothers were draughtsmen with a good eye, and they did a "share and share about" by swapping numbers 618 and 619 on the car every other week. Eventually Pete raced in the 1973 World Final at Bristol ---- in his brother's car because Pete sold his own before realizing he'd qualified for the WF :-) He worked his way up to 8th spot when he tangled with Tony Norton's low-riding special, and both were out. Pete was a pioneer in fitting a true aerofoil to his F2.
Pete sent me some photos, and I am also adding here a couple that Kevin Crabtree had sent me.
First, Pete with the chequers at Newton Abbot in 1974. [Check out the photographer's flared jeans in the background.]
Two photos sent earlier by Kevin Crabtree:
568 is Pete

and brother Stuart 618. [Pete had been off for a season and was then assigned #568.]

===============================================


May 2012: More photos courtesy of Steve Harrison. (Steve raced a bunch of formulas: Bangers, but also Rebels, Stock Rods and Lightning Rods, between 1985 and 2005.) These were taken between 1971 and 1974, at Brafield.

March 2011:
With petrol at 68p and tracks paying £3 appearance, a person in 1978 could get something happening without breaking the bank.
Malcolm Brown
, who has contributed quite a bit of info for this site, worked in his lock-up with basic tools and odd parts, to put his #601 on the track at Skeggy, and
here he is under the floodlights
. Twenty years later Malcolm was a winner in Skegness's Mazda BangerRod class. He also has some photo albums viewable online at
The Brafield fence claims another victim, and starter-flagman Roy Johnson looking at the parked car of 707 Ian Hill from Oundle, Northants [identified by Rick Young]
August 2010:
The Boston, Lincs track is alas no more, but here is Trevor Webb #318, very pleased with his chequered flag. Photo from William Smith collection.

November 2010:

Tangle at an unidentified track. #550 [John Risebrow, thx Steve Pringle) and 505 John Wilkerson go straight, while 702 [George Hands from Harlow] gets nailed, and 750 Jack Kitchen goes backwards. Photo courtesy of Stockcar Supporter magazine.

July 2010: Big thanks to

Kevin Crabtree

for a

HUGE

collection of about

300 photos

that he took at Brafield,
Mendip Raceway
, Newton Abbot,
Ringwood,
Smeatharpe, St. Austell, St. day, and one at Plymouth's Pennycross Stadium, between 1970 and 1976. I
f you want guys who can throw a lightweight car round a tight track very fast, you should look West. The F2 world championship has been won ELEVEN times by Cornishmen. Is it the china clay or the tin in the water?
Kevin used this trusty old reflex "Brownie Box" camera:
Please read this: One of the

South Devon Herald Express

newspaper's editors fondly remembers the action at Newton Abbot, and published this excellent article about the stock cars and bangers. (copied-and-pasted from their website onto a PDF file).


August 2010:
Action at three tracks in 1970-71, thanks to Kevin Crabtree -----

"

Brafield Bashing

": 593 Pete Coppenhall in a tangle with 696 Brian Priddle and 604 Norman Ricketts.
Then 609 Walter Breakspear upside down; Walter was in scrap and skip hire, based in Wantage, Oxfordshire. Then the whole gang piles in: 692 is J. Harris with 603 Norman Pavelin.
Ian Chisholm's 632 car does it right.
John Holley 554 leads 573 Stan Style, and 693 Alan Young, all drifting neatly out of turn 4 facing Brafield's shady grandstand.
Completely sideways, 672 waits while 593 Pete Coppenhall checks his pedals, and 703 Bernard Haynes escapes.
Two similar Topo specials dice it out: John Lynes 684 leads 645 Dave Langridge. Derek Payne takes his hands off the wheel (short sleeves, bare hands) in his #733.
Not much stock metalwork left on Chris Heath's #724. [Ten years earlier, 724 had been Texan Dick Hawkins's number]
Here in 1973 we see a big spin by 594 Rodney Avon, in company with 506 John Adey and 721 Brian Hook.
Next, is that a spin starting, or is Mick Whittle 716 performing a great opposite-lock entry? He's being missed by Tommy Pitcher, while 570 Mike Archer scoots ahead.


November 2010: two more from Northamptonshire's action track:

Ron Innocent's low-slung 712 car

dives for the corner, watched by the "Crowland Jackdaws" supporters club.

All hell breaks loose

at Turn 3, with 765 Nick Falcon pinning 575 (?Randy --?) to the wall; Ron Innocent is diving in, behind

the barrel;

727 going out of the shot is Ron Honeyfield; 753 may be Andy Morris. Any help appreciated

!

April 2012:

Roy Goodman

was always happy to pose with a young fan, here at a South West track

[not sure which]

in 1975. Courtesy of Andy Surridge.





"

Mendip Mugging

"

has cars 609 and 696 re-appearing, with 721 Brian Hook. high on that lovely west country range of hills. Then Ron Slogget 606 battles with Ian Illman 784; and lastly Roy Goodman chases Mick Whittle 716.

Mendip Raceway

really flourished with the West Country upsurge of Junior/F2in the 1970's:
--- and again the fans turn their backs on that panoramic view in the background, to watch #685 scoot past a pileup involving 646 [Eddie Asling?], 597 Bernie Perry, and 573.



More Mendip

: a pits walkabout with Kevin Crabtree's camera features 11 cars in

August 1972

:

November 2011: From Russ Thomas, another shot of the

Lotus Fraud of Brian Jones

, this time at Brafield --- a unique body.


Mendip walkabout

again on October 1972:






NOVEMBER 2010:

Mendip Raceway in April 1974,

and Kevin Crabtree was there with that camera!:




In licence number order as usual:



C grader #502 is Pete Morgan
C grader #509 is Richard Archer's car, fitted with two twin-choke Weber carbs [not easy to synchronize]
Charlie Reid's #516 white top, an odd-shaped car with an 'aero' panel on the side.
Looking like an untouched first-time-out car, Alfred Vowles's #518.
520 is John Bush's yellow-top.

Below, #539 with a cut-and-narrowed Anglia 105E body, is Barry Oglesby's handsome yellow top.




"

Ringwood Rampage

" has old pals Ray Lines 613 leaping a barrel while his buddy George Kneller 612 stays clear; and Tony Meaden 544 spins with Brian Smith 751.
Johnny Walker in his beautiful #629 special.


"Every which way but loose"

, as Mike Gale 567 spins free of 675 Terry Trew, 663 Pete Jones, and 611 Nick Edwards.

Kevin was already spectating at Newton Abbot's track by the age of 13, and later started racing F2's under the sponsorship of his father's electrical engineering company, though Kevin himself went into the motor trade, eventually at a major Rover (later Mazda) dealership in Torquay. As a youngster he was good friends with Roy Goodman, the longest-racing competitor in stock car racing [?], who was in the books already in 1955.
Next,

1970

(and where noted, August 1972 photos)

pit photos from

Newton Abbot

, in numerical order of registered racing number, and IMPORTANT: if you happen to know any of these drivers, I am always happy to hear more info: spratton@hotmail.com

554 again, in April 1972, still a red top, John Holley.
554 John Holley himself [BriSCA Annual]

562 is another red top, Richard Doidge ('70)
563 is Dennis Harris's blue top (Aug 1972)

564 is Rory Wheeler, looking very un-chuffed in his car!

565 is Walter Bovey, the bearded farmer from St. Austell, and again here.
566 is Terry Harris's yellow top.

567 is Mike Gale's blue top, pitted next to Howard White
570 in April 1973 is Mike Archer's star-grade car, 'sponsored by Wynns' and lloking custom built..

572 on the trailer is St Austell blue-top Reg Hawkin

584 is red top Selwyn Pook, another red-top Cornishman ('70)
599 is Brian Mills, C grade
602 is Ted White's blue top (Aug 1972)

607 is another C grade, Norman Butcher
611 is red-top ('70) Nick Edwards

611 Nick again, but two years later on with a blue roof and we have to say a 'basic' body.

613 is Ray Lines from Southampton and his buddy George Kneller ('70) Ray became promoter at Weymouth's Radipole Lane track in about 1973, and George's son Gary Kneller earned pocket money by selling Stock Car Magazine and programmes there. Ray joined the Veterans in more recent years, and his son races F2's today. Thanks to Gary Kneller for this background.
613 Ray Lines again, in April 1972

626 is Ken Fretwell --- and this beautiful photo has an eerie 'lonely landscape' quality; could be the 1940's, below:
.
627 the famous Howard White, red top from St. Albans. In April 1972, Howard again in a Higman car.
627 again in April 1973, Howard with even less bodywork and a far-back cab.

627 Howard White, from the BriSCA Annual of 1973

631, from Plymouth, and looking like his blue-top tangled with the Spanish Armada, is Brian Glynn.
but in August 1972, #631 was worn by C grader Derek Groves.
632 in August 1972 is white topper Pete Snell

635 in

August 1972

is white-topper Nick Coles
639 is Bodmin racer Brian Sanders

642 is Pete Poole from Bedford.

651, one of the racers who moved F2 design forward, Billy Batten from Liskeard, below:
655, John Peet takes a break in the sun.
657 is Steve Brantom, showing some neat 'wedge' sheet metal work.
661 blue topper in 1972 is today's Heritage racer Dave Wycherley

662 is Mick Avery
663 is Pete Jones
665 is Roy Hinton from Swindon
671, and another wonderful Cornish name, Denzil Trennery from Newquay
673 on track is Tony Slocombe chased by 704 Pete Vincent; and here's Pete Vincent

again

673 another shot of Tony, who was from Chudleigh
677 is Austin Travail
brothers Cliff (688) and Gordon (687) Maidment, from Southampton

689, a well-liked character, a world champ , the great Johnny Marquand of Notter Bridge

who raced for many years

, in fact from the very start of the sport in 1954. Johnny was world champ in 1965.

691 Nat Barkwell customized his bodywork this way, and that way. Nat was from Dunchideock,

[pop. 262]

and there's a prize if you can pronounce that.

692 is the compact little special of Charles Williamson, and that exhaust trumpet must have sounded good: below: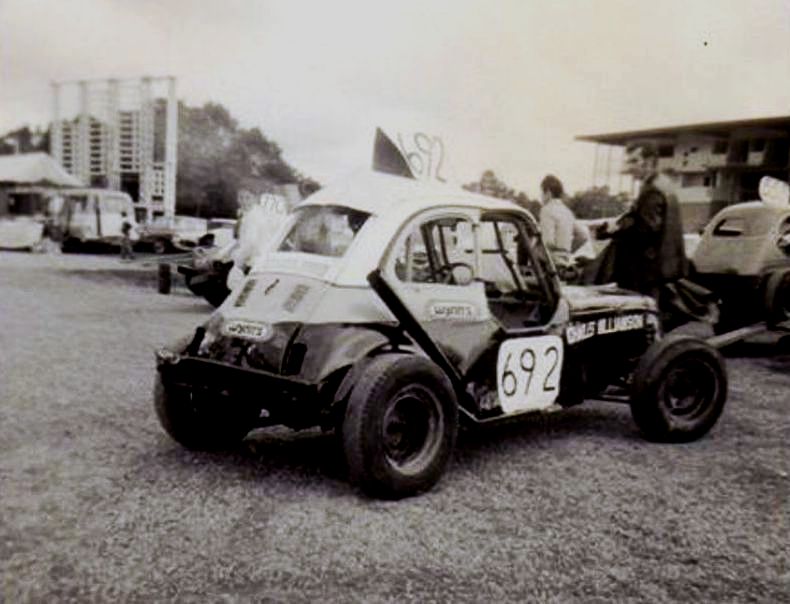 but two years later, 692 was worn by yellow top Vic Jackson

703 is Bernard Haynes, who also hammered that then-popular wedge in the Topolino roof --- although if you were careful with your paint line, you could mimic a Topo roofline on other bodies.
705 is Keith Trennery, brother of Denzil

708 is Geoff Brown from Paignton

716 is Mick Whittle from Hinckley
734 is Eddie Cunnew, son of pioneer Ted Cunnew of the famous Cunnew clan from Keysoe, Beds.
734 again, as a blue top in summer 1971 at Newton Abbot; Eddie at one time raced under 727.

739 is Torquay's Brian Thompson

735, nicknamed "Wiggy", is red top Cecil Bennett from Millbrook; and here he is in summer 1971 with a blue roof
743 is Andy White, a White-top!
744 is Roger Hollingshead, wearing a red-top in his borrowed Goodman car
745 is Steve Brown in 1972, with a yellow top beauty
746, also in August 1972, is yellow top George Powell.

752, next number in line, is Mick Blake sitting in his blue top
753 is Victor Whittingham --- was the roof 'wedge' there to cover the roll bar, or was it a fashion?
755 is Bob Turton's Ford bodied car

760 is Dave Symes from Bridport [corrected]
770 is Martin Farrell [1970 photo] from Bristol and Plymouth, and again later:
782 is Eric Bratherton
795 is

Tommy Pitche

r, car salesman from Christchurch
795 in

April 1973

, Tommy's new-age space-frame custom-tin red top surrounded by admirers;

"a car that changed the game"

says Kevin Crabtree. Some call Tommy "the father of modern F2".


798 is Bill Small from Carnon Downs nr Truro, with "cool" vent holes cut in the body (copied by others), below:
Moving on to 1971/2 and 1976
, Kevin returned to
Newton Abbot
and found these guys ready for action, again in numerical order of racing number:
519 is Ralph Bruce, who also raced at Brafield against Dave Chisholm in F2
528 from Bristol, shown below, is Eric Weeks's handsome chunky car.
529 is Jeff Brown's white top, with the exhaust blackening the Topo body.
531 belongs to farmer Nick Prouse
533 is a great atmospheric photo of a low-slung racer, alone in the landscape; Clive Wilcox

535 is Ray Williams (one of three racing brothers) from Southampton ---
and 546 is Mike Williams from Callington [no relation]
557 is Neil Middle from Taunton, and here he is again with the low "ground effects" body and chassis.
560 is Ray Johnston's radically narrowed and sectioned Ford Pop

570 is Mike Archer from Barnstaple, and here is Mike's Topolino again.
579 is Roger Butt's mini based yellow top

582 shown below is Barry Moore, draughtsman and postman from Ipplepen, Devon:
583 is Dave Brown from Looe, and, wait for it ---
one month later Dave takes the World Final checkers! Dave's wife Pat, unusually, did all the engine work on Dave's car.
Dave Brown's driving and wife Pat's engine work brought THREEE F2 world championships 1971, 1974, and 1979.

588 from Barnstaple is "Tiny" [Martin] Saunders

591 is Dave Hill from Torquay, with friends; what you'd have to call your basic tin bashing job

592 is Jerry Williams, brother of Mike, from Callington, in Cornwall
594 is Rodney Avon's white top; new bodywork, modern inclined shicks, interesting rad protection; no dents yet!

597 is Bernie Perry's mini with a thoroughly-hammered bonnet
599 is the car of C grader Roger Legge, sporting an inverted airfoil on the roof

600 is the beautiful car of Bournemouth's Tony Norton and again from 1970.
602 is Ted White's C grade car

603 is Norman Pavelin's yellow top on the trailer .
and later, in

April 1973

, Norman sports a blue roof, in a desolate background field
#612
below is
George Kneller
's full-bodied Topolino, from Southampton, below. George, a motor mechanic, raced from the very beginning of Junior F2's, under #712, in a Y model Ford, which he sold on to John Searle from Hythe, nr Southampton, who raced it under 697 at Bristol and Brafield. George raced at Southampton, Ringwood, Plymouth, Newton Abbot, St. Austell, Brafield, Rayleigh, Stoke, Swindon, Bristol, and Weymouth, and retired from racing as a blue-top in 1976. The long drives towing the stock car wore out two Hillmans, one of which was "recycled" into an F2 car by the Williams brothers. George's son Gary went everywhere, he and his brother sleeping in the Minx and dashing around the pits with a watering can for radiators. George's wife Doreen did her share of races in the "Powder Puff Derbies" put on by promoters like
Gerry Dommett
and John LaTrobe at Swindon, Brafield, and Ringwood. Doreen took Johnny Marquand's fast car out and won a race, and was so quick that at Brafield she was handicapped half a lap so that she came second to Steve Bateman's wife. At 82 years of age, George Kneller still tinkers with cars, and with buddy Ray Lines never misses a Poole Pirates speedway night on Wednesdays --- you can't stop those old guys. George's son Gary provided this info.
December 2010:
Ride 'em, Roy

Bit of history about
Newton Abbot
and those cooling towers you often see in the background of the photos;
For 50 years the skyline of Newton Abbot was dominated by a power station and its giant cooling towers. Built on Jetty Marsh in 1924, and demolished in 1975-76, the site is now a nature reserve, though the old surplus slag is still around and used to level sports pitches, etc. [Wikipedia].


Thanks to
Kevin Crabtree
, ex-F2 and Heritage racer, for digging up this history.
The South Devon HERALD EXPRESS editor

Guy Henderson

describes just one highlight of Trevor Redmond's on-the-ball promoting at Newton Abbot: some students from two nearby language schools began attending the races there. When quick-thinking Redmond spotted that the two schools had different colours (red-and-white and blue-and-white), he had the brilliant idea of encouraging some banger racers to

paint their cars

in one or other colour scheme --- with the result that

busloads

of students came to the track to cheer on "their" cars. Today's promoters could take a lesson from that ---.



St. Austell
--- what with speedway in the early years, the plastic-domed "Eden World" for eco idealists, and stock cars too, this Cornish riviera town has been busy.
January 2013:
Arthur James
, briefly a stock car owner, sent me
this 1970's poster
, which he acquired from the South West track commentater Bill Dalley.
Kevin Crabtree took the following photos there in spring-summer 1971 and 1973:
517 is T. Minnear's well-hammered Fiat with lots of driver padding and not much side armour
529 is yellow roof Anthony Pooley's stylish cut-and-shut Ford Pop
575 is Alan Barriball
in 1973 Alan Barriball had the new-style car, blue-top grade, and was registered under #578.
582 , below, was Barry Moore, another blue-top, with immaculate sheet metal and chassis, and just a hint of a stock roof. Notice also

the new

shape of the 'door', the sloped-oval cutout used by Batten, Brown, and other pioneers.

September 2010:
St. Austell
's 1972 World Final:
Eleven pit photos from this prestigious event, starting with "The Irish Army".
Five Star (red tops) drivers came over from Northern Ireland to do battle, and one of 'em took back the World Championship trophy:
Alistair Jackson, NI 26, had a streamlined car, with a 'breather' for the carb.
Ivor Greenwood, NI 37, had a bit of A40 at the back, and some cartoons on the bonnet.
September 2013:
in 1975, Greenwood installed a unique "De Dion" rear axle, which somehow squeezed through the F2 rulebook; it allowed something close "independent suspension".

Ivor was a brilliant engineer and an intrepid moptorcycle racer in Northern Ireland, during Joey Dunlop's era; he alsi built bikes, raced hot rods, and flew his own plane.
Among England's racers were these six:

December 2010:
"Flypast" at St Austell


Smeatharpe Stadium
in Devon was a Roy Goodman development that later went to Trevor Redman and Autospeed.
506 is --- handsome shaggy mystery man --- Kevin Crabtree photographer and racer, himself.
591 is Robin Pearce's Bunter-built car, beside

553

the car of lanky Cornishman Mike Nancekivell from St. Germans
Might as well see another shot of Mike N's 553, at Newton Abbot in 1970.

656 is the Sid Collings [ex-Colin Higman] car.
Roy G 800 leads Tommy Pitcher
Dave Brown 583 in action
Below: Pete Poole's "extended matchbox" car chased by Tony Norton 600:
.
Very different bodies but evenly-matched elite drivers: Batten and Cole battle it out in the sunshine
Batten on his own.
778 Colin Higman on the inside of Roy G 800, pursued by 627 Howard White.
November 2010:
Smeatharpe track action in 1974:
December 2010: --- and more action in 1975:
September 2010: Wish-you-were-here at
Weymouth:
St. Day on Whitsun, May 1973,
and Kevin was there as ever with that faithful reflex camera:
Then, back at Roy Goodman's workshop:
716 Mick Whittle
, and
800 Roy's car
one more time. And in 1970 at St. Austell, 693 is
Allan Young
parked next to Roy Goodman's 800.
Finishing with an old
b/w photo of Roy Goodman in 1966
running under 163, and circulating at Plymouth's Pennycross Stadium.
After all those, again, drop me a line if anyone has more info on any of those West Country racers:
spratton@hotmail.com
The next two cars are, strictly, too "new"
for my 1955-1975 site, but they look 'the business' just like the old 'uns did, so here goes:
Ian "Mac" McCarthy's beautiful "Superstox" car, in a cutting from a magazine. Mac helped me with some info further down the page. Don't you wish stock-cars looked like this today —- classy, real, and sleek! Mac raced this at the Alwalton non-BriSCA track near Peterborough. Here's another photo of the car, in the pits. [Photos originally from Alwalton racer Brian Holmes, a never-quit guy who raced into his sixties.]
This relatively modern car looks so "sixties", and its driver looks like he's having so much fun, that I'm including it here anyway. John Rigg was an Aycliffe driver (the "race hard or go home" track), and his car enjoyed Royal Mail backing. John 29, and Oops, postal-code advice on his sump guard, for all to see. John tells me it has an Escort rear axle, in his words "—-as you can see" —- , (now we'll have fifty e-mails arguing which model year it was, I bet — )
A 1974 photo of the great Bill Batten, with an unusual-for-F2 Beetle body (well, the roof is anyway), at Newton Abbot [DY photo]
Rick Young just throws that F2 sideways on the shale, going into a turn, 1977.
Rick Young's F2/Junior car: two shots taken in 1977 in the Brafield pits. First shot , Second shot. This car was built by Bedford's Pete Poole for Bob Boddington, then went to #649 Geoff Dunsby, before ending up in the hands of Dick and Chris Pickup. And you thought your family tree was complex??
Could a bloke afford racing? For ready-to-race F2 stock car, plus trailer, plus Hillman Minx tow car: £60 in 1976.

Harry won't stop:

At Newton Abbot, in September 1971, we see Nigel Harradine's 717 parked. The photo was taken by Kevin Crabtree, and Nigel just acquired it.

The unstoppable Nigel Harradine sends these photos of his 1975-built #3 car with which he competed in the 1975 World Championship and scored wins at Boston too. Nigel remembers it as "possibly my best car". It was built to the then-new regs, and these shots were taken in 1976. One, Two, Three.
Nigel Harradine will be racing again in 2009 at his local Swaffham, under his old BriSCA F2 number of 717. "I still heal prety quickly", he says --- this from a chap who was 20 years old in the 1971 photo above, and who had his share of broken ribs, etc along the way.
"Harry's Back" was the title of Nigel's message that carried this photo him grinning and ready for action, 'only' 38 years after the crash photo above.